The bad news: surf travel sucks for the planet. The good news: there's plenty you can do to make it suck less.
Let's not beat around the bush; surf travel sure ain't the greenest kid in the room. Tobias Shultz, mechanical engineer and author of an extensive study on the carbon footprint of the surfing lifestyle, 'The Surfboard Cradle-to-Grave' project, discovered that a typical surfer emits 10 tonnes of CO2 per year just from surfing.
According to Shultz, that makes the average surfer's footprint a colossal 50% greater than your standard citizen. Driving and flying to the surf made up 75% and 23% of a typical surfer's carbon footprint, with surfboard manufacturing 2%. The good news is there are many ways to hold yourself more accountable and make environmentally conscious decisions when plotting your much-loved surf trips.
1. KEEP IT LOCAL(ER)
The allure of long-haul travel has long bewitched salivating surf travellers, but if there's one thing we've learned in the last few years, it's that turning the dial homeside and exploring what's closer comes with its perks. That could be nearer to your doorstep, country, or a shorter jaunt abroad. You may find unknown gems, and critically, make big cuts into the high volumes of CO2 belched to travel to those far-flung destinations.
2. LOOK FOR THE STOKE STAMP
To give you an extra hand in choosing where to go, look for the STOKE stamp. This stands for Sustainable Tourism and Outdoors Kit for Evaluation and is "the world's first sustainability certification body with standards built specifically for surf and ski tourism operators, destinations, and affiliated events".
STOKE provides a highly credible third-party verified stamp, you can check out which operators are already STOKE certified. Tavarua Island Resort and Surf Clube de Viana (SCV) Portugal are two such surf camps, but there are others and more in the process of being certified.
3. SLOW TRAVEL
Just as the slow fashion concept counters the incredibly damaging effects of fast fashion, slow travel is equally gaining momentum. Forgoing planes by choosing sleeper trains, boats, and bicycles will help. As an example, Cornwall-based Surf Sistas run awesome Cycle Surfaris in France. Avoiding air travel, where an ultra-long-haul flight (18+ hours) emits six tons of CO2, is the best way to cut your impact.
4. PAIR UP AND POOL
If you've decided to dial it in and choose a closer destination, pairing up and pooling with fellow travellers is a great way to consider a more sustainable journey. We love the Pasty Connection, a community group where members list rides available to and from Cornwall, with safety tips for all new members.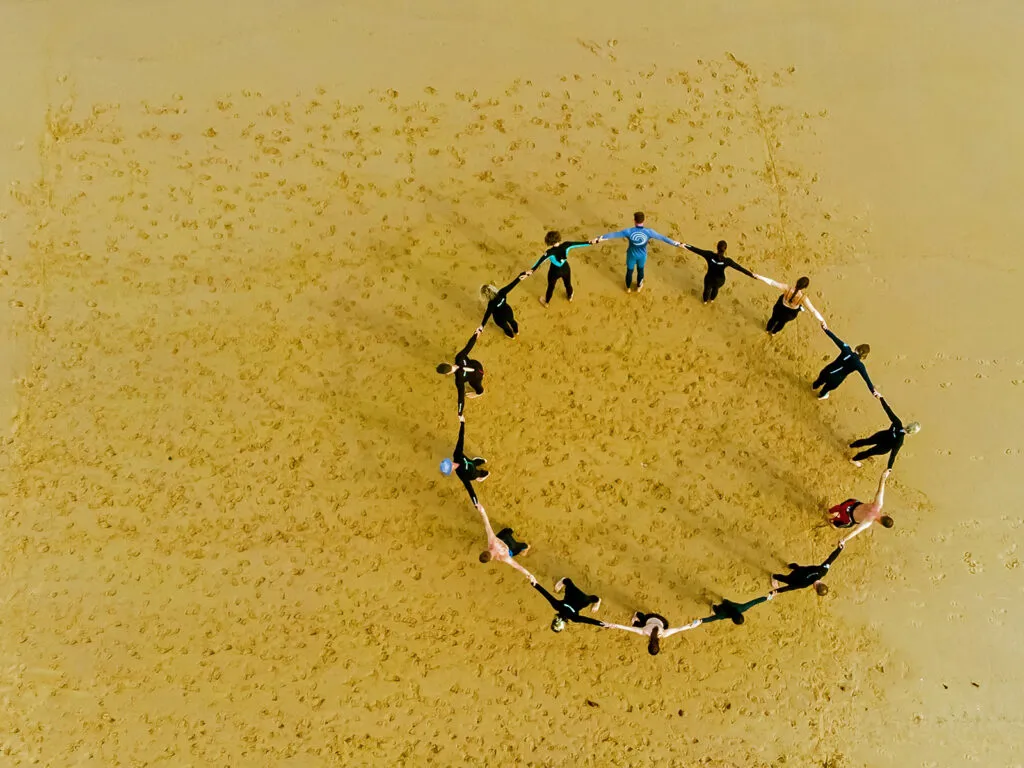 5. CARBON OFFSET
We also love SeaTrees, a non-profit that directly supports communities and scientists who protect and regenerate blue-carbon coastal ecosystems. This includes planting mangrove trees, restoring kelp forests, coral reefs, and seagrass meadows, and conserving coastal watersheds. Head to SeaTrees and select how long your flight is. You can then purchase a package whereby 100% of the donation will fund their mission to protect and restore coastal ecosystems.
6. ON-THE-GROUND TRANSPORT
There are a whole host of ways to get around on the ground now which are not as detrimental to the environment. From electric bikes and cars to taking public transport, using wind-powered vs motor boats and bicycles, or keeping it classic, and going on foot. Getting off the beaten track doesn't need to come at the expense of the environment.
7. CHOOSING WISELY: ACCOMMODATION
Many of us have seen the often-devastating effects not only upon the environment but communities due to tourism of once quiet surf spots. We advise looking for accommodation that incorporates sustainable practices and champion the local environment and local communities.
Many accommodation options can become certified by third parties including the Global Sustainable Tourism Council, making the job easier for you when choosing. Surf operators including Soul & Surf have committed to the UN's Climate Neutral Now Pledge, promising to become climate neutral by the second half of this century, donating and supporting 1% for the planet, and are further invested in supporting local communities and non-profits.
"We should point out that we are painfully aware that being in the travel business is not great, which is why we call ourselves sustainable-ish rather than sustainable," said Soul & Surf's Ed Templeton. "But we also believe it is better to create change from within, be open and honest about our failings but share our success and encourage others to follow".
8. DO-GOOD ON THE GROUND
Think about eating locally, shopping consciously, supporting local businesses and eco-friendly goods, using your canvas shopper bags vs plastic, finding out about local recycling, and taking your own refillable water bottle (plus, being conscious of water consumption when washing).
Many surf communities and towns organise beach cleans and events supporting the local community which is a great way to give back, learn, and meet and immerse yourself with locals. Check out Surf Rider's international coastal clean-ups, and you can sign up for Surfers Against Sewage #PlasticFreeCommunities.
9. KIT CHOICE
Recent film The Big Sea is a new documentary investigating surfing's hidden links to Cancer Alley and the wetsuit world's toxic addiction to petroleum-based neoprene. Plant-based Yulex wetsuits are an excellent alternative, crafted from rubber trees, replacing the toxic production cycle of neoprene. Brands including Finisterre, Patagonia, and Slo Active are leading the charge with Yulex wetsuits.
When it comes to boards, there have been huge innovations as of late, and Sustainable Surf's ECOBOARD Project is the sole independent, third-party certification used by the Surf Industry Manufacturers Association (SIMA) helping surfers to build, buy and ride high-performance sustainable boards. With a handy region selection tool, you can explore options with ECOBOARD offerings. Check out eco-options for suncream from Salt & Stone, All Good Mineral Sunscreen, and surf wax from King Coconut, Bravery, and Green Grip.
10. DON'T BEAT YOURSELF UP
Lastly, this isn't about never embarking on your much-loved surf trips again, but rather, about making more conscious decisions that take into account the environment and local communities.
---
Looking to upgrade to more sustainable surf essentials? Hit the button below to shop the new FCS Eco Range.