Words matter and we think these matter more than most.
"The wisdom of the wise, and the experience of ages, may be preserved by quotation," said the powerful goofyfooter, Benjamin Disraeli. He had a point. And so with 2022 drawing to a close, we thought we'd bundle the best words of wisdom from surfing's key players over the last 12 months.
Ranging from surfing superstars, underground legends, activists and vibe changers, we've attempted to chronicle the best, most important, worthy, and fun aspects of this thing called surfing. For more context and a deeper dive, click on the link to see the full article.
"When I see the front quarter of a longboard hovering out of the water, lifting the weight of a whole precariously perched human, it always seems like a defiance of physics. It feels like flying, and it looks like floating above the wave. As a peak surfing experience, like tuberiding, noseriding can magically move us outside of time and mind – in pure suspension between sea and sky."
Lauren Hill talks to Sophie Everard about why she made the short film The Physics Of Noseriding.
"On our side, you can really see the effects of the program in a relatively short time. Being the first Mozambiquan pro surfer, I saw so many kids that wanted to get involved in surfing but had no access to the sport. We have given them that access and for many that have started surfing, it has changed their life." Mozambique Pro surfer Mini Cho on starting the Surfers Not Street Children at home in Mozambique.
"I'd love for it to go as big as possible. This movie is about adventure and family, love and loss, and how the ocean can provide endless sources of inspiration. Mikey has captured all those so well." Taz Knight talks to Wavelength about the feature film Savage Waters
"You are dealing with death, life, and death, you know? Not too many people like to feel like this, you need to be a little bit crazy, in a good way, to surf these kinds of waves." Joana Andrade talks to Sophie Everard on the film Big VS Small, which shows how she faced down her fear of drowning by surfing huge Nazare.
"I'm a surfer who is mainly trying to champion scientific literacy. I want to talk science and not have anyone alienated. I think we can all be better off in the surf and society if we can be comfortable with science." Surfer and scientist Cliff Kapono talks to Wavelength on his mapping Cloudbreak project.
"Women's surf films have been capturing imaginations worldwide since the seminal 1950's epic Gidget, and we've rounded up our top picks to stoke you out whilst hibernating this winter. Get the popcorn poppin'." Sophie Everard gives us her ultimate guide to women's surf cinema.
"It just felt like the universe was going for me that day. It was weird. Very cosmic." Steph Gilmore talks to Wavelength just after her record 8th World Title win.
"How much the way we show up in the water is a metaphor for how we show up in life." Former pro surfer Holly Beck in Episode 8 of The Drop In Sessions, where she shares her journey of self-discovery and acceptance, and why she is proud of the differences that make her unique.
"Yes, I was frustrated at the inaction at the British Surfing level. It was initially communicated that there was money coming from UK Sport, but then it went silent which was frustrating for everyone involved in the scene. I was one of the ones banging on the door and shouting for answers. I wasn't the only one not getting any." Joel Gray, the new UK Surfing Performance Pathway Manager, on the job he faces.
"Last year I ended up on the rocks directly in front of the Nazaré fort after a wipeout, with no chance of getting picked up by the ski. There were a few seconds where I really thought that this is the end." Andrew "Cotty" Cotton opens up the Wednesday Q and A.
Q: "What's your guiltiest pleasure?
A: Florence and the Machine, or longboarding."
Welsh ripper Patrick Langdon-Dark also dumps a few home truths.
"We used to tell the big wig blokes in the surf industry that if you nurture and back women surfing, you've got this whole untapped market. None of us had a business degree and were just high school dropout surfers, but it was so obvious. Yet they couldn't believe a woman or women could change surfing." Jodie Cooper talks to Wavelength following the release of Girl's Can't Surf, a documentary on how a smart group of surfers revealed the sewage-grade misogyny prevalent in the sport in the 80s and 90s.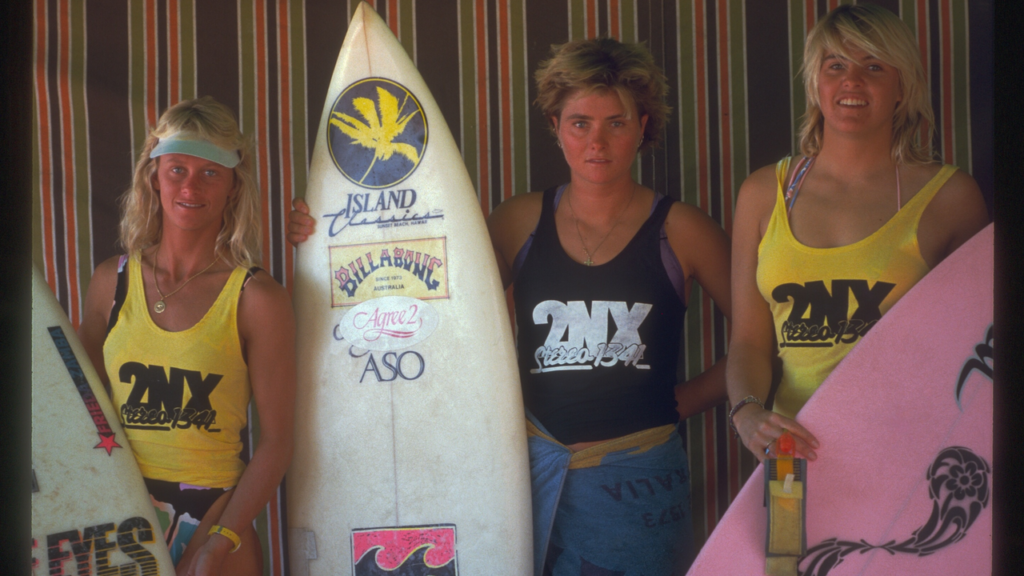 Get Wavelength delivered straight to your door either as a single edition or annual subscription. Our subscription packages include a free gift and along with plenty of other benefits, subscribers get their copies of Wavelength before anyone else.