Is there anything better than plotting an adventure, packing up, and hightailin' it in search of epic waves? No, there isn't. That's why we've done the hard work and rounded up the most rad women's surf camps to hit up this year. From beginner-friendly camps to advanced, shortboard to longboard, cold water to tropical, and more, there is something for everyone. And if they come with our Women's Ed Sophie Everard's stamp of approval, you know she has been there and tested the offerings herself. Tough gig, huh?
SURF WITH AMIGAS, WORLDWIDE
Founded by former competitive pro and all-round legend of surfing Holly Beck, Surf With Amigas has been running badass women's surf camps for over a decade. When we caught up with Holly on the Drop In Sessions podcast, she told us about their new holistic surf coaching retreats.
The Holistic Surf Coaching retreats explore what beliefs guide your goals in surfing, how you find your place (aka belonging) in a crowded lineup, and more. The courses are happening throughout the year, including in Peru in April. Also worth a look are two advanced Tube Riding Retreats in Nicaragua in October and November that are in-depth camps for advanced shortboarders who want to learn how to get barreled.
Sophie's Stamp Approval 👍
Rebelle Surf X Salty Sensations, Ireland
Rebelle Surf is Ireland's only female-founded surf school, owned and operated by Melanie White in Sligo County. Melanie grabbed our attention with an awesome-sounding collaboration with the all-time legends from Salty Sensations, lady loggers, and style legends Kassia Meador and Leah Dawson.
If surfing the wild and bewitching shores of Western Ireland, seaweed soaks, sound baths, nature walks, epic food and in-depth surf coaching with OGs sounds like your cuppa tea or pint of Guinness, you should also be scrambling to bag a spot this August 26-2 Sept.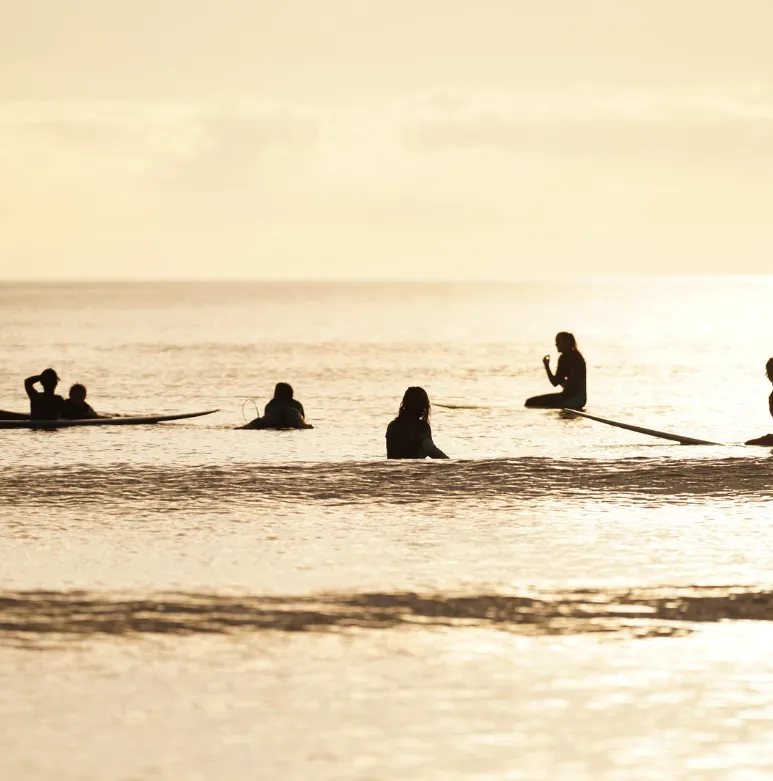 Log Surf Retreats, Mexico
A relatively new retreat offering, Log Surf Retreats runs longboard camps in Mexico, fronted by founder and local legend Dan Pascacio and Elise Laine. Mexico has long been a log haven for cross-stepping aficionados, with events like Mexi Log Fest casting a brighter light on the dreamy surf towns of Sayulita and Saladita. You'll be surfing all day in bikinis, swimming with turtles, eating tacos, drinking pina coladas, learning to nose ride, and meeting fellow like-minded surfers. Our advice is to move quickly as these camps sell out fast.
Mama Wata Surf Retreats, Costa Rica
Mama Wata's camps, founded by Costa Rican surfer Eki Altman, are based in the incredibly beautiful Guanacaste jewel that is Nosara. If you've checked out the consistently near-perfect wave at Playa Guiones before, you know it's worth the trek to this otherworldly and beautiful corner of the world. The FLOW all-inclusive 7-day women's surf retreat includes accommodation in a luxury villa just a few steps away from the surf, healthy Costa Rican food, surf coaching with local and certified female instructors, yoga classes, and downtime to explore sounds pretty dreamy.
Sophie's Stamp Approval 👍
Surf Sistas, UK and Spain
British-born Surf Sistas have rightly earned the mantle as one of the most loved international women's surf camps having run killer retreats for two decades. We're honing in on their Spanish offerings this year. With two retreats in Cantabria this autumn, a big bonus is a maximum coaching ratio of 1:4, but which often can be one-to-one.
You can expect different-sized waves and peaks with the west corner sheltered from big northerly swells/winds, tapas, wine, mountain backdrops, rolling green hills, and quaint coastal towns. This trip is offered for beginners, improvers, and longboarders. However, if you miss a place, be sure to check out their excellent camps in Cornwall throughout the summer.
Surf Yonder, Scarborough
Diehard East Coast surfer and Finisterre Ambassador Sally McGee kicked off her retreats and business Surf Yonder along with her husband Tom Bing on Britain's East Coast back in 2018, and have been fostering and cultivating a passionate community of cold-water surf fiends since. Their Yonder Surf Academy CIC arm, an all-women's surf school in North Tyneside, is on a mission to, "inspire and support marginalised women and girls to build confidence, self-esteem, and positive mental health".
With quality surf coaching, courses, and camps, their improver camp in Scarborough this April is a full immersion into the Surf Yonder experience. You will stay in a cozy house in the centre of Scarborough, just a small walk from North Bay, and is limited to six spaces.
Drift Retreat, Portugal
Drift Retreats was founded by Becs Coley and co-led by surfer, eco-activist, and filmmaker Nat Fox, and this autumn you can join Nat in Ericeira, Portugal for a five-night Drift experience in Portugal. Drift's camp is located on a hilltop overlooking the world-class surf break Ribeira D'Ilhas, a close jaunt to the town of Ericeira, a World Surf Reserve. The entire coast is a mecca for surfers, and the retreat will include a local surf guide to take you to the best spot for the day for the intermediate surfers and lessons with their local surf school partner for beginners.
Ticket To Ride, Sri Lanka
Ticket To Ride's Ladies Sri Lanka Surf Week, held at their rad Ahangama base in South West Sri Lanka, is a week of sun'n'fun with intensive coaching from former World Tour pro Nikita Robb, video analysis, functional training and a killer menu of healthy and fresh Sri Lankan cuisine. The week is completely hassle-free and the schedule has been carefully created to enable optimum surfing progression, whilst experiencing the magical island of Sri Lanka. Complete beginner surfers and full shredders are welcome as the coaching is tailored to the individual needs of the surfer.
Sophie's Stamp Approval 👍