'No surf break, then or now, has ever presented itself so well,' enthuses Matt Warshaw in The History of Surfing.
'At Malibu, the waves were focused and defined, and all but married to the beach, each one rolling in as if it had travelled halfway across the Pacific for the express purpose of gliding into this quarter-mile bit of shoreline …' "Malibu" of course means the break off folkloric Surfrider Beach. Small wonder there has been a place for surfers to bed down here since 1953. And in a fitting parallel with that break and what it promises, the Surfrider Hotel has ridden the waves of post-war surf culture in one long, linked ride.
It was all so wholesome in the beginning: victorious World War Two veterans returning to Southern California; clean-cut guys in white shorts gracefully riding long waves on longboards; the plucky female surfing pioneer Kathy Kohner, aka "Gidget", inspiring the eponymous 1959 movie that helped implant Malibu in the wider public consciousness. The location's rise to worldwide fame was fast.
But the swift rise was propelled by another factor about Malibu: it was far enough away from LA to go unsupervised by lifeguards and indeed cops. The hot-dog surfers arrived, typified by committed rebel Mickey Dora – who almost certainly stayed at the Surfrider. So too did members of The Doors, and Jimmy Hendrix; Neil Young's bar, Crazy Horse Saloon, was next door and revelers would after-party at the hotel.
Not that you will find registration records of such guests from that era. The motel soon descended into a destination for those wishing to lose themselves – divorcing husbands going off-grid, drug dealers and call girls, allegedly. Fears grew among locals about what might become of the property as land values spiralled along the Pacific Coast Highway. Would it flame out in a different way – literally, as a fire started by a passed-out guest or a visiting arsonist?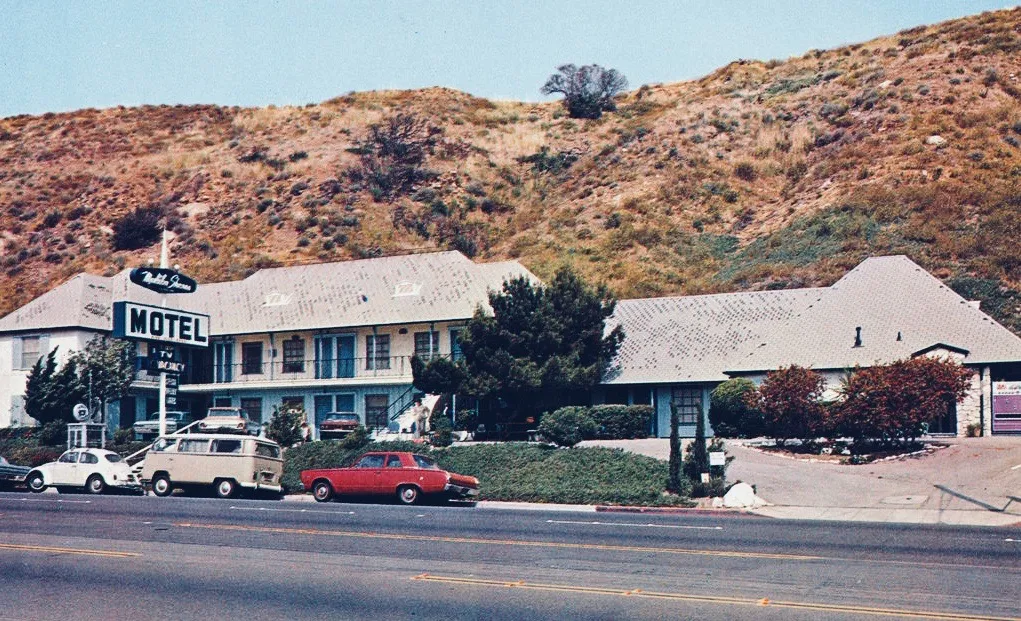 Enter Matthew Goodwin, Emma Crowther and Alessandro Zampedri, who acquired the property in 2014. Goodwin is an architect and has Malibu in his blood; he grew up surfing the break. Crowther has overseen the interiors and other aspects of the resuscitation. Now, all 18 rooms, 2 suites and the guest-only rooftop bar look out over the water. There is a warm, outdoor post-surf shower and a 1968 Land Rover for finding other waves along the coast. There is even pre-surf morning yoga – and a post-surf margarita menu that includes the house signature drink, "The Endless Summer", named after Bruce Brown's cult sixties surfing film.
The hotel has its own quiver of boards (use being complimentary for guests), shaped locally, designed for Malibu's waves and sporting colours inspired by vintage Surfer magazines. It's fitting given the legacy of earlier, legendary shapers in Malibu such as Bob Simmons, Dale Velzy, Matt Kivlin and Joe Quigg. This was the place where the all-balsa "chip" board was launched.
What about the hotel's future? The owners mention a global hub of like-minded souls who share their feeling for why this location is so special. Because if one hotel could embody Malibu's surf culture, it would be The Surfrider.
23033 Pacific Coast Highway, Malibu, California 90265
www.thesurfridermalibu.com