Lucky enough to be heading off to warmer waves this winter? We've dug deep into the zenith of trunk technology to highlight our cream of the crop boardies for sunshine and surf, The Outerknown Apex shorts.
From naked to knitted wool to Kelly Slater's signature trucks
Originally surfers didn't need trunks, or boardshorts. The ancient Hawaiians surfed naked, which probably explains why wax wasn't invented till much later. The only thing the missionaries hated more than surfing, was naked surfing, and promptly banned it. Later in the early 20th Century when watersports became popular, men wore one-piece tank suits made of knitted wool. They weighed two tonnes wringing wet and were quick-dry; taking only two weeks.
Many trace the modern boardshort back to Moru Nii, aka M.Nii. In the 1950s the Oahu tailor designed twill shorts that could take the beating thrown at the small group of big wave surfers tackling Makaha. These new shorts soon caught on and became known as Drowners. Moru was a good tailor, not so hot on branding.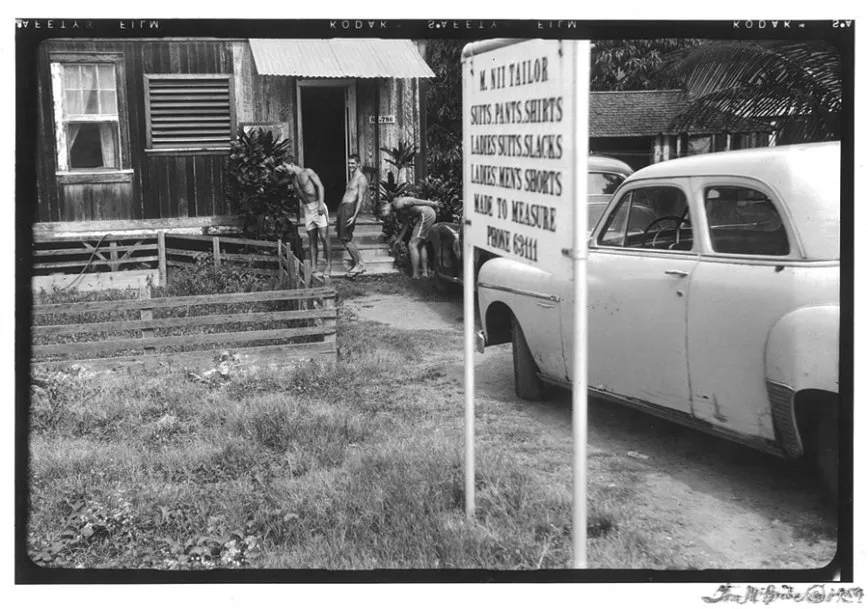 In the 1960s Hang Ten began making cotton trunks and in a Gidget-inspired world became California's first real major surf brand. In 1966, they sponsored the first group of 'team riders' of which Greg Noll was one. The Bull was said to have requested his signature black and white striped 'prison shorts' to instantly be recognised on Hawaii's biggest waves. It worked, even if the brown boardshort was a more practical option.
Hang Ten was one of the first brands to adopt the quicker drying, new nylon material in the late 1960s. Meanwhile, over in Australia, Quiksilver was formed and started selling 'more technical' boardshorts from Torquay. Given the frigid waters near Bells, it was a string-bikini-in-Siberia business model, but one that took off nonetheless. A little later, Gordon Merchant, a surfer from Burleigh Heads, designed and made his own shorts and started selling them from his van. By 2007, his Billabong brand was valued at $4 billion and he was selling the colourful boardies from a private jet.
The 1980s delivered stretch, via lycra (stolen from triathlon suits), neon, and hemlines that were somehow higher than the first naked Hawaiian's. Tom Carroll, the 2X time World Champion, wore his Quiksilver shorts higher, tighter, and snugger than anybody else. However, his most famous maneuver, known as "The Snap Heard Around The World," was performed in a wetsuit. If he had done it in his signature shorts, he may have crushed his testicles and finished his career there and then.
Not all technological breakthroughs were successful. Netted underwear sewn into the shorts appeared, and like mass shootings and nut allergies, have never really gone away. Neoprene shorts, even when ridden by 1989 World Champion Martin Potter, never took off. Functional, sure, but like surf brand tattoos and coloured zinc they defy the universe's aesthetic principles.
In 1990 Kelly Slater was revealed to the world through his seminal movie Kelly Slater in Black and White. The Star Trunks he wore at Trestles in the biopic would become almost as mythical as Joseph's technicolour hoodie. Back then, when you did get your hands on a pair, you never dared wear them surfing. He would later, after 11 World Titles, form his own brand called Outerknown, and develop signature boardshorts, perhaps the best invented.
However, first would come the nineties and the noughties. The overcorrection to the testicle tickling trunks of the 1980s was two decades of bagged-out long shorts. Blame the Momentum Generation, rap, grunge, the NBA influence, or Andy Irons and his Rising Sun shorts. Whatever the source, for the better part of two decades pantaloons became de rigor for the first time since the 19th Century.
In the last decade, we've found some safe, middle ground in terms of above-the-knee length, and high-performance board shorts have become, well, high performance. Kelly's Outerknown Apex Boardshorts, perhaps the high-water mark of a century of trunk innovation, feature laser-cut details at the side seams and a back pocket that offers weightless drainage and ventilation.
Made of a combination of 86% Recycled Polyester derived from post-consumer waste and 14% Spandex with DWR (or Durable Water Repellant) that is PFOA free. You'll know that PFOA is a group of perfluorooctanoic acids that are a toxic by-product of DWR. The sustainable fabric is also a 4-way stretch and its welded back pocket features an Aquaguard™ zipper and internal bungee key ring.
I mean Kelly's star trunks looked cool, but comparing them to the Apex's tech and eco-credentials is like contrasting a 1992 Vauxhall Nova to a 2026 Tesla. Now we know that fashion continually loops back round, we fully expect to see Gen Alphas riding mid-length twonkers at The Pass in knitted wool one-piece suits, but right now, the Outerknown Apex Boardshort is the zenith of trunk technology.