After two lay days competition resumed today at the J-Bay Open, stop No. 6 on the Samsung Galaxy World Surf League (WSL) Championship Tour (CT), will a full day of exciting action.
The world's best battled to avoid early elimination as the contest ran through Round 2 and the opening four heats of Round 3 in clean, building four-to-six foot (1.5 metre) surf at Jeffreys Bay.
The day saw a return to form for the 'Brazilian Storm' after disappointing results in Round 1. Jeep rankings leaders Adriano de Souza and Filipe Toledo along with reigning WSL Champion Gabriel Medina, rookie Wiggolly Dantas and wildcard Alejo Muniz all won through their heats to remain in the contest. The day also delivered its share of upsets with former event winners Taj Burrow (AUS) and Jordy Smith (ZAF) losing out to Muniz and Adam Melling (AUS) respectively while world no. 3 Owen Wright (AUS) was eliminated by Adrian Buchan (AUS).
Two-time event winner Joel Parkinson (AUS) and rookie Ricardo Christie (NZL) delivered the heat of the day in Round 2. The pair traded big scores to wow the crowds but it was Parkinson, the 2012 World Champion, who used his experience to lay down a series of huge open-face carves and a quick barrel for a near perfect 9.77. Christie fought back with some classic power surfing in the final minute but it wasn't enough, and the rookie left the contest in equal 25th place despite an impressive 18.13 heat total.
"That's the heat you just dream of at J-Bay," said Parkinson. "I've got a couple of throw away results but I won't give up. I'm happy where I am and I've been surfing well. I just started quite bad but I feel like I'm not the only one who started slow. It will be a race to see who finishes strong. I feel like after the last event I started getting some flow and this could be a good result for me."
Fellow Australian Kai Otton (AUS) was another standout performers. Otton dispatched Jadson Andre (BRA) after a high-scoring Round 2 battle and defeated rookie Italo Ferreira (BRA) in Round 3.
Jeep Leaderboard no. 1 Adriano de Souza (BRA) took on local wildcard Slade Prestwich (ZAF) in the opening heat of the day. A close battle between the pair saw the South African hold the edge through the opening half of the heat but De Souza came back with a long ride down the point to net an excellent 8.33 and take the lead. The Brazilian backed it up with a 6.00 for a win and a place in Round 3 where he will face Dane Reynolds (USA) while Prestwich left his first CT event in equal 25th place.
"It was a tough heat and I know that Slade (Prestwich) is a great surfer," said Adriano. "He showed that on his first wave of the heat when he got the lead. I realized I just needed one wave to advance and just one opportunity. I couldn't find it and I lost a little bit of my faith but I caught the wave and I made it happen. My feet were frozen, I couldn't even feel a little bit, but it was enough to make this heat and hopefully the next one I'll be warmer and be more patient as well."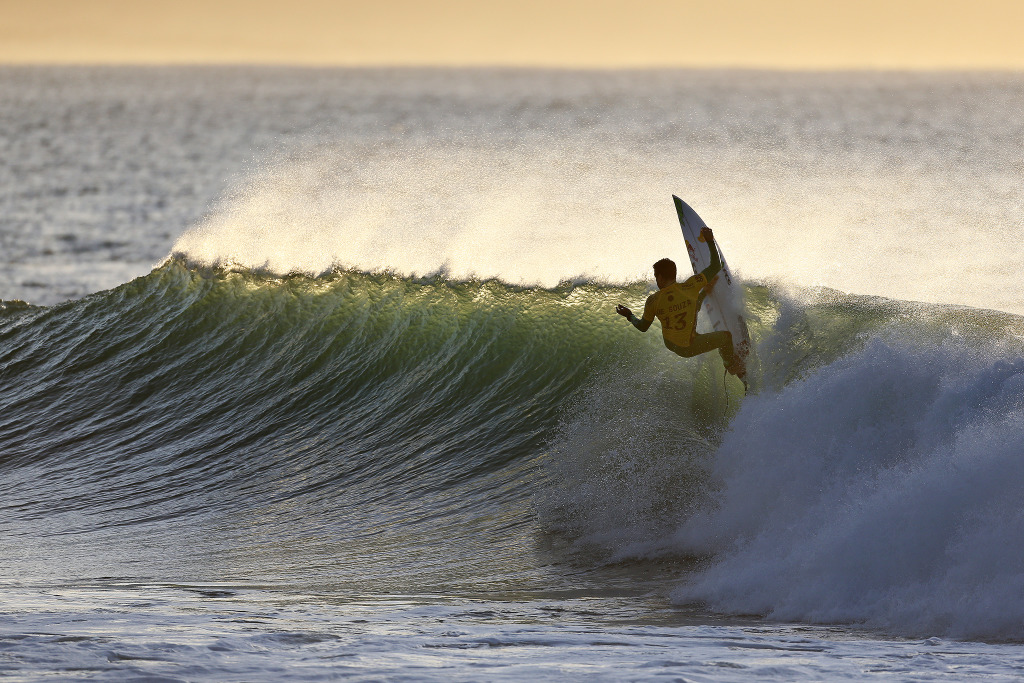 "Adriano (de Souza) is a good guy and he knows what he's doing in a heat," said Prestwich. "At J-Bay you just have to find the best waves and he got them. I'm just bummed there wasn't another set that came through, but well done to De Souza. He can win a world title right now, he's in the running for it so it was cool to surf against him. It's just really cool to hang around with the pro's, see them surf and just to be in J-Bay."
Last-minute replacement Michael February (ZAF) was also eliminated today at the hands of young Brazilian Filipe Toledo (BRA). An early 8-point ride from Toledo was enough to dominate the heat and send February home in 25th place.
"It's really tough to be in Round 2," said Toledo. "I was kind of nervous for sure because Michael (February) knows the wave pretty well. I'm stoked to get a good result and make it to Round 3. It's really hard to come from Fiji where it's really warm, with lefts. It's all different here – it's cold, you surf rights and it's really windy, so it's tough. I was stoked we had some lay days because it was good to figure out everything."
"To be honest it didn't go that good," said February. "Being a CT event I didn't have anything to lose but at the same time everyone is behind you. I wanted to get my best performance out there but there weren't too many opportunities and my positioning wasn't that good. It's a pity because it's a huge opportunity for me but I enjoyed the experience and I'm going to try my best to get back here. Getting the call up so soon for this event was pretty overwhelming and definitely now that I've got the taste for it I want to get back here because I feel like I haven't shown what I have to offer."
Reigning WSL Champion Gabriel Medina (BRA) came into Round 2 looking to improve on his results this season and move up the rankings after a disappointing first half of the year. After a slow start the Brazilian seemed to find his form, surfing tight in the pocket, getting vertical and throwing spray in his bout against Glenn Hall (IRL). A broken board ended Hall's chances and he was eliminated from the competition in 25th place, while a series of backhand snaps from Medina for a 9.07 secured his victory.
"I'm really stoked to make it through," Medina said. "The waves are pretty fun and I'm stoked to get the win. That was a good heat. I tried to be relaxed and just tried to get my waves and surf. It's been tough to find a good board. It's really cold here and I've been waking up really early to practice. I've been working hard so it feels good to make it through and be in Round 3."
The first upset of the day came when injury replacement Alejo Muniz (BRA) took down World No. 5 Taj Burrow (AUS). Muniz, who is surfing in his fourth consecutive CT event of 2015, reached the Quarterfinals at the J-Bay Open last year. An exciting back-and-forth battle unfolded between the pair and Burrow, former event winner, was left in need of a 7.94 in the final minutes. Impressive railwork combined with power and speed netted Muniz an excellent 9.30 and a place in Round 3, sending Burrow home with his worst result of the year.
"Taj Burrow is my favorite surfer ever," Muniz said. I've been watching him since I was a little kid. I'm just really happy to make it through this heat, it felt amazing. Winning a big competition like Ballito gives you a lot of confidence for the next event. I'm really focused for this event and I want to do well in the World Tour events. I've had three chances already and kind of missed it, so hopefully I can do it better. I feel a lot more relaxed now because I feel like the job I needed to do on the QS (Qualifying Series) is done already, so I'm just trying to enjoy myself and get better with my surfing."
Adam Melling (AUS) was next to deliver an upset, sending home two-time event winner Jordy Smith (ZAF) in Round 2. A pair of seven-point rides were enough for the Australian to clinch victory while Smith was left searching the lineup as the clock ran down. The South African was eliminated from the J-Bay Open in 25th place for the first time in his career while Melling moved onto Round 3 where he was defeated by Nat Young (USA).
Young previously delivered an impressive performance against Brett Simpson (USA) in Round 2. Currently ranked 7th on the Jeep Leaderboard, Young's precise backhand surfing in the pocket earned him a 17.10 heat total and the win.
"It's obviously a difficult wave on your backhand because it slows down and speeds up and it's kind of hard to read," said Young. "I do feel comfortable on my backhand though. I grew up surfing waves not quite this good but similar so I'm excited to surf out here."
The shock exits continued in Round 3 when World No. 30 Adrian Buchan (AUS) defeated World No. 3 Owen Wright (AUS) in a narrow last-minute victory. The win is the first time Buchan has beaten Wright in man-on-man heats and is his best result of the season, improving on his 13th place finish in Jeffreys Bay last year. Wright, who previously defeated replacement surfer Tomas Hermes (BRA) in Round 2, was eliminated in equal 13th place and will have to set his sights on the next event in Tahiti.
"I feel like I'm surfing really well and I felt like I was going to get the score at the end," Buchan said. "I'm really stoked to have one of those close heats go my way. It's amazing, this place is super special to me and every time I come back here it's a really special experience. You just can't take your eyes off the waves."
"It's not the result I wanted but I felt good and like I was surfing well," Wright said. "It was a close heat and a good goofy battle. I'm really looking forward to Tahiti, I love that place. Results are just results and the main thing that matters is that you can go through the year feeling good and with a smile on your face, and I'm doing that."
The J-Bay Open is webcast LIVE on WorldSurfLeague.com.
J-Bay Open Round 2 Results:
Heat 1: Adriano de Souza (BRA) 14.33 def. Slade Prestwich (ZAF) 13.04
Heat 2: Filipe Toledo (BRA) 12.00 def. Michael February (ZAF) 8.00
Heat 3: Owen Wright (AUS) 16.17 def. Tomas Hermes (BRA) 13.77
Heat 4: Alejo Muniz (BRA) 18.13 def. Taj Burrow (AUS) 15.83
Heat 5: Nat Young (USA) 17.10 def. Brett Simpson (USA) 12.10
Heat 6: Italo Ferreira (BRA) 15.96 def. Dusty Payne (HAW) 15.16
Heat 7: Gabriel Medina (BRA) 16.00 def. Glenn Hall (IRL) 10.44
Heat 8: Joel Parkinson (AUS) 18.84 def. Ricardo Christie (NZL) 18.13
Heat 9: Adam Melling (AUS) 14.90 def. Jordy Smith (ZAF) 8.03
Heat 10: Kai Otton (AUS) 18.10 def. Jadson Andre (BRA) 17.07
Heat 11: Wiggolly Dantas (BRA) 17.77 def. Miguel Pupo (BRA) 15.23
Heat 12: Matt Wilkinson (AUS) 14.80 def. Sebastian Zietz (HAW) 13.93
J-Bay Open Round 3 Results:
Heat 1: Adrian Buchan (AUS) 15.50 def. Owen Wright (AUS) 15.40
Heat 2: Kai Otton (AUS) 15.50 def. Italo Ferreira (BRA) 12.83
Heat 3: Julian Wilson (AUS) 17.94 def. Fredrick Patacchia (HAW) 8.40
Heat 4: Nat Young (USA) 16.87 def. Adam Melling (AUS) 8.03
J-Bay Open Round 3 Upcoming Match-Ups:
Heat 5: Joel Parkinson (AUS) vs. Wiggolly Dantas (BRA)
Heat 6: Adriano de Souza (BRA) vs. Dane Reynolds (USA)
Heat 7: Mick Fanning (AUS) vs. C.J. Hobgood (USA)
Heat 8: Gabriel Medina (BRA) vs. Matt Wilkinson (AUS)
Heat 9: Kelly Slater (USA) vs. Kolohe Andino (USA)
Heat 10: Josh Kerr (AUS) vs. Keanu Asing (HAW)
Heat 11: Bede Durbidge (AUS) vs. Michel Bourez (PYF)
Heat 12: Filipe Toledo (BRA) vs. Alejo Muniz (BRA)