[The Wavelength Drive-In Cinema is back for 2021, bringing you a range of surf cinema, cult classics and family favourites from the clifftops of Cornwall, including two screenings of Blue Crush on the 18th of July and the 7th of August. Browse the full lineup and get your ticket here. Or, subscribe to Wavelength now to get free entry to a screening of your choice.]
Blue Crush has firmly cemented its status in iconic popular-culture surfing lore. We've already found out 10 juicy facts you may not already know about the seminal surf classic, but where better to get the behind-the-scenes gossip than straight from the horse's mouth? We catch up with surf Jedi Keala Kennelly, fresh off her win in the Red Bull Magnitude big wave event and immediately post-surgery in Hawaii ("I was surfing Magnitude with a massive fucking tear in my labrum. When they got in there, there was a big cartilage flap that was impinging a bunch of stuff!") currently going through physio and working on her new board short brand, to find out what really went on behind-the-scenes at Blue Crush. From telling us how she was gradually written into the script from first being drafted in as a Pipeline bail-shot body, to backstage banter and parties with Michelle Rodriguez, we also get the full inside scoop on a massive new surfing movie coming to our screens soon from Keala Kennelly…
As well as winning the season long event overall, Keala's took out the biggest wave award at The Red Bull Magnitude for this monster ride at a Hawaiian outer bombie. Photo: Fred Pompermayer // Red Bull
SE: If we cast the clock back to 2002 when Blue Crush came out, what was happening in your career at the time?
KK: I was on the WCT. I was probably in the top three or five in the world and was just, you know, on the grind to get a world title. I think the next year, 2003, is when I came the closest to a world title. I finished runner up. I was hired on my CT grind at the time.
SE: How exactly did they get in touch with you to work on the movie?
KK: It's a funny story! I think they had an open casting for the parts of Anne-Marie and Michelle Rodriguez's characters so I went in to read for those roles in Hollywood in some office with the director. I went and read for the part and completely botched the audition. I just fucked that up really, haha. Then I found out they were filming in Oahu and they'd cast proper actresses for the main roles so I thought, OK, fair enough. I found out that Sanoe Lake got one of the roles and was really pumped for her because she's a friend. Then I found out Rochelle (Ballard) was going to be doing Kate Bosworth's stunts, and that Megan Abubo was going to be doing Michelle Rodriguez's stunts, and I was just like fuck, so I'm not even going to get to do stunts on this film?! This sucks! Like, I'm happy for my friends, but God, I really wanted to work on this thing.
I was pretty bummed about that and then a month or two went by into the filming and then all of a sudden at like 6 in the morning, my phone rings and it was one of the producers. He's like "hey, is this Kelly Kennelly?" and I'm just like half asleep, like "yeah?!" He is like "we're working on the movie, I'm here with Universal and we were wondering if you would be interested in coming down to Pipeline? We just want you to paddle out and have a horrendous wipeout, and we'll pay you for that!" I was like, oh…OK, well I wipe out for free all the time, so OK, cool! I went down to Pipeline and it was really kind of nuts that day. I think Tom Carroll came in with a cut on his eye, and this footage is actually in the movie. He hit the reef and was bleeding. Universal was like… maybe not today it looks pretty dangerous, we don't want you to get really severely injured, come back tomorrow!
It was kind of like that for a while. They just started paying me a day rate to come and surf Pipe which was fucking awesome and then after a while, they weren't really getting a lot of the shots that they wanted. I think Sanoe had told them "you guys really need to have KK get some of the Pipe waves that you're trying to get, she's the best out there, apart from Rochelle". She said, "you're not going to get any other of the CT girls to get the wave that KK is going to get !".
So, then they were like, OK, you don't have to purposely wipe out, just go out there and surf! We need to get some barrel shots. During a lunch break, I was sat with Sanoe and the director John Stockwell and he's like, I think we're going to change your role up a little bit, actually you're not going to wipe out and lose. You're going to be in the finals with Anne Marie. My role kept changing and getting bigger and bigger. And then I had dialogue. So, I went from getting a day rate to being an actual character.
SE: What was the local Hawaiian surf community's vibe towards the movie, you guys seemed very receptive to it?
KK: It was super fun, we literally got paid to just be at Pipeline every day. There were guys getting paid to block for us and make sure we got waves, it was like a dream scenario. Sometimes I was like, am I dreaming? Because in a perfect scenario I go to Pipeline and the guys are blocking so I get waves and then I come in, and somebody that works for the film runs up and gives me a big fluffy towel and they proceed to give me snacks and lunch and I'm just like this is the fucking dream!! When the waves weren't good, we'd just be on the beach chilling, Sanoe and Michelle and Megan, we'd all just be hanging out talking.
SE: Did the actresses look to you to kind of educate them about what it actually is to be like a pro-surfer? What was your dynamic like with the main actresses?
KK: They were so cool and I'm still friends with both of them. Kate especially was just super eager to learn everything she could about surfing. She wasn't like dropping into Pipe, that was all Rochelle, but she was doing a lot of the water stuff, paddling around at Pipe. I don't even think she realized how much danger she was in half the time! She had Brock Little and a whole full safety team around her, kind of manoeuvring her and making sure that she didn't get pounded, but you know at any moment a rogue set could come and she could get completely lit up! I remember there was a sound guy. He was a really heavy, kind of overweight guy, and they put him in an inner tube out at Pipeline and he's like, bobbing around in an inner tube with a microphone and I'm sure the guy was not a good swimmer. I'm just going "oh my God, these people have no idea how much danger they are in, this is hilarious!"
SE: How long did the shoot last?
KK: It was months. It was all winter, and then they had me come back to shoot the gas station scene.
SE: Such an iconic scene!
KK: You know where I pull up with the jet skis and Kate Bosworth and those guys are looking over like, "oh my God, that was Keala Kennelly"! We had wrapped the film and then they decided they needed another scene to introduce my character. We actually shot that gas station scene six months or something after we wrapped the film.
(1) The cast and stunt doubles via Keala Kennelly on Myspace. (2) Dealing with the wreckage of a heavy wipeout at Pipe. Photo Transworld Surf.
SE: What were some of your favourite moments of being a part of the movie?
KK: I would say just being out at Pipe surfing with Rochelle. We got a couple of really nice swells during the filming, and I feel like we got to push ourselves really hard, because like I said, we had intimidating guys blocking saying, hey let's get these girls waves!
SE: Just like in the movie!
KK: Yeah, it was! That first scene where they're like hey, Kate Bosworth, Pipe's over there! It was awesome. And then just hanging out on the beach with all my friends, going to the big premiere in Hollywood, getting dressed up and going on the red carpet, that was super fun.
SE: Once the movie came out, did you notice any change to women's surfing, like the amount of women surfing?
KK: Oh my God, it was such a boom. I feel like there was such an uptick in the number of women that were in the water after that film. It had a massive impact. I felt there was such a surge.
Women's surfing had such a little heyday in that moment. In the years that followed, I feel like there were like four or five women's surf magazines. We went from no exposure in the men's surf magazines or very little to just getting tons of exposure, getting cover shots, getting double-page spreads, to where it was like you're getting paid photo incentives from your sponsors. It was such a good time for women and surfing. I made a lot more money because of that film, in exposure and photo incentive stuff.
SE: And are you surprised at how popular it's been? I mean it's still basically as big as the day it came out!
KK: I know it's great. I mean look at that movie North Shore. That's still just like a cult classic. Blue Crush literally made it okay for women to surf, you know?
SE: Do you think there should be something else like this, are we ready for another kind of massively impactful film?
KK: Well, there's one coming…It is going to be so amazing because you know, Blue Crush still had that Cinderella story dude element, with the football player. It was kind of a Cinderella story, right? So, this is not going to be like that at all. This is going to be very strong on female empowerment. Charlize Theron is doing this film with Netflix. I don't know if you saw that New York Times article ("The Fight For Gender Equality in One of the Most Dangerous Sports on Earth " by Daniel Duane)…
SE: Of course, it was amazing.
KK: So, you have Paige (Alms) on the cover of the New York Times dropping in on a bomb. That story got a lot of attention, it opened a lot of people's eyes, and one of those people was Charlize Theron. She bought the rights to the New York Times article. The movie is kind of going to be based around that article and the whole equal pay movement and how that all went down.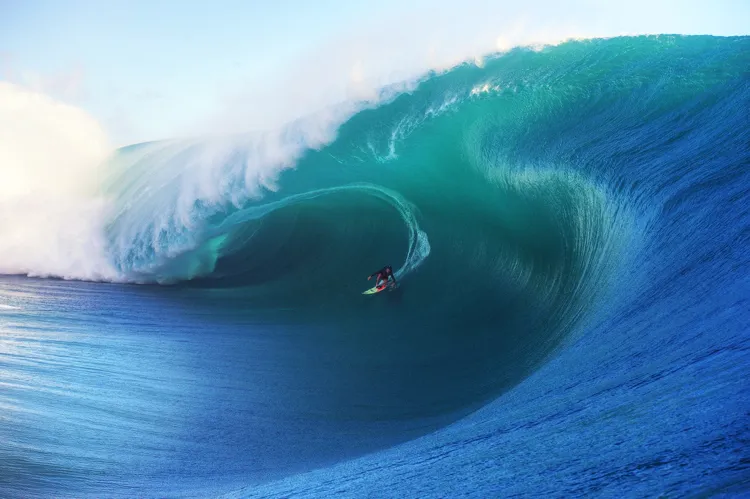 Kennelly on the wave of her life at Teahupoo. Photo: McKenna/WSL
SE: Is Charlize going to play you?
KK: When we got on our first Zoom call, it was me and Paige (Alms) and Andrea (Moller), Bianca (Valenti), and Charlize, and we're talking about it. Charlize said "oh my God, you guys are just so amazing, thank you for letting me tell your story." She's so fucking cool, she's such a cool chick. Very down to Earth, just very awesome. Towards the end of the call,I was like, OK, I'm going to ask the question that everybody is probably thinking but too afraid to ask… "who are you playing Charlize?" And she was cracking up and goes "first of all, I don't feel like I can do the character justice" because she doesn't feel like she can portray a water athlete and do the water scenes. I was like, look, if Kate Bosworth can do it, you can do it! Come on! Every time we talk and text and whatever, I'm just like you're going to play me. I honestly can't think about anybody else. When we were on a call the other day talking about who they were thinking to play who, Charlize was like, "honestly, KK like you're so intimidating, I don't know what actress could fill your shoes". I was like "Charlize, I'm sorry I'm going to have to insist you play me and not another actress, haha." I really don't see anybody else. I'm going to convince her. I'm going to wear her down. That has to happen. I'm working on her. You know what's awesome? When she found out I had to get surgery recently, she called me straight away, really concerned asking, me "do you have the best surgeon? Send me your MRI's!" It was really, really cute.
SE: Well, it sounds like this could be the film that kind of follows the legacy of Blue Crush.
KK: It's going to be all the behind-the-scenes stuff that nobody knows about…
SE: I literally cannot wait. 20 years after Blue Crush came out, you're also this icon in popular culture for surfing and it sounds like it's going to continue. Did you expect that was going to happen in your life?
KK: It's so crazy because that was almost 20 years ago, right? When you think of the stuff I have accomplished in the last 20 years, they were basically making me look like the G.O.A.T in that film, but the stuff that I accomplished after that film, after I left the CT, all the crazy big waves stuff came later, so I feel like I hopefully justified that role.
SE: Are you going to have quite a hands-on role again like you were in Blue Crush?
KK: Oh yeah, absolutely. I'm sure we'll be on set, I'm sure that whatever actresses they cast to play us will want to hang out with us and pick our brains. We're going to be doing our own stunts because who else can do our stunts? What other females can do our stunts? There's no one really, you know.
Charlize was on a Zoom call a couple of days ago with us and she was talking about how there's going to be a lot of surfing footage in there. We're talking about if it would be feasible to start filming this upcoming winter. We want to really capture surfing like we want to. She's telling us about all the different expensive cameras they're going to be using to capture the surfing footage. She's like, we want to cover every angle, we want to really capture what it's like to drop in on big waves. I think it's going to be really dope.
It's hard to capture surfing sometimes. I feel like Blue Crush did a pretty good job of it. North Shore did an OK job. It's quite funny though, like if you are an actual surfer, you'd be like wait, that's not Sunset Beach. He's a goofy foot? Now he's a regular foot! And in the beginning part of this wave he had blue trunks, and now he has red trunks, like this continuity sucks! I think it's going to be awesome. I don't think there's going to be a Hollywood movie to date that's going to capture the surfing part like this film is. That's my prediction.
Four of the bourgeoning crop of big wave women, Emily Erickson, Polly Ralda, Kelta O'Rourke and Keala Kennelly, ahead of the Red Bull Magnitude contest. Photo: Alana Spencer // Red Bull
SE: Oh my God, this is epic. Alright, so final question before I explode with excitement. What is your favourite long-lasting memory of being a part of Blue Crush?
KK: I would say one of my favourite memories was just meeting Michelle Rodriguez and going out partying with her one night. My God, when I met Michelle, I came down to Pipe, she was like in a bathrobe passed out on a picnic table. She was kind of a partier back in those days, and she had been out Honolulu tearing it up, probably got 2 hours of sleep. I was quite a partier back then as well, I think we ended up going to Honolulu together and she had like a Mustang convertible rental car, and she drives fast and furious! She loves her little gas pedal, you know what I mean? And so we were just going like 1,000,000 miles and she's flying like a race car to Honolulu. We went out, clubbed and partied, and then had to work the next day on the film and we were just hungover and smashed!