[The Wavelength Drive-In Cinema is back for 2021, bringing you a range of surf cinema, cult classics and family favourites from the clifftops of Cornwall, including two screenings of Blue Juice. Browse the full lineup and get your tickets here. Or, subscribe to Wavelength now to get free entry to a screening of your choice.]

It's been 25 years since Blue Juice, and while surfing in some regards has changed beyond all recognition.
Try going back in your time machine and telling '95 you about SUP foils, GoPro PoV inside 30-second Namibian tubes and 14-day surf forecasts on your telephone – which goes in your pocket and plays films.
Yet at the same time, it's also changed very little.
Sharing a few waves with a good crew of friends is still the hook, and similarly to any era, the broader lifestyle goal is being able to surf as much as possible any time it's good.
As for that coveted work/life balance, a relatively 21st century expression, as Matt Warshaw said to us during lockdown, 'Maybe hardest of all, is finding the time… setting up a life where you can go out and do it, that's a life's work in itself."
In this vein, we reached out to some of the key surf folk in Blue Juice and see what they're up to now.
Rob Small / Ewan McGregor's double
As Ewan McGregor's character Dean's surf double, Rob's main gig was to go over the falls in the film's dramatic climax sequence, as the wipeout that forced JC into facing his demons at The Boneyard to save his mate. A former competitive surfer on the UK circuit and part-time model (Rob once appeared in UK Vogue modelling knitwear), shortly after the assorted Blue Juice salad days, where he and Steve England spent a summer teaching Pertwee & McGregor not just to surf, but to be like surfers on a good day rate plus ample per diems, Rob moved over to Lanzarote where he lived for 20 years. He's now back in his native Newquay, working as a ceramicist in his studio Ceramic Anarchy, and still displaces water any chance he gets.


Steve England / Surf coordinator & Peter Gunn's double
After helping launch Surfers Against Sewage in his hometown of St Agnes, Steve joined the newly launched Carve Magazine in 1994, which he still runs today alongside SurfGirl at Orca Publishing. Steve's surf coordinator role in Blue Juice started early in the writing/test shoot stage, taking a recce to Lanzarote to scout the big wave locations and generally included helping a non-surfing cast and crew make a credible surf plot stand up. "I thought I was going to be a big wave rider stunt man hero in the film, but they told me I was Peter Gunn (Terry)'s double, so basically I had to trim on a longboard and fall off. Then I had to ride a bike down a hill… best job I ever had!" Steve still surfs every day and still rips, recently making headlines in May for rescuing an unconscious surfer from a Cornish lineup.


Gabe Davies / Water scenes
The biggest name UK pro to surf for Blue Juice, Gabe's impressive career included a longer stint with Quiksiver than Kelly Slater and a hard charging resumé that including a focus on some of Ireland's big juice. Gabe's role for the film was part of the Lanzarote water unit, although none of his waves ended up getting used "As they were, quote, 'too big'" laughs Gabe. After a long period based in Hossegor, SW France, Gabe is back in the NE working in marketing for Patagonia, and still dominates his favourite North Sea reefs when they're on. As a neat aside, he met wife Lauren at the La Santa Sports Camp when posted there for the Blue Juice shoot.
Guy Leverton / Crab
Newquay local Guy played the character Crab in Blue Juice. Guy grew up next to the Winter family at South Fistral, and went on to run Mellow Marsh Yellow, the much loved 90's/2000's shop/board brand in Newquay. Now a pro tennis coach, by the looks of his Insta, Guy still has Pertwee style 90's peroxide hair, as well as a lethal baseline top spin drive.



Sergio 'El Halcón' / Water scenes
Lanza charger Sergio stepped up for water scenes when the giant swell hit. Rob Small, by his own admission, would've preferred it a bit… small-er to perform his wipeout. "We were egging Rob on, and he was shitting it" remembers Gabe, "it was like 20ft plus every day for a week."
"In the film you actually see El Halcón take off on this massive thing out the back of La Santa," says Small, "he's a sailor, a fisherman, a surfer, probably in his 60s now, incredible guy, really humble, he's got that Canarian spirit. I think there were some insurance issues," says Small of his over the falls stunt, "so I ended up doing it on an 8 ft wave at El Centro."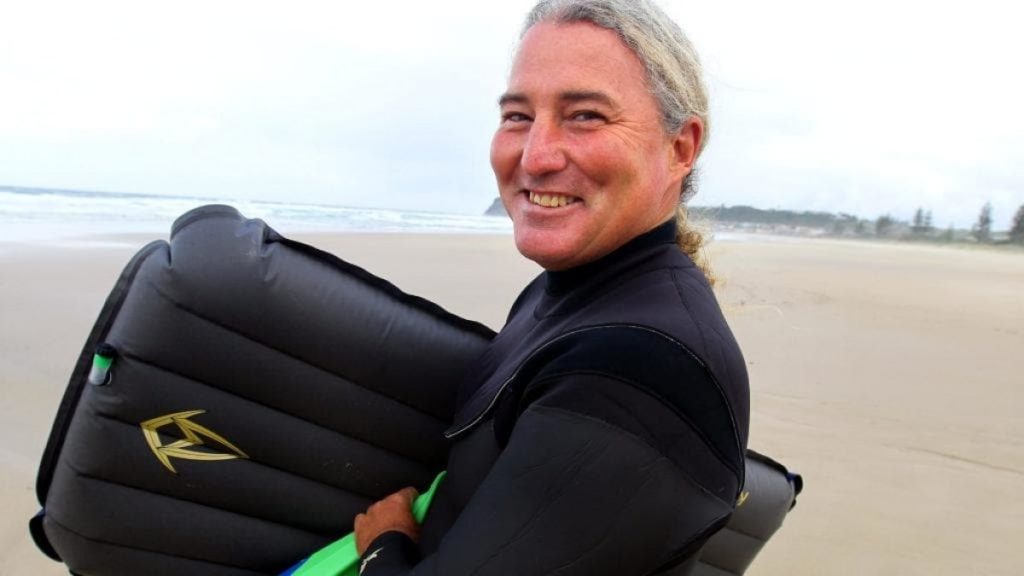 Mark Thomson / Water filmer
Australian Thomson was hired for the water filming in Lanzarote, for which he brought the legendary George Greenough's equipment along. Thompson is inarguably surfing's most infamous surf mat rider, particularly after an 'attempted drowning' surf rage assault at Lennox on Jodie Cooper that saw him found guilty in court in 2018. Upon arrival in Lanza, he gave the Poms a bit of shit for (probably) being kooks and thought the waves were gonna be crap, only to wake up the first morning to a giant 20ft swell that lasted a week. Reports are he acquitted himself well in the heavy water; when caught inside by a huge set, deflating his surf mat and dipping under. He escaped a custodial sentence for the surf rage incident, but is on probation until 2021.
Cover photo: via @carlprechezer
Join us in a beautiful clifftop location overlooking Watergate Bay in West Cornwall on July 16th for a drive-in screening of the film. Click here to buy a ticket, or subscribe now for free entry.