Twenty-twenty-one marks Wavelength's 40th year in print. To celebrate the occasion, we're diving deep into the Wavelength archive to bring you a series of short stories featuring key cultural moments, entertaining asides and colourful characters from around the British surf scene and beyond over the last four decades. Read part I here.
The series is presented by Oakley, who share our deep surfing heritage, having been equipping the world's best with high-performance eyewear since '84.
Read more about the brand's journey from niche cycling gear to beach cultural icon here.
(1) A young Nigel Veitch, from Issue 6. Photo: Gregory Hill. (2) Arlene Maltman at the '85 British Nationals, with her Porsche 944. Photo: John Conway // Wavelength Archive
While nowadays we're accustomed to seeing young rippers sponsored by everything from CBD tinctures to pasty makers, back in the early 80s, the idea of getting backing from a non-surf brand was an entirely novel concept in Blighty. In Issue 8, Wavelength reported on two surfers leading the way. The first was the North East icon Nigel Veitch who approached 'Scottish and Newcastle Brewery' – makers of Newcastle Brown Ale to see if they fancied slapping their logo on his board. It seemed a strange pairing, given that Nigel himself only really drank on Christmas and New Year. But, according to the article, the brewers were "curiously interested in this charismatic Gordie," offering up enough dough to get him on the ASP circuit the following year. (We'll dive into Nigel's story in more depth in the next instalment of Deep Cuts).
The second surfer was Arlene Maltman, from Jersey, then-current European Women's Surf Champ. She approached British Airways and managed to secure a five grand travel budget. With stylish aviation sorted, she turned her attention to time on the tarmac, doorstepping Porsche at their London HQ, who generously offered to furnish her with a very sporty 944 to use during the upcoming British Nationals event.
Dedicated readers may remember that Arlene, who now sits on the board for British Surfing, served as spokesperson for the organisation when the Luke Dillon selection fiasco broke in 2019. In an interview, she told us the reason they hadn't chosen the UK's highest-rated surfer to be on the British team owed to his lack of participation in that year's Nationals in Jersey (although, as we noted at the time, it wasn't actually anywhere in the rules that he had to compete in that event.) Essentially, it seemed his chances for qualifying for the Olympics were stuffed on a technicality.
So, we were intrigued to read that despite (or perhaps because of) rocking up on luxury wheels at the British Nationals in '85, Arlene too suffered at the hands of administrative pedantry. Back then, there was a rule you were only allowed to surf a maximum of 10 waves in a heat and in the final of the event, Arlene surfed 11, leading her score to be adjusted and her placing revised from first to second, "much to her disgust," according to the article. Such an occurrence could well have bred a supporter of leniency and managerial discretion in Arlene, but in light of 2019's events, it seems possible it in fact sent her in the other direction, towards a lifelong crusade to ensure every regulation and clause in the UK surf rulebook would forever be upheld just as stringently.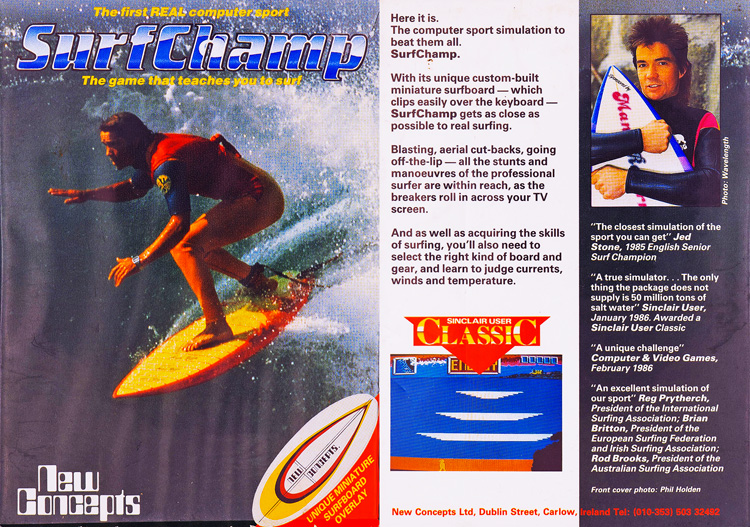 (1) The 'SurfChamps' tools of the trade. (2) Jed Stone playing the game in an ominously darkened room from the pages of Issue 9. Photo: John Conway // Wavelength Archive (3) The game sleeve, complete with a portrait of Jed and favourable quotes from the industry.
Later that year, the European Championships rolled into Rossnawlagh in Ireland – situated along one of Europe's most wave-rich coastlines. Unfortunately, the circus arrived to completely flat waves, with the synoptic charts suggesting more of the same for the remaining window. Luckily, a team of mad scientists came to the rescue of the bored competitors with the unveiling of a first-of-its-kind surfing simulator, called 'SurfChamp' designed for the recently minted ZX Spectrum.
With nothing to do but practice, the attendant pros got stuck into the game and after a few days of warm-up heats, the first-ever World Championships were held, with four surfers selected from each nation. In the end, Newquay's Jed Stone, (who was reigning real-world British champ,) took the first-ever world title, snatching a whopping 2300 points, (a full 1800 more than his nearest rival, according to a report in WL Issue 9).
In the article, Jed explained the game, which basically involves clipping a miniature plastic surfboard over the computer keys and pressing vigorously on different areas to perform manoeuvres. "It's definitely easier if you're already a surfer," he wrote, "as a lot of the finger positions on the board are similar to foot placements on a surfboard."
The game was the brainchild of Dr Norman McMillan; a surfer, computer scientist and college lecturer, fellow academic John Frayne and celebrated astrophysicist Susan McKenna-Lawlor, (who went on to work for Nasa, planning missions to Mars!)
Their lofty aspiration was to create a game that simulated real-life surfing and Jed reckons, considering the primitive tech at their disposal, they did a pretty good job. His victory at the event saw him promised sponsorship from the game's designers, a partnership that would have provided him with enough backing to join Veitch on the European circuit the following year.
However, due to a lack of foresight from Ireland's fusty Industrial Development Authority (picture the Dragon's Den with elbow patches and steel-rimmed spectacles) the game was unable to secure the funding it needed to meet a mountain of Christmas orders, seeing the company plunge into liquidation soon after. While Jed never did get any money, thanks to the lack of follow up to the inaugural contest, he technically remains 'SurfChamps' reigning world champion to this day.
(1) Pam Burridge in Biaritz in '88. The original caption reads: Pam surfed in the expressions session and outclassed most of her male 'expressionists' with this tight backhand cover-up. Photo: John Conway // Wavelength Archive (2) The cover artwork from Pam's single 'Summertime All 'Round the World'.
Coming of age in the early '80s as Australia's first proper female pro surfer, Pam Burridge was a leading figure in the era when the best women in the world had to fight tooth and nail to be taken seriously.
In an article from 1987 in WL Issue 14, entitled 'Pam Burridge's Baby' (her 'baby' being women's pro surfing) Stephen Mascord waxes on the profound role she played in the development of the sport in Australia and beyond. "She's been there right from the beginning," he wrote, "and her and the women's movement have become close companions growing with and helping one another."
Pam learnt to surf on a KFC coolite (a little styrofoam board featuring a picture of the Colonel) and – after stepping on a real board – won her first event at the age of 12. She entered the world rankings at age 15, before breaking into the top 5 the following year, where she remained throughout the '80s, balancing tour life with hardcore club hopping, a short but glorious music career and time working at a video rental store to subsidise the events' meagre prize money.
Oakley were one of her few major backers in the late '80s, ensuring the young Aussie could enter every comp and look shit-hot in the latest shades when she inevitably found her way to the podium. She also pipped Veitch, Maltman and Stone to the post when it came to the award for owner of the world's most unlikely surf sponsor, when she accepted a contract from 'Asian Wreck', a local demolition yard that specialised in crushing and repurposing Asian-made cars.
She finished runner up six times on the tour, before finally snatching her first world title in 1990 – a full 10 years after her debut, netting her then-unprecedented longevity in the world of top-tier pro surfing.
"As you grow up, you've got to find that sort of social medium," she told Stephen of her youth, "where you do what you want to do and still be what other people expect you to be."
However, thanks to her trailblazing spirit, future generations of aspiring Aussie pros didn't have to worry nearly as much about that disparity between personal goals and other's expectations. Through her career achievements, Pam showed a whole generation what was possible, opening the door for Australia to become the most dominant global force in women's surfing in the decades to come.
(1) Carwyn, most at home reclining in the back of a vehicle with a sea view. Photo: Skin. (2) Off the top in a Wave Graffiti ad shot. Photo: Aitionn.
Even 30 years on, it would be hard to argue that Carwyn Williams is not one of the best things to ever happen to British surfing. A coalminers son from Swansea, he burst onto the scene as a teenager in '83 when he won the Welsh, British and European junior championships. In the years that followed, he blossomed into a media darling, heralded for his spontaneous and innovative surfing and renowned for doing whatever was necessary to support his career.
The story of one particularly classic escapade appeared in Issue 21, when Chris Power caught up with a 17-year old Carwyn to discuss his first-ever season on the North Shore in '86.
Fresh off two long years of travel, living a "hectic hand to mouth existence" competing across Europe and Australia, he arrived in the Islands with plans for much more of the same. Down under, he'd spent a three-month stint living in a battered Morriss 1100 and, unlike most people who've attempted living in a car, was eager to replicate the experience along the Seven Mile Miracle.
"I arrived at Honolulu airport," he tells Chris in the article, "left my boards at the check-in place, and spent the next three days travelling around by bus looking for a car to buy, coming back each night to sleep on a bench in the arrival's lounge."
"On the third day, I found this big Chevvy Monte Carlo, which looked ok for $250," he continues. So he bought it and drove it off to Sunset Beach, making a home for himself between the seats.
Despite his spartan accommodation, Carwyn's pennies still couldn't stretch to cooked food, so he lived on an unleavened diet of cold sandwiches. However, as an aspiring professional athlete, he was aware of the need to eat healthily, so would create strange semi-nutritious fillings, like his staple; bean sprouts, banana and jam. After six weeks feasting on experimental sandwiches and getting used to surfing solid sunset, his money ran out altogether and he set off into town to look for a job.
(1) Carwyn and a fan in France. Photo: Joh Conway // Wavelength Archive (2) Slotted at Off The Wall in a back cover Quik ad from '89. Photo: S Cazenave.
As was often the case, a chance encounter saw the Welshman land on his feet, when he met a bloke called Dayner, who needed a hand redecorating his beachfront house, located just a stone's throw from Off The Wall. Shocked that Carwyn had been roughing it in his car for so long, he also offered him a free room to crash in while he worked on it.
After doing up the kitchen and sorting out a bit of plumbing, Carwyn got to work on the outside space. "It was the best job I could have ever wanted," he recalls. "It became my pride that garden. I was just moving earth and planting grass right there in front of Pipeline."
Although he'd previously been content with the North Shore's lesser beasts, his proximity to the Banzai forced him to face up to the challenge of tackling the wave. One morning Dayner woke him up and told him Pipe was pumping with no one out.
"I half looked out the window and dived straight back into bed again," Carwyn laughs. It was 15 foot, massive, breaking way out on third reef. But he knew what he had to do. He put on Death or Glory by the Clash, had a stretch and paddled out. By the time he arrived in the lineup, there were five other guys bobbing patiently on the peak. As the first set rolled through, they each took off on one and once the spray cleared, Carwyn looked back towards the beach to see that all of them had snapped their leashes and been forced to swim in. "So for my first surf at Pipeline, I was out there completely on my own," he says. After packing some hidings, he managed to stick a few solid drops and then, on his final wave, he pulled into a massive second reef tube, getting spat out right onto the beach.
And with that, began a love affair that would see the Welshman take his place among the scant few Brits to get proper bombs at the Banzai.
(1) Carwyn, looking resplendent in single-brow. (2) Off the bottom at macking Pipe during his first season on the North Shore. Photo: Scotty Montgomery
---