We're screening your favourite surf films all summer long from the clifftops of Cornwall at the Wavelength Drive-In Cinema. Get your tickets for Endless Summer and Endless Summer II here
Surf history anoraks will be well versed in the life and times of many the of film's stars and surf culture high priests, like Miklos Sandor Dora III or Phil Edwards.
Many others too, like Lance Carson, Paul Strauch, Corky Carroll, Nat Young and Butch van Artsdalen – as well as August and Hynson themselves – all went on to be key figures in surfing's evolution.
If you are looking to brush up on who drove what Woody to the 'Bu in early '66 and why, or what rehab they checked into, you can find out all about them on the brilliant EoS.
While you're about it, check our illuminating chat with EoS founder Matt Warshaw.
But what became of the colourful characters who made cool cameo appearances in what can only be regarded as the greatest surf film of all time?
Let's investigate.
Samuel Assam Adieijo
'Head rope coiler' Samuel features as a smiling ten-year-old boy at Labadi Beach, Ghana in the film, the only person from the bustling fishing scene traceable today.
Epic TV's Jamie Tierney revisited Ghana to try and find if a surf scene had developed at Labadi, and after a bit of detective work, found Samuel still living nearby. Having no real idea what the Americans had been doing there, he was amazed to learn the film went around the world in the 60's and had since been seen by millions of people.
"When the white men left, we tried to make surfboards ourselves," he said of the ES legacy, "but ours were too small."
Labadi Beach featured as a fishing village back in the 60's, but these days is basically a dump for Accra's urban sprawl, sadly devoid of the surf scene Brown felt would inevitably spring up from the locals' enthusiasm for 'swimming boards' famously captured in the film. 
Tim Murdoch
Murdoch and John Paine featured as hosts for August and Hynson in New Zealand, in a part of the film that somehow looks like coloured B&W footage from the 40's.
Murdoch would turn out to have one of the more storied and colourful bios of anyone featured in ES, including the big surf stars.
After directing two surf films in the late 60's, Out of the Blue and Seven Sundays and having poetry published in Playdate, Murdoch would become a major executive in the music industry, becoming Int'l Vice President at WEA Music (later became Warner Music) while still NZ based, fostering a talent roster that included Led Zeppelin, The Stones, Talking Heads among many others.
Known for catchphrases like "Let's sell some fucking records" and "this is going to be fucking huge" and a penchant for entertaining and living the good life, the Murdochs would regularly host the likes of Fleetwood Mac and The Eagles at his Aukland home. He died in 2018 aged 75.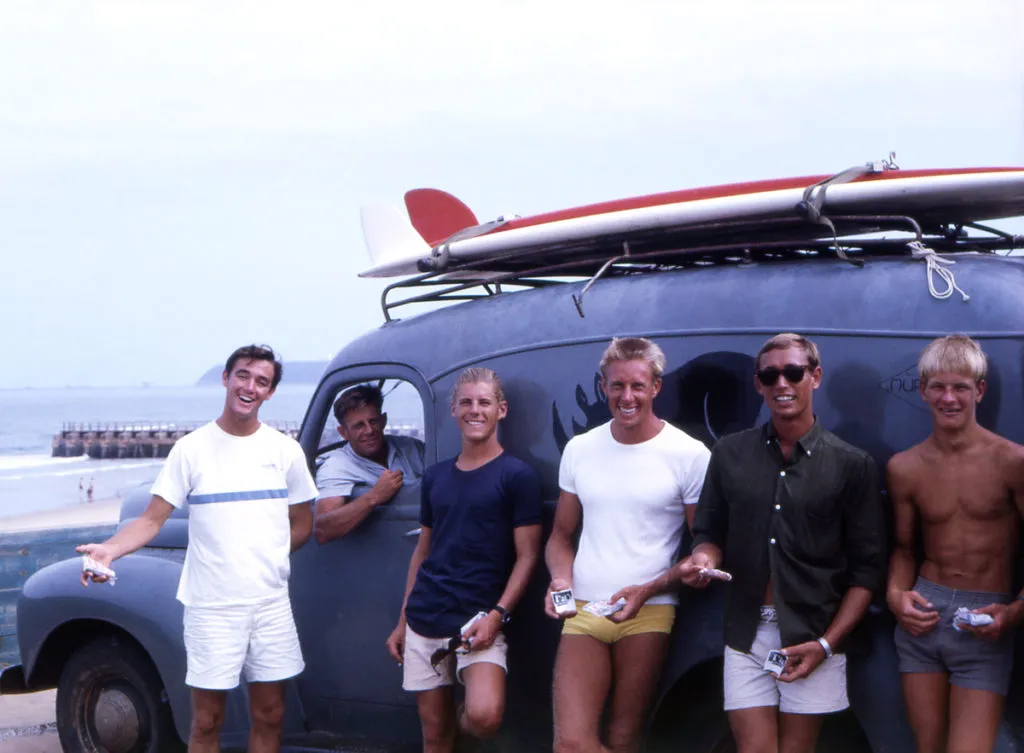 Terence of Africa
Terry Bullen features in the SA chapter, picking up Robert and Mike in his panel van and driving them up the Indian Ocean coast for the climax of the ES plot; the discovery of the perfect wave at Cape St Francis.
Bullen is described as a larger than life character who milks snakes for their venom, and as one of the few people on the planet that had captured an African elephant alive. His serpent exploits has seen him feature in the Daily Telegraph back in the 30's as a teenager who keeps cobras in his bedroom.
A childhood friend of John Whitmore, who features in both ES and ES2, Bullen would go on to be involved in the motorcycle racing scene in SA, as well as being 'one of the last great white hunters'.
When he wasn't selling, shooting, stuffing and selling African wildlife to tourists as curios, he also held several illegal SA speed records.
Pearl Turton
"Some of the kids are too much" says Brown in one of the creepier bits of ES narration, as a 16-year-old Pearl Tutton struts across Pittwater Beach on Sydney's Northern Beaches in her bikini.
Having won the Aussie National Titles aged 15 in 1963, ES featured a few waves of Pearl, but mainly as a Benny Hill style distraction to Hynson and August's surfing concentration due to the amount of flesh on display, by 60's bathing suit standards (we see both Hynson and August's nipples and upper thighs regularly and often throughout ES).
A cosmetician at a local pharmacy, champion swimmer and surfer Tutton would never compete again, but did become the first female delegate in the Australian Surfrider's Association and featured in the surfing and drug drama Palm Beach in 1980.
Cover image: Tim Murdoch with Skid Row's Sebastian Bach