As surfing iconography goes, the timeless image of a lithe limbed, bowl cutted Gerry Lopez propelled impossibly from within the confines of a hissing Banzai Pipeline vortex on a red and yellow Lightning Bolt pintail remains one of the enduring images of the era many regard as surfing's finest of all.
Slight in stature next to cartoonish caverns of raw Pacific juice, his poised, sleek movements reveal an almost telepathic understanding of waveform and ocean power, the only physical register of the Pipeline's violent exhalation upon the surfer's form a barely perceptible ripple of motion in the scalloped hem of Gerry's short boardshorts, a frisson shiver in his tousled fringe.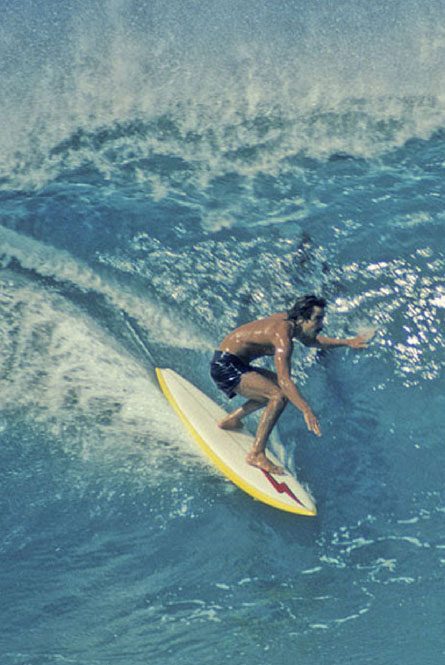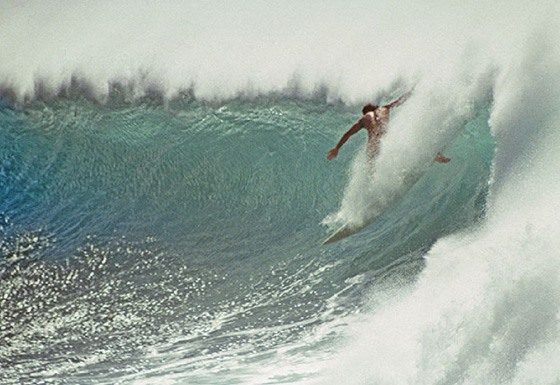 "It was all about the energy" – Gerry Lopez
Surely, to be straddling such realms with such ease suggests one operating in the realms of the metaphysical. Rather than merely identifying the origin of the craft, the Bolt logo on his self-shaped single fin quickly became a badge of elite tube shaman status, the mark of an elite water walker, a seer of worlds.
The brand that Lopez and Jack Shipley started in Hawaii back in 1971 quickly took on some of the premier surfer/shapers of the time to become the leading name in the water on the North Shore.
Alongside Lopez, the likes of Rory Russell, Reno Abellira, Tom Parrish and Barry Kanaiapuni shaped the most sought after miniguns, and the future of the sport.
Lightning Bolt's deep heritage maintains throughout everything the brand does to this day, their clothing collections of timeless, essential beachwear delivering simple function in its purest form. With a focus on environmental preservation, quality and functionality, Lightning Bolt casual yet tailored pieces are for people who seeking an authentic beach lifestyle, year round.
"We feel harmony with the ocean and with nature; we feel humbled by its raw power; we feel reverence for all wildlife and the world within it; we feel grateful. Nature is our escape and our arrival."
Shop the Lightning Bolt collection here.
Cover photo: Jeff Divine
https://wavelengthmag.com/wp-content/uploads/2021/03/WL-Contnet-banner750x300-S1-1.jpg