[As Wavelength celebrates its 40th birthday in 2021, we revisit at some of the more colourful chapters in European surfing history.]
Aritz Aranburu might be the hardest working man in European surfing over the past decade and a half. An attritional battler in the beachies if not an obvious standout, it's not until swells get hefty and hollow that Aritz truly shines.
Lewis Samuels famously once dissed him in his infamous Post Surf blog, dubbing him 'the hunchback of Zarautz'. Whereas other Tour surfers shrieked in outrage or squared up, unaccustomed to anything other than the chorus of their coterie of sycophants, Aritz seemed entirely unfazed, self-esteem as robust as his stance.
He responded by making the semis in the CT event at Chopes, taking down the likes of Slater and Reynolds on the way.
With a work ethic legendary among filmers and shooters, Aritz will surf marathon mid winter sessions at honking Mundaka, then boot up to la Graviere for high tide. He even tolerated surf journalists; he'd actually email you back, too.
I once wrote a profile on him that included some of the unfavourable remarks mentioned above, as well as what might be considered unflattering descriptions of the surf conditions in his hometown, Zarautz.
He asked me only to reconsider the stuff about Zarautz.
Aritz became Spain/Basque Co's first ever World Tour surfer, achieving a dream countless more lauded global talents failed to grasp. Post-tour, he's stayed relevant, chasing down swells, winning tube comps. On top of it all, his vibe is ever positive, easygoing, approachable.
When surf biz shat itself and left certain precocious pro talents peddling surf gear out the back of Audi estates as reps or pushing tourists into whitewater, it seems fair that Aritz is one of the few still doing well out of riding waves.
He still makes a good living from surfing sponsorships, owns a Shelter Surf Bar in Zarautz, runs the Kind Surf non-profit, taking special needs kids to the water.
But it's not all been fun n' games of course. The road can be fraught with trial and tribulation, like the time he got locked up, then deported from South Africa.
Aritz picks up the tale:
*
This was the first year that I qualified, 2007. I was travelling to the Mr Price Pro WQS event in Durban, via Johannesburg.
As I approached the customs officer at Jo'Burg airport arrivals to show my passport, I could already see something was wrong with the officer.
He was a large white guy, late middle aged, and his face was red and angry looking. He had little bulging eyes, red too, and the veins were popping out of his neck. He looked really stressed. He grabbed my passport out of my hand, looked at it quickly, and said almost immediately,
"You think you're going to come into my country with this?"
On the cover of my passport, where there's the emblem and it says ESPAÑA, some of the writing was worn out, so you couldn't see some of the letters. They'd just worn off with use, like so many other people's do.
I protested with him but he was adamant. "No way you're coming in my country," he kept telling me over and over. He took me to the police station in the airport where I saw a sign saying 'All prisoners are entitled to one phone call.' So I asked them if I could just call my family or the embassy to get some help and the guy said, "Are you calling me a motherfucker now?"
I pleaded that I just wanted to make my phone call, and he started screaming,
"Did you guys hear that, eh? Did you guys hear the prisoner calling me a motherfucker?"
All the other police officers nodded and said yes, and I could feel the situation sliding way, way out of control. It was like a nightmare, and I just wanted to wake up.
Whilst I was waiting to go inside the jail nobody was watching me for a few minutes so I crouched behind a sofa and called my travel agent on my mobile, telling them to call the embassy. The officer saw me, grabbed my phone and he was really, really close to punching me in the face right then.
They put me in a small cell, with one other guy, from Ethiopia. I got talking to the guy and he'd been there three days already. He'd saved up working for five years to pay for a plane ticket to South Africa to start a new life there, but someone had sold him a fake visa, he got stopped on the way in and now was in jail and broke.
I tried to get some sleep, but I just couldn't, I was kind of freaked out. Suddenly the Ethiopian guy was tapping my shoulder and telling me to wake up. He'd stood on top of his bunk bed, and removed some of the roof tiles opening up a hole. "Let's go!" he was whispering, "Freedom. Come with me, brother. Let's go!"
I was now just freaking out, I thought we were going to get shot for trying to escape. The nightmare was turning from bad to worse.
I told him there's no escape, you're gonna fall through the roof, put the tiles back. He begged me not to tell the guards and started crying. I called the guards and asked them to move me but didn't say why, and they said, "Oh don't worry about him, he's been crying for three days, he's fine."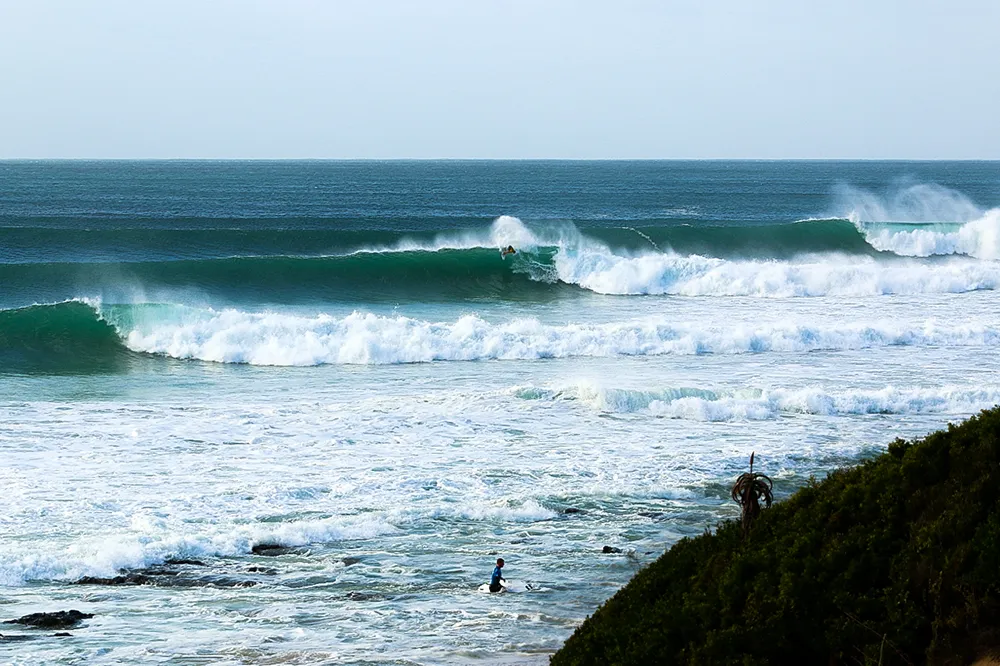 When you're inside they don't tell you anything, I had no idea how long I would be there. Then suddenly, it was time to go. They put me in handcuffs and marched me through the airport onto a flight to Paris.
I sat next to a family, in handcuffs all the way to Paris and they were a bit freaked out by me. They thought I was a terrorist or something. I explained what happened but they didn't believe me. Neither did the hostesses, they'd never heard of anything like it. I basically just met the wrong guy on the wrong day. Thousands of people travel with worn passport covers every single day.
In my mind, despite all that had happened I was determined not to let this one guy beat me. 'No way I'm missing the contest because of that guy. Fuck that guy,' I kept telling myself. I was back home in Zarautz for about an hour, getting ready to leave again.
Everyone was telling me not to go back, forget it, but there was no way I was missing that comp. No way. I went to Madrid, changed my passport and flew back to Jo'burg. Clearing customs I was expecting to be on computer or something and my heart was just pounding. But nothing came up, they let me in.
I got to the beach at Durban less than an hour before my heat, after four and a half days' travelling. I was exhausted. The waves were tiny and hardly breaking, but I was just thinking of the customs guy the whole time, spurring myself on. 'He's not gonna beat me, no way.' That was my fire.
In the end I made a couple of heats, got the seeding and later that year fulfilled a lifetime dream of qualifying for the WCT. It's a freaky story, just bad, bad luck, but when I think of it now, I can't help but think it happened for a reason. It was a learning experience, about how quickly your fortunes can suddenly change, just like that.
I take pretty good care of my passport these days.
Cover image: Aritz, still stoked. Poullenot/WSL