At just 22g, EVZero Blades are so light you'll barely notice you're wearing them. A frameless design means unperturbed vision, while the excellent Prizm lens gives exceptional clarity, colour definition and protection. Looks-wise, the temples of the EVZero frame meet the iconic lens cut of the legendary Blades. A performance eyewear both for fashion and function, I decided to test them under the rigors of both.
The Street Test
To street trial the EVZero during a routine surf check, I was listening to Down To Zero, by Joan Armatrading. Pure coincidence, perhaps, but it nevertheless felt like a sign. I slipped them on in the garden and instantly the fit, rather than being merely snug, felt like an extension of my own physiology. What had started as a crisp, clear day, was experiencing little southerly blow up from hills, and was now getting glarey. I couldn't have been better equipped for the glare, the lens quality being the most important feature of any eyewear, I instantly knew my eyeballs were in safe hands.
I rounded the corner of Rue des Basques and set west for the surf check, feeling good. Air, low 20's; wind, light but building. Zero percent chance of precipitation.
"Oh the feeling" went Joan's beautiful, shimmering delivery, "When you're reeling". I picked up pace; nothing like a tale of late 70's heartbreak to get you pumped. "Brand new dandy, first class scene stealer," she continues, "Walks through the crowd and takes your man." Uncanny. It was almost as if she was singing about me. As the literature testifies, the EVZero design and look are inspired by street wear culture and global influencers, and my look was undoubtedly scene-stealing strong.
At the surf check, local influencers squawked and preened, occasionally pointing at waves and sets and saying things about tide and wind. Luckily, I had headphones in. "Nice glasses!" said one enviously, relishing the chance to break the monotony. He couldn't help but admire the EVZero's distinctive outline on my face. "I know" I began, "I know."
I let him try them on, which was a mistake. He went around each of his friends in turn, "Hey, check these out" notably pleased with himself. I was worried the tide would fill in, or the wind would switch, or the average temperature of earth's atmosphere would reach 3 degrees above pre-industrial norms and thus manifest the mass collapse of our planet's life support systems, before I got them back. It was analog influencing in a digital world; but I must admit, he did look good in them. Seeing someone else sporting your new eyewear is a bit like seeing someone else drive your car. Never not alluring.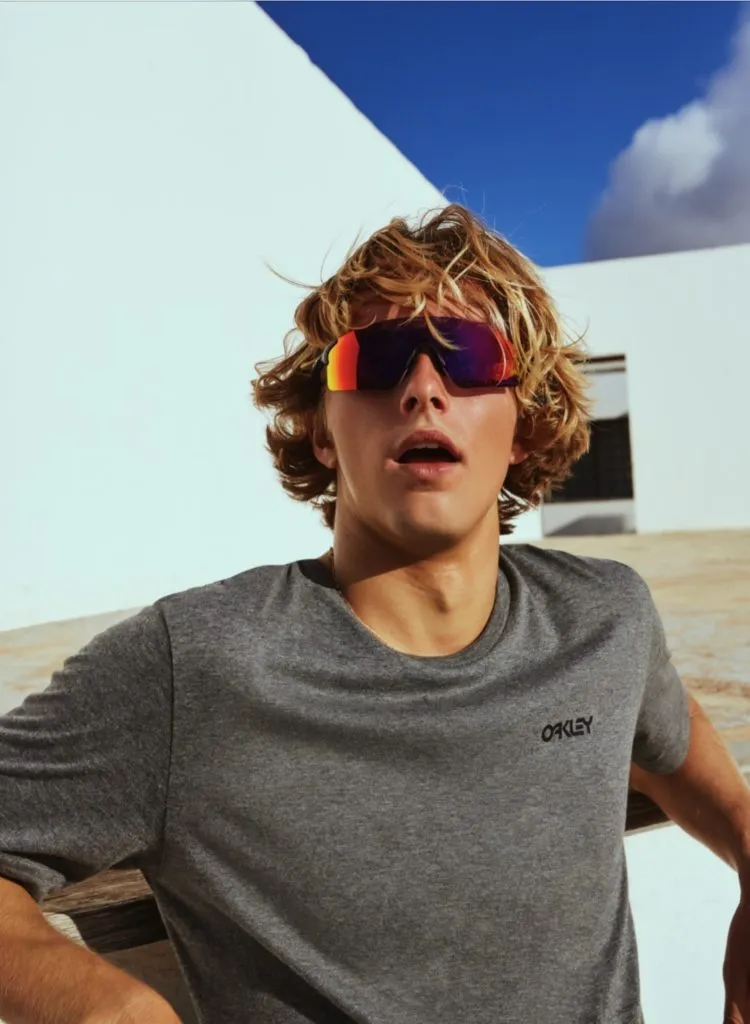 The Road Test
A broken spoke had kept me out the game for a while, but a staggeringly cheap 2 euro repair setting her right, coinciding with the EVZero Blades coming into my life and I was back relishing the solitude of the open road. I slipped into brand new bib shorts, which cost more than a car I once bought from Tamar Car Auctions in Saltash, Cornwall late on a Monday night. The EVZero Blades went on last. Have you ever been head butted on the retina by an insect at full descent speed? I have. Monyash Road in the Peak District, the last time I ever went cycling without eye protection. I cried for 3 days.
The Prizm road lens stood up more than admirably. With 20% light transmission, increased contrast and a rose base colour, the world flew past my wheel in higher definition than it ever had before. Comfort was next level, the ridiculous lightness combined with a sleek shield shape that fits snug means you'll forget you're wearing anything on your face except a smile/grimace. As far as high functioning performance items from a road spin that you'd wear in a regular social situation, surely the EVZero Blades are in a league of their own.
Conclusion
Multi function gear has often been a troublesome proposition. Amphibious footwear you can walk a tidal pool and play golf in? Walkshorts that also claim to serve as boardies? Never delivers quite the utility range promised. But in terms of eyewear with a look you'll want to have all day everyday, yet with elite sports performance function, the EVZero Blades are bringing all new levels of cut through.