Sydney Based Pat Capocci is a lifelong surfer, a touring musician of global acclaim and owner of Flying Tiger barbershop. In short, he's a real renaissance man.
Whether he's slinging and wailing in front of a jostling crowd, packing his quiver for a dawnie down the coast or chewing the fat with a client in his shop, an appreciation for the eclectic pervades all that he does.
Although heralded as one of Australia's most respected practitioners of Rockabilly and Roots, his musical tastes, like everything else in his life, defy rigid pigeon holes.
"It's a rumbling, dirty edged mix of rockabilly, old school R&B and rock'n'roll," said Beat Magazine of his 2014 album Pantherburn Stomp, "with some '60s garage rock thrown in for good measure," – a blend that perfectly sums up at least some of the sub-cultural milieu Pat spends his days immersed in.
Recently, we caught up with him to find out more about his life up to this point, from touring in his early twenties to his decision to open up Flying Tiger and how his multitude of interests prove strangely complimentary.
WL: Tell us about your life growing up… Where were you based and what things most occupied your young mind?
PC: My family and I lived in the rural town of Maitland, NSW, Australia which is 30 minutes inland from the coastal town of Newcastle (home of the recent WSL event and MR's home town)
Around the age of 6 I picked up the guitar but it wasn't until I was 13/14 when the obsession started and the addiction took hold! Haha. Skateboarding, music and surfing, all these individual expressive pursuits seemed to all tie in perfectly!
I'm an only child so I had a lot of time to myself and I became quite comfortable with long periods of solitude, spending countless hours sitting in front of the CD player in my room pressing play, pause and rewind, studying any bit of music that I could get my young hands on!
WL: And how did you get into surfing?
PC: On weekends Dad and I would do the weekly commute from Maitland to Newy so I could surf. I was riding an '80s Fluro Pink and Blue Pacific Dreams 5'4 Thruster, but It wasn't until we started making monthly pilgrimages to Pacific Palms (2hrs North of Newcastle) that I really connected and found my groove on the consistent beach breaks. At the same time a friend gave me a 1960's Joe Larkin 9'8 D Fin (legendary surfer/shaper from Coolangatta, Queensland) that was ideal for smaller days, and expanding my knowledge and understanding of board design. That thing beat me up so much, but through my persistence, it taught me so many lessons and fundamentals that still serve me well today
Between 2002-2004 I started experimenting with other old boards from the '60s and '70s I found in junk shops, and stumbled across Thomas Campbell's "The Seedling" and then "Sprout" in 2004 and those films totally blew my mind. Nowadays the surfing and the craft that are featured in the films seem quite "normal" but in the early 2000's what was happening locally was nothing like that at all, the surfers and the boards they were riding was so radical and revolutionary and the way it was shot on 16mm film was so beautiful.
At the same time, I met local legendary shaper Pete Sheely and with his knowledge and guidance, he built me a quiver to represent the eclectic tastes I was exploring. That sent me down the rabbit hole which I'm still trying to figure out and learn from now! haha.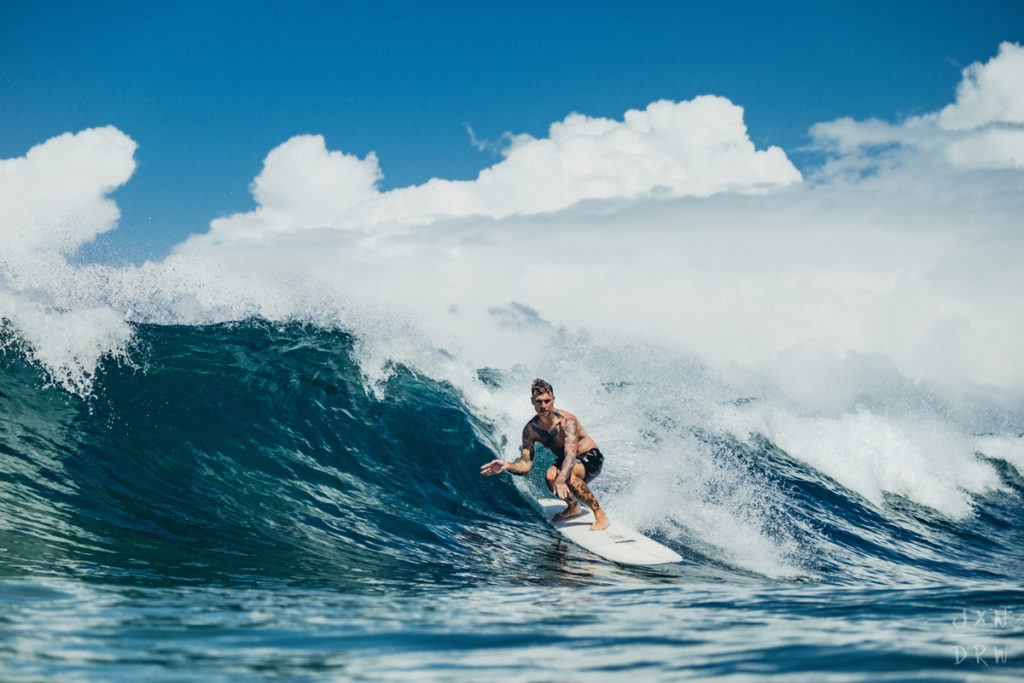 WL: Who or what were your biggest influences in the surf, skate and music space?
PC: There were a couple of guys in the surf, skate and music world that always represented more than just the culture that they were contributing to, guys like Miki Dora, CJ Nelson, Vince Felix, Jai Lee, Matt Chojnacki, Corey Duffel, Jim Greco, Charlie Christian, Bob Wills and the Texas Playboys, The Clash, Django Reinhardt, The Fabulous Thunderbirds!
There was an attitude, and a way of life that seemed so unique and abrasive to what "Normal" was at any of these points of time in history, yet there was something in the choices these folks made that I could relate to and identify in myself that made me feel like I was on the right path.
WL: As a teenager, you went off on tour with a band. Can you tell me about that experience and what you learnt from it?
PC: I still feel super fortunate and grateful for how far and wide music has taken me; Morocco, Latvia, The Middle East, Belgium, Hawaii it's honestly just crazy!
From all the travels the human connection and lessons learnt from chance meetings with people are what shine through the most, people's willingness to lend a hand or have a chat and talk story are so etched in my mind.
WL: Tell me about your decision to move to Sydney and open Flying Tiger?
PC: I moved to the Inner City of Sydney around 2009, there were so many epic gigs and it was such an amazing scene at the time, I dove straight in and was fortunate enough to be gigging 4 to 5 nights a week, having the chance to play that often and meet so many other likeminded musicians propelled my eagerness and curiosity to learn more and dig deeper into every genre I could sink my teeth in, I could be playing a Western Swing gig one night, Jazz gig the next, a Country show, then a few nights of Blues and Rockabilly with our own lineup, it was so sick!
All the while I was holding down a day job and doing my 10hrs a day cutting, my folks engrained such a solid work ethic in me since I was a kid, I'm super thankful for that, I can't stand sitting still! haha
Fast forward to 2013 and I finally made the move over the Sydney Harbour Bridge to Manly Beach to work at a Captain Sip Sops Barbershop, around the same time the gigs in the city were less frequent as the focus was now on month-long European/USA tours, so between tours there was a lot of time to dig in and clock up some hours at the shop
We always had the dream of one day doing our own thing and opening a shop, around 2017 a chance phone call to enquire about a potential space snowballed super quick into what is Flying Tiger Barbershop is today
From the initial phone call to open day it was only around a 4-week turnaround, we already had been cooking up a lot of the ideas, designs and stylistic elements that we were hoping to achieve, and with the help of friends and family it was a super quick process, my wife and I also got married during those 4 weeks, which is pretty wild timing considering, but with our wedding and the shop opening our energy levels and stoke for life were through the roof, what might seem like a one-man operation at FTB is hardly the case, my wife Chloe runs the business side of things, the socials and web site and is a massive driving force behind FTB, the Boss!
WL: Full on! Do you find running the shop to be complementary to your other interests?
For sure! The area we live and work (The Northern Beaches) is such hotbed of cultures, backgrounds and ideas, and I think that's represented in the vast variety of patrons that choose us for their haircut
Conversations and relationships with customers run as deep as the topics and interests we tackle during the day, from surf, philosophy, music, photography, parenting, mental health, finance, fitness, family, food choices, skateboarding, sobriety, music and relationship advice – anything to be honest! The fact that people are willing to open up and confident in us about such varied and sometimes taboo topics make me feel like we've created a space within the shop aligned with our views and outlook on life
I always joke with my wife that if there's ever a subject I need to learn more about, I just raise the question in the shop, talk with the folks who come in through the day, and by close I'll know everything about it!
WL: What's your favourite thing about the job?
PC: The immediate job satisfaction and the people, I feel it's such a rare thing in any line of work to continually feel that immediate satisfaction or to reap an internal reward every time after completing a job, but I am so stoked and feel super grateful that I get to experience that every half an hour with the change over of customers, and as I said the people, the conversation and human connection inspires me every day, if it wasn't for them, there'd be no Flying Tiger
WL: Do you often get the low down on where the best banks are, or new music you should check out while chatting with customers?
Absolutely, learning what beaches and banks are working while I'm cutting can be a blessing and a curse depending on how busy the shop is! haha, it takes exactly 1 minute to walk from the shop to our local "Freshwater Beach" which is also the first beach in Australia where the Duke kicked of his Aussie surfing tour in 1915 and introduced Australians to surf riding!
WL: What does your relationship with surfing look like now? What does it add to what sounds like an already pretty busy life?
For years I was fortunate enough to surf twice if not three times a day, we lived a few steps away from Freshy Beach and life wasn't as busy and responsibilities were few, now don't get me wrong, I still surf 4-5 times a week but I'm enjoying surfing in different ways now than I ever imagined
Seeing a couple of local young groms shred and thrive, namely Calen Pit and Curtis Wright, makes me super stoked, talking board theory and design with customers, swimming out with my Nikonos and shooting a few rolls of my mates, or hearing the old-timers talk story on their last shred and still get amped for every sesh is so sick, I hope to be like that when I chalk up a few more years, all these things bring me so much stoke!
Photos by Pat Capocci
WL: Tell me about your partnership with Uppercut Deluxe?
PC: The owners of Uppercut Deluxe are also the owners of Barebones Barbershop in Brisbane, Queensland, 12 years ago we would tour heavily in Queensland, due to the close proximity of the Noosa Pointbreaks and the epic gigs of course!
The Barbershop scene in our town was a hopeless wasteland and it was almost like a sacred pilgrimage to stop and get a cut at Barebones on our way to a show.
When Barebones released their first product, "Uppercut Deluxe Pomade" and Uppercut Deluxe came to be, they floored me by asking me if I'd be keen to be an ambassador for the brand, I couldn't say yes quick enough, and that relationship has been going strong since 2009! Still stoked!
---
Shop Uppercut Deluxe:
---
Pat's extensive music back catalogue is available on Itunes, Spotify or wherever you like to listen.
Albums: Steppin Out, Delinquent Beat, Call Of The Wild, Pantherburn Stomp, More Thrills Than Ever
EPs: Coast To Coast
Singles: Baby Sue, Slave For The Beat, Break These Chains, Fire Fly, Comin' In Hot, Coast To Coast, Hot Hot Heat
Find out more about Flying Tiger Barbershop here and visit Pat's website for merch, music and upcoming shows here.