[We're excited to announce our friends at Harley-Davidson will be joining us all summer at the Wavelength Drive-In Cinema, offering attendees the opportunity to check out their range of classic and contemporary bikes up close and to win the chance to ride one for a weekend. To celebrate the partnership, we'll be penning a series of articles exploring the unholy union between surf and bike culture, kicking off with this potted history.]
"You know how people say only a surfer knows the feeling?" Well, it's very much the same with motorcycles," says legendary surf photographer Ted Grambeau – a man well placed to make such a statement, having once spent 8 months riding all the way from LA to the southern tip of South America in search of waves.
"Once you get on certain roads and you get in the flow, you are surfing," he continues, "you're laying into corners, you're powering through bends, you get in the rhythm and you can do it all day. It's beautiful."
All over the globe, from the arid pointbreaks of Baja to the tropical reefs of Indonesia, surfers have gazed up from the lineup at expansive dunes, steep verdant hillsides and sweeping coastal roads and felt drawn to the abundant thrills promised by a voyage on two wheels.
Of course, motorcycles have always offered a practical way to explore the coast – to seek out new spots unencumbered. But as Ted describes, there's so much more to riding a bike than getting from A to B, with many of the biggest allures equally celebrated in surf culture. Like the desire for solitude, of freedom to explore wild places others dare not venture into, the exhilaration of going fast with the wind in your face and of course the joys of backyard tinkering and do it yourself craftsmanship.
Here, we'll look a little deeper into surf and moto's bourgeoning sub-cultural crossover, examining some significant moments from its history and meeting the passionate protagonists who've most influenced its development.
Mad Jack Churchill getting his early 20th-century thrills on board and bike. Photos via: EOS
Mad Jack Churchill – ride culture's earliest ambassador
At some point on the morning of July 21st 1955, a farmer and his son reported seeing a man speeding down a narrow country lane near Gloucester on a Vincent Black Widow motorcycle with what was later identified as a 16-foot homemade wooden surfboard towing behind him.
The man was Colonel Jack Churchill, or 'Mad Jack' as he was better known, and he was on a quest to become the first person ever to surf the Severn Bore; a rare wave generated by large spring tides that trundles upriver for 20 miles through the rolling Gloucestershire countryside.
When Jack arrived at the bank and prepared himself to paddle out, concerned onlookers tried desperately to talk him out of it, but he just laughed and said, "I'll be alright." Although renowned for dragging unsuspecting sheep and cattle off the banks and into its maw, a fast-moving river didn't much scare Jack. Probably because the potential perils paled in comparison to many of the feats he'd already undertaken in his life, which included, but were not limited to; riding a motorcycle 1500 miles across the Indian subcontinent in the '30s, facing off against Nazi fighters in the Second World War with a longbow and sword (he killed one with the former and reportedly captured 42 using nothing but the latter) and tunnelling out of enemy prison camps on two separate occasions.
It's no surprise then, that on that day in '55 he successfully surfed the bore for a mile and a half without too much trouble. In doing so, Mad Jack sewed the seed for what would become a flourishing inland surf culture and almost certainly became the first-ever Brit to experience the dual joys of a motorcycle powered surf adventure.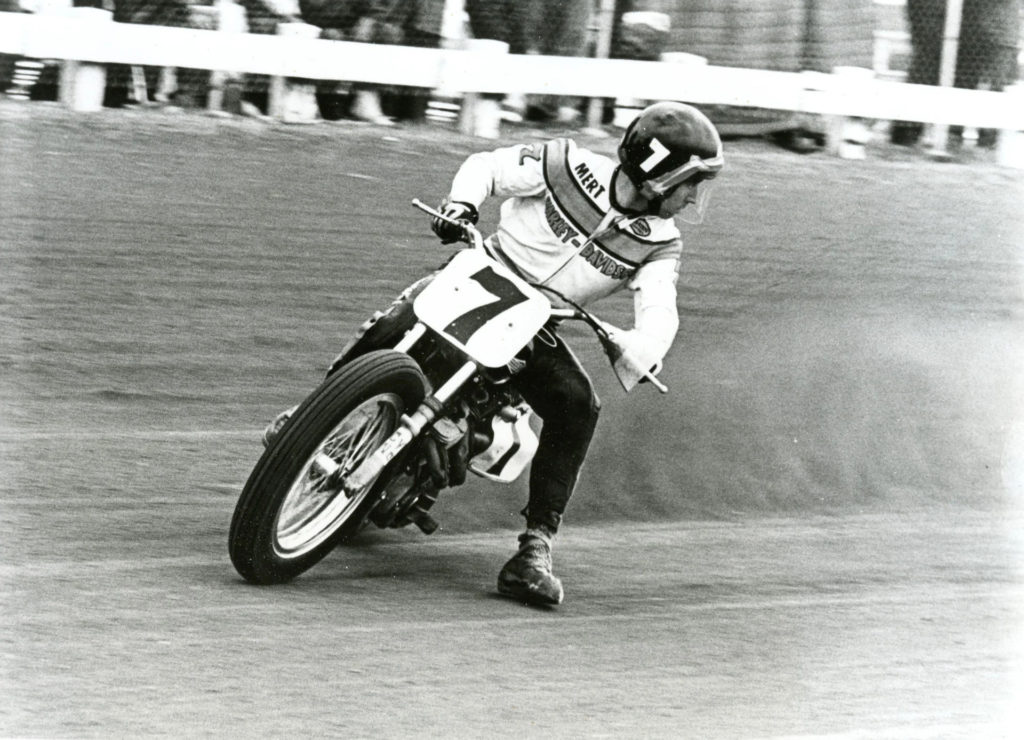 One of the stars of On Any Sunday, Mert Lawwill on his #7 Harley-Davidson Factory XR-750 v-twin in August 1975. Photo courtesy of the American Motorcyclist Association.
Bruce Brown brings board and bikes together
In 1971, just four years after he created the blueprint for global surf travel with the era-defining Endless Summer, Bruce Brown released another film that would go on to have an equally profound impact on American sub-culture.
It was called On Any Sunday and it featured a cinematic study of motorcycles and the men who rode them, exploring the variety of disciplines, quirks and characters who made the scene unique.
Half a century on, the words most frequently associated with the film are 'life changing' and there's no doubt many of the lives it changed were those of surfers.
Among them was Californian shaper Mike Minchinton, who began dreaming of dashing out into the desert to ride from the minute he got his hands on the VHS. Eventually, those dreams led him to the purchase of a small plot in the middle of the Mojave, home to nothing but a disused weed farm, which he set about transforming into a scattering of board and bike workshops and living quarters.
There, his son Forrest, barely into adolescence when they first arrived in the early naughts, would set off alone with his dirt bike, building jumps and hitting them over and over until he had them nailed. The only film they had on video in their trailer was On Any Sunday, so Forrest watched it on repeat.
Forrest Minchinson at his desert compound, as featured in DEUS' Painted In Dust film project. Photos by Harry Mark // DEUS Ex Machina
Two decades on and he's become a respected figure in professional motorcycle racing – a career which he still supplements shaping surfboards alongside his dad in their desert hideout.
The Minchinton's story is typical of the level of influence the film wielded, with Brown's compelling storytelling converting swathes of surfers enamoured with his earlier work into die-hard motorcycle fanatics. And although in On Any Sunday, it's dirt tracks and not waves being ridden, there's no doubt the film evokes a commonality between the two pastimes. Like in the final sequence, where we find Steve McQueen and two buddies banking carves into a lofty sand dune (that bears a striking resemblance to the one overlooking Cape St Francis,) as Bruce ruminates on the indescribable joy of riding with friends.
"Brown's ultimate legacy," writes Michael Fordham conclusively in Huck, "would be to place the salt-streaked natural highs of paddling into the ocean with the greasier, louder experience of a life with motorcycles front and centre."
Discovering G-Land on two-wheels
When surfers first began to venture east in the late 60s to explore the abundant surf potential of Bali and beyond, they arrived to find transport options limited. There were bemos; small locally operated minibuses, perfect for whisking you from the airport to your accommodation, but for those looking to explore further, renting a fat-wheeled motorbike was the obvious choice for the unpredictable terrain and narrow lanes that snaked around the coast. So, when in 1971, American's Bill Boyum and Bob Laverty set off across the country in search of one of the world's best waves, that's exactly what they went for.
The seed for their quest was planted 30,000 feet over the southern tip of Java, when, while gazing out of an aeroplane window through unusually clear skies, Laverty spotted long blue lines wrapping around a perfectly hewn point. As soon as he touched down in Bali, he sought out admiralty charts to confirm his sighting and managed to locate the piece of perfectly angled reef across a bay from a small village called Gradjagan. After fearing too many unknowns for a safe sea crossing, Laverty decided to take on the 200km journey overland, roping in friend Bill Boyum with the promise of long, unchartered lefts. They packed their bikes with supplies, slung their boards in bags over their shoulders and set off north towards the Bali strait.
(1) Bill Boyum's fat wheeled bike. Photo via Billboyum.com (2) G-Land from above. Photo Quiksilver // Testemale
On arrival at the port, they bartered with a suspicious and heavily armed guard, eventually managing to board a rickety ex-WWII landing craft that transported them across the channel.
When they landed on the other side, the world that greeted them was vastly different to the one they'd left behind. It was crowded, noisy, stifled by poverty and rife with tension following a recent government coup. After several hours riding south, they reached Gradjagan. Across the bay, they could see offshores ripping plumes off the back of solid walls rolling down the point. By the water's edge, they found a few local fishermen and managed to communicate they wanted to be ferried across. The fisherman wearily obliged, loading the surfers, their boards and their bikes into a pair of small boats.
For the local people, the forest on the far side of the bay was a place of great superstition, but the fisherman took the boys as close as they dared, dropping them about 10 miles from the top of the point. Then, Bill and Bob were alone again. They rode their bikes for a few more miles over the hard sand but, after it made way for a jumble of loose coral, were forced to ditch them and continue on foot. As night fell, they settled into a spot on the edge of the jungle. While one man slept, the other kept watch, staring into the inky blackness, ready to protect their camp from the tigers who prowled among the trees just beyond.
When the sun rose, they could see perfect 8-foot lefts spinning down the reef. It was an easy paddle across a brilliant blue lagoon and for the next three days, they gorged themselves on a buffet of tropical surfing riches. On the third day, their supplies ran out, so they said goodbye to the tigers and set off back to Bali, riding straight into history books with the first documented surf trip to the now world-famous 'G-Land.'
While Bill would travel back many times over the coming decade, staying in the cluster of tree-houses established by his brother Mike, the adventure was to be Bob Laverty's last. Just a few weeks after he returned to Bali he took a heavy wipeout at Uluwatu and was found by Bill floating face down beside the cave.
(1) Moto-enthusiasts Sunny Garcia laying into a turn at J-Bay. Photo Saunders. (2) Never one to hold back, Sunny celebrates the award for 'Best Crash' at the 2017 SurferCross via @sfrx
The pros get down and dirty
Throughout the '90s, as the grip it and rip style reigned supreme in pro surfing, many competitors at the top level developed a penchant for ragging around on dirt bikes. "It was always my on land adrenaline fix," says Aussie power surfer Gary Kong Elkerton, who was among the first from the pro-surfer fraternity to take up the sport in the late '80s, "If I couldn't surf, I'd jump on a motorbike and go hit the jumps." Over the following years, others from all corners of the world followed suit, with the likes of Nathan Fletcher and 2000 World Champ Sunny Garcia becoming obsessed enough to each gain success in the competitive moto arena. "When I make my mind up to go riding I don't care how good the waves are," Garcia once told Motorcycle USA. "I'm going riding. I've driven past Backdoor and Pipeline several times looking at them and thinking, 'Look how good the waves are but I'm going riding'"
In 1998, after hanging with Sunny in Hawaii, pro motocrosser Jeremy Albrecht returned to California and, with his big wave surfer buddy Mike Parsons, established SurferCross, an annual 2-day event that gives competitors in both disciplines the chance to team up, race bikes and battle it out in the waves of San Onofre beach.
The event was an instant success, with 2020 being the first year since its inception that it was unable to run, much to the sadness of its dedicated following, one of whom suggested on Instagram they could replicate it virtually by getting together on zoom to watch On Any Sunday and Endless Summer back to back while ruthlessly taking the piss out of each other. Luckily, it was only a brief hiatus, and based on a recent Instagram post, it looks as though the event is posed to return later this year.
Dustin, at home in Bali, from a short clip describing the journey behind his critically acclaimed film 'South To Sian'. Frame by Deus.
Dustin Humphrey – author of surf and motos new cultural dawn
Born in Oklahoma and raised in Texas, Dustin Humphrey's earliest memories are of sitting on the front of his dad's motorbike. To this day, he still remembers the way his old man's eyes lit up when he hit his first jump. As a teenager, he moved in with his mum in Huntington Beach and surfing took over as his main obsession, but as soon as he was old enough, he bought himself a bike and began regular rides down to Baja with his mates. A trip to Indonesia soon followed. He went chasing nothing but waves and good times, but after slicing his feet open on the reef at Padang on the first day, ended spending the whole trip swimming out and shooting his mates. The photos found their way into Surfer Magazine and the following year, they sent him back on his first official mag trip. From there Humphrey's career took off. He established a base in the Island of the Gods, but travelled widely on assignments, with a sharp and curious photographic eye and a thirst for genuine adventure translating into an instantly recognisable style. Surf magazines brimmed with images marked 'D.Hump' – bathed in warm light and enthused with the exhilaration of his travels. Glitzy commercial gigs soon followed, including high-end fashion campaigns in London and Milan. But, Dustin made sure he was never away from the beach or a pot of bike grease for too long. After travelling the world with Taylor Steele working on 'Sipping Jetstreams', in 2007, the pair embarked on an ambitious new film project involving Rob Machado and a trip across Indonesia on a custom bike, built by Humphrey. Thanks to an unfortunate confluence of divorce, disease and rotten luck, the shoot was a disaster and by the time The Drifter was released, Humphrey was burnt out.
Just months later though, his life swerved again, with a chance meeting on an overnight flight. By pure chance, Dustin ended up sat next to Dare Jennings, founder of Deus Ex Machina, then, just a Sydney based coffee house and workshop that indulged in all things surf and custom bike. The two hit off immediately, for obvious reasons, and soon began working together on a string of film projects. Before long, they hatched a plan for Dustin to bring the brand to Bali, establishing a home for it in the then quiet coastal village of Canguu. Dustin took to the project with a gusto not mustered since the early days of his career, working tirelessly with a team of local collaborators to build a unique cultural hub right there among the rice paddies. He called it The Temple Of Enthusiasm.
Dustin combines his two passion into one iconic image for surf brand Insight's 'Dopamine' campaign. Photo: Dustin Humphrey // Insight
"It's no small task to describe how Deus evolved from there," writes Nathan Myers in an excellent profile of Humphrey in Metamag. "They built custom motorcycles, yes. And custom surfboards. And the restaurant, barber shop, clothing lines, and art shows turned the place into a tourist destination. The film productions, four-day surf/moto art festivals and steamy Sunday night DJ hip-hop parties were a mainstay for locals and travelers alike. They sponsored surfers, shapers, moto-riders, artists, celebrities, sushi chefs, and girls, lots of girls, to infuse their time at the Temple. Then they traveled throughout Indonesia creating lush travel films like South to Sian and I Had Too Much to Dream Last Night. These were the beautiful and uncomplicated travelogues he'd been trying to make from the beginning. Simple. Romantic. Friends sharing adventures."
Deus' output came to define the contemporary oeuvre of the free-roaming, surfer / biker lifestyle, blending the illustrious cinematic style of On Any Sunday, with the raw two-wheeled adventure of Indo's earliest surf pioneers. Dustin's vision re-defined both the substance and aesthetic of the culture, training up a whole new generation of lensmen on the ground in Indonesia and inspiring thousands more around the world.
A decade on from the day the Temple opened and Humphrey has moved on to pastures new, leaving both Deus and his base in Bali, to start a new life in California with his young son – himself a promising up and comer in the world of moto racing – and establishing a whole new brand, State Of Ethos. However, there's no doubt Dustin's enduring influence continues to reverberate through Deus and indeed the culture at large.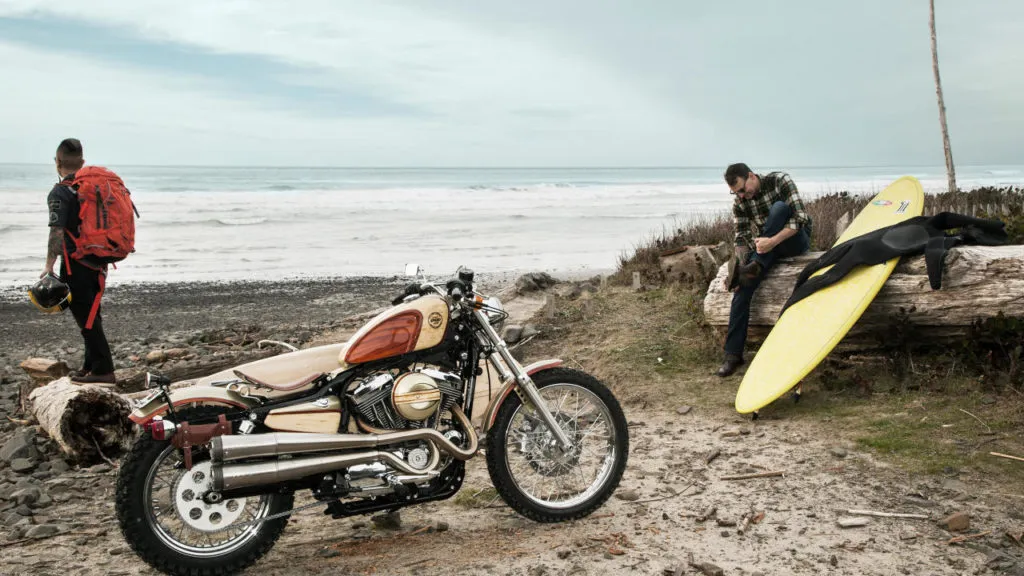 As the Official Motorcycle of the 2018 Vans US Open and 2019 World Tour, Harley-Davidson set out to share the passion of riding bikes with riding waves. Photo: Lisa Susan Ullrich // WSL
Harley-Davidson & The World Surf League join forces
In 2019 Harley-Davidson and the World Surf League joined together for a year-long partnership, marking the most high profile shared celebration of surf and ride culture to date.
The iconic motorcycle makers took to the sands of Rio, Huntington Beach, France and the Gold Coast to give spectators to the surf events the chance to examine their magnificent machines up close. They also produced a series of videos introducing the wider audience to some of the tour's most enthusiastic motorcyclists including official Harley-Davidson ambassador Wade Carmichael.
"You're just out there in the open, no phone, no stress, you're just really having a ball," enthuses the Aussie underdog about why he loves to ride. "The Harley-Davidson's have a lot of power," he adds, "you can just take off and really feel the energy of the bike."
Renowned for his lightning-fast, uninhibited, hammer drop surfing, to see Wade's grin as he squeezes the throttle, it's clear that in a Harley, he's found a terrestrial beast that can match his aquatic metal pound for pound.
While showcasing their beautiful bikes to eager fans was the main event, at its core, the partnership served to celebrate the very thing that has welded these two seemingly distinct sub-cultures together for so long; that shared love of freedom, of the thrill and the appreciation the world around them.
Want to set out on your own two-wheeled adventure? Click here to locate your nearest authorised Harley-Davidson rental dealer.