[The Wavelength Drive-In Cinema is back for 2021, bringing you a range of surf cinema, cult classics and family favourites from the clifftops of Cornwall, kicking off with Surf's Up and Big Wednesday on Friday 16th July. Browse the full lineup and get your ticket here. Or, subscribe to Wavelength now to get free entry to a screening of your choice.]
The 2007 animated tale of a stoked penguin named Cody Maverick might just be Hollywood's finest ever depiction of wave riding.
Surf's Up is part of a long, oft maligned line of mainstream cinema's surf themed features. From Gidget to Big Wednesday, North Shore to Point Break to Blue Crush and much between, beach culture seems to capture the scriptwriters' imaginations, or rather, the studios bean counters' budgets more often than other leisure pursuits.
Released in 2007 as part of a wave of penguin films, Surf's Up delivers clever animated quirks, without the often too-fast-for-human-comprehension Pixar pace, while A-listers Shia LeBoeuf, James Woods, Jeff Bridges and Zooey Deschanel voice a funny, clever script.
In it, a young northern rockhopper penguin named Cody Maverick, maligned and misunderstood in his home of Shiverpool, Antartica sets out to chase surfing fame and fortune in Pen Gu Islands's Big Z Memorial Surf Contest, where he must overcome the evil 9 x Big Z Champ Tank 'The Shredder' Evans, as well as his own crushing big wave inhibitions.
Think the cozy indulgence of North Shore mixed with Creature Comforts quirks, and even a touch of Lebowski.
Bizarrely, the surfing action is really, really good.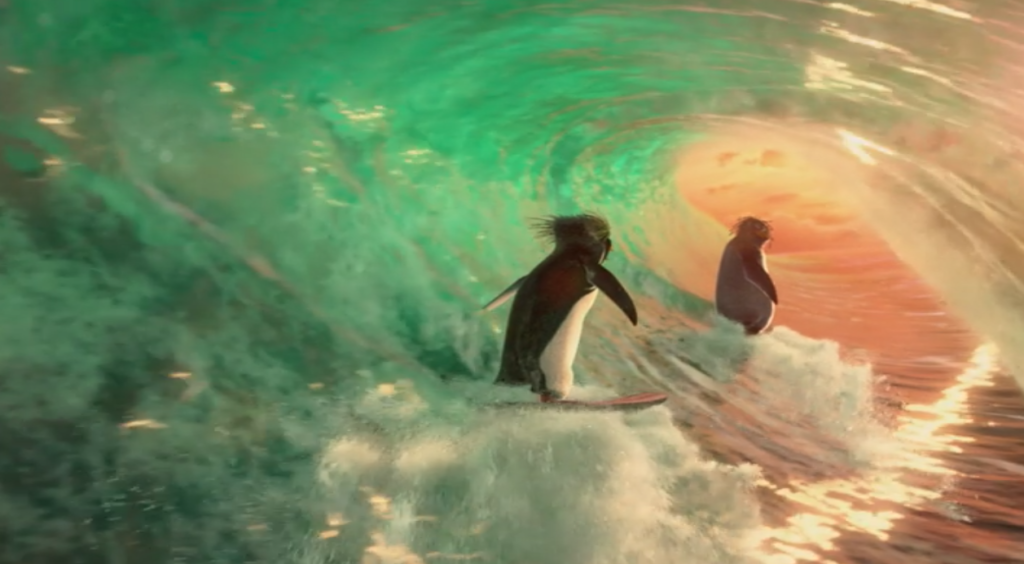 The surfing scenes
Surfing cinema plagued with a basic continuity problem that anyone who's surfed more than a little bit can whiff a mile off; when the tight water shots of the actor paddling in the lineup flip to the pulled back action that depicts clearly not the same spot/human/day/continent.
Lefts become rights, Bell's become Waimea, Cornwall the Canaries. Alas, the curse of the dedicated surfer is the compulsion to immediately point these infringements out to non-surfing company who perhaps hadn't noticed, an interaction nobody gains from.
Surf's Up almost certainly offers the finest rendition of surf action of any piece of surf cinema in history, even today nearly 15 years since its release.
In fact, in an apparent chilling prophecy of state of the art surf action to come, the Boneyards scenes bear an uncanny resemblance to John John's Himalayas waves from Maps of Home.
Animation allows for cartoon-like waves to look impressive from all angles, as opposed to splicing a head dip onto library footage of the Eddie. Even real life giant surf looks weird when flipped from land to water angles, check any GoPro nose footage and even XXL Jaws looks slightly overhead. SU shines by not only animating plausible, stylish surf moves (let's assume a bonus of having Slater as a consultant), but from the unforeseeable fortune that today's real surfing suddenly resembles yesteryear's caricature.
Pro surfer cameos actually… work
Pro surfers can neither be blamed for being shit at acting, nor being tempted into attempting it by considerable financial reward; they're no different from other sports people who didn't stay in their lane. Notable exceptions might include Gerry in North Shore, kinda.
There are probably others, but none spring to mind.
Surf's Up feature's two surfing heavyweights, Kelly Slater and Rob Machado, at pre surfboard salesman, peak of their powers. Slater doesn't preach carbon chastity through golf, wavepools and plastic surfboards and Rob doesn't pretend to be a freewheelin' van hippy, because they never get the chance to spoil things.
The mechanics of their roles, as dial in webcast colour (another chilling foretelling, of the 2021 Aussie CT leg) means they're restricted to concise, authentic one liners, which feels like just about enough.
In character, as themselves, they're actually better than their real selves.
Even Sal Masakela appearance as a caricature of himself is much more plausible than the real-life version. An expensive American producer on a surf broadcast in Portugal once told me, by way of boasting his own credentials and allaying what he supposed my fears might be, "Don't worry, I'm the guy that made Sal Masakela look good…" Now I'm not sure if he was referring to his role in the X-Games, or as a writing consultant on SU.
Plots thicken… like custard
As if simultaneously jazz clap honouring and poking fun at – but mainly the latter – every surf cinema plot line in history, SU takes the classic tropes and makes them entertaining. The promising yet vulnerable and fatherless young hero miles from home – come too far to turn back to his mundane life now. The reclusive guru/shaper seer surrogate dad, the exotic local love interest, the cartoon villain surfing opponent, the contest vs soul surfer debate, the mythical big wave break. Who knew that getting across 'lose yourself and find yourself at the same time' vibes, or, in this case 'your board is in here (raw koa wood log) you just need to find it and let it out' could be best delivered by talking penguins?
Our anthropomorphic flightless aquatic birds somehow render that awkward junction of narcissism masquerading as spirituality that lies at the very essence of surf culture as not only palatable, but actually, enjoyable.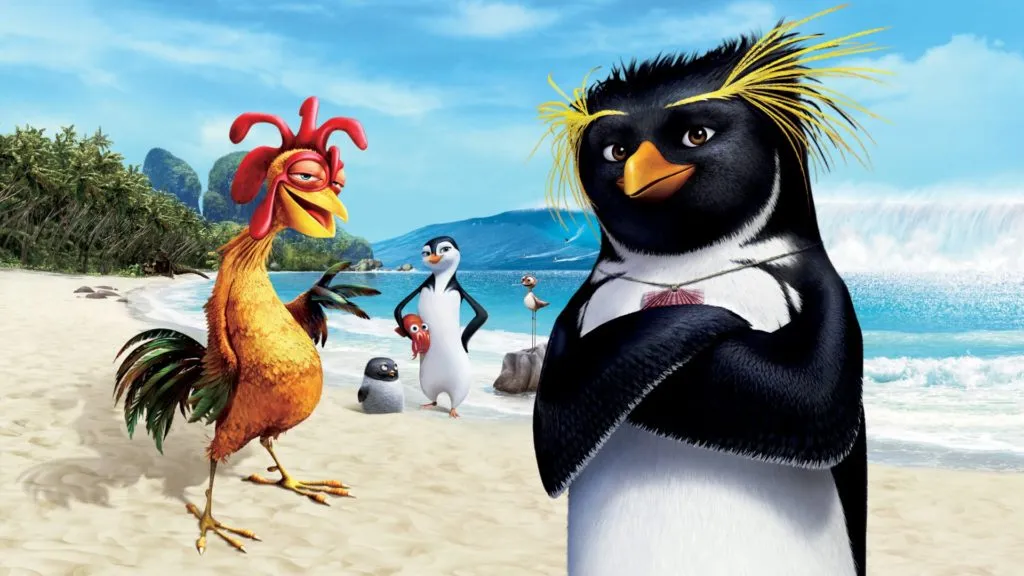 The critics loved it… even the surf media
Another of surf cinema's many proud traditions is being panned by the press. Again, SU takes a refreshing swerve. "This is a hip, lively and different-looking animation… The dialogue is appealingly offhand and overlapping too, an appealing change from toontown's usual crisp gaggery" said The Guardian. "Surf's Up is closer to Lilo & Stitch: a smart, endearing, relatively small-scale comedy… Shame on America for rejecting this unpretentious gem," said Empire.
Easy enough, you'll shrug, winning over Pulitzer winning leftie metropolitan elite broadsheet and the cinema periodical of reference, but actual plaudits from the surf media?
A much, much taller order.
"If there were ever a Hollywood surf film to show your unjazzed friends and say, 'Now, this is what it's all about,' said Surfing magazine, "Surf's Up is it." While the EoS's Matt Warshaw, whose taste (aside, perhaps, from an over developed fondness for early 50's Malibu) is largely impeccable, said, "Hollywood has long struggled with making accurate surf movies; Surf's Up showed that the secret may be to use animated characters."
It's a thumbs up double shaka from us, too.
Get tickets for Wavelength's Drive-In Cinema 2021 screenings of Surf's Up here. or subscribe now for free entry.