The Lofoten Archipelago in Norway offers some of the most beautiful scenery in the world and a truly unique surfing experience.
It's freezing, obviously, but with modern wetsuit tech and an insatiable hunger amongst both Norwegian's and internationals to explore this remote island chain, surfing has really taken off in the region, and from this selection of beautiful imagery, shot by full time resident Hallvard Kolltveit, we can totally see the allure.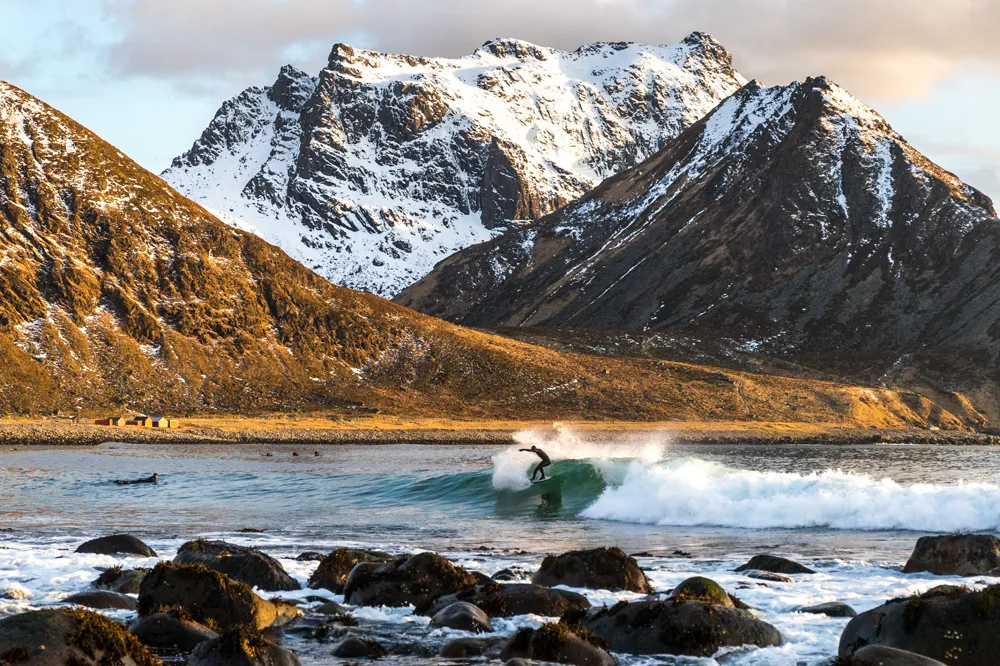 We asked Hallvard to tell us a little bit more about the place he now calls home:
"I've always been attracted to the 'little surfer – big landscape' kind of photo, having guys like Chris Burkard and Lucas Gilman as inspiration, which makes the Lofoten Islands in the north of Norway the perfect place to shoot on a regular basis. Swimming around with a waterhousing in these waters attracts just a certain type of people, but to me it's like a blissful pain when the cold starts creeping in, especially when you know you're shooting gold wherever you point the camera.
It's your average surf destination, minus the boardshorts and beach bars
"I started shooting surf photos when I took my degree in Hawaii, and have since made my way around the world and finally made the choice of settling down in Lofoten. There are 'quite a lot' of surfers up in Lofoten nowadays, but not too many of intermediate stature or above, which means that you're more likely to be alone than not on those pumping winter days.
"Though some like to sell it as this extreme remote location, we do have surf camps, surf shops, web cams and parking lots, making it your average surf destination, minus the boardshorts, beach bars and summer vibe. The Islands are a stretch of land with a lot of potential, but you have to be willing to spend hours upon hours in the car. If you do that, while praying to the local viking gods, you might find your hidden gem under a snow covered mountain."
Follow Hallvard on Instagram for more.
Going off?
Want to share your photos? If you've got a great gallery of your local spot email us [email protected]