The UK's funnest gathering of the surfing tribe brings the best European surfing talent and good times to Woolacombe Bay.
The Spring Classic Surf Invitational is returning to Woolacombe Bay, North Devon. It is a key plank, if you will pardon the pun, of the Wavelength Spring Classic, a surf, music, and ride culture festival that runs from 1-4 June 2023.
Last year's inaugural Surf Invitational saw the UK's best surfers and local shredders pitch up against visiting European and international surfers in an epic gathering of the tribe. The invitees rode a variety of craft, from 1960s logs to '80s twin fins, with the judging criteria being retro style and flow, and smiles on dials.
"My take out was that there were lots of familiar faces and some new ones, all of them smiling all weekend long," said Wavelength Print Editor, Mike Lay, who took out last year's Men's Division. "I was lucky to be riding a 60's log and take the win having had about as much fun as it's possible to have in a heat. I can't wait to do it all again. It should be bigger, better, and even more fun."
Joining Mike in the Men's Division this year will be Harry Timson, Stan Norman, Alan Stokes, Sam Bleakley, Lukas Skinner, Jobe Harris, and Luke Dillon.
"Last year there were the best UK male and female competitive longboarders, a load of us short boarders, and then just great all-rounders in the water together," said 4X British Champion, Dillon. "That hadn't happened before. Now with a second year, it feels like the start of a great feel-good tradition."
In the Women's Division, Emily Currie will also return to defend her title. "Last year's Surf Invitational was easily one of the funnest contests I've had the pleasure to be a part of," Currie said. "The initiative of this event was awesome – retro boards and a whole lot of fun."
Vying for her title will be an incredible field of British talent that includes Lucy Campbell, Laura Crane, Sam Sunshine, Emily Williams, Lola Bleakley, Beth Leighfield, and Evie Johnstone.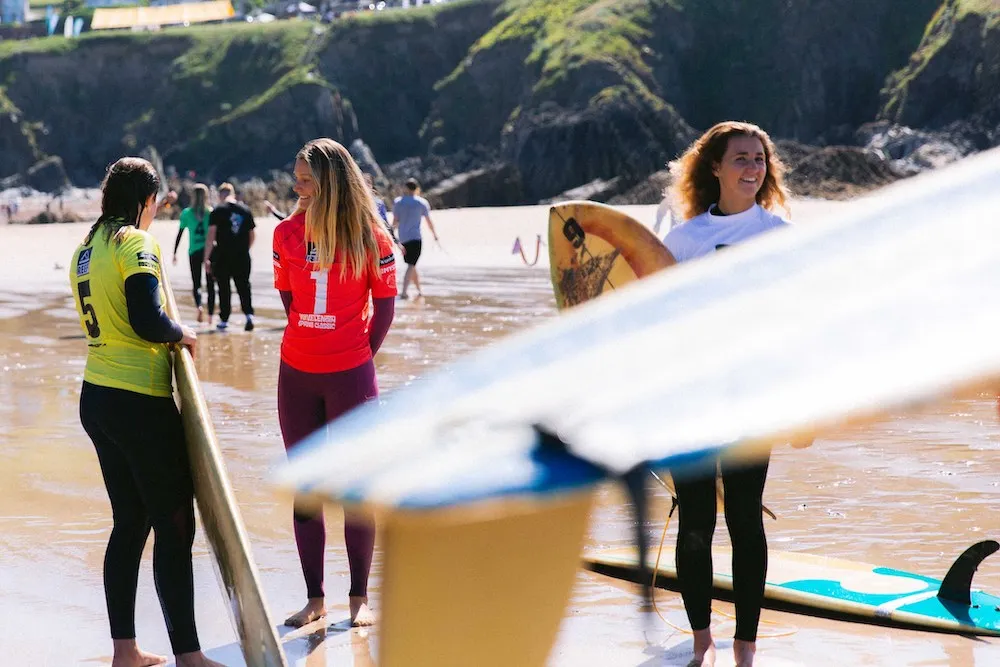 Mind you, as epic as last year's Surf Invitational was, there was always room for innovation. So this year we asked regular rippers to submit waves for a chance to win an invitation. Mike Lay tooth-combed the submissions and awarded Gordon Fontaine, Andy Teasdale, Vittoria Farmer, and Phoebe Gould the golden tickets.
Farmer, an Aussie who has spent the last few summers as a lifeguard in Newquay, could be a dark horse. "I had some mates in the event last year and saw how much fun they were having, and now I want a slice of it," said the former QS competitor. When asked what she could bring to the event, she already seems to have a good handle on the vibes. "Hopefully some nice surfing, and probably some bad dance moves."
Another new initiative is the Uni Spring Classic Surf Invitational. On Friday 2nd June, Bristol, Exeter, Falmouth, Brighton, Oxford Brookes, and Swansea Universities will compete in an inter-club competition, using the same multi-craft format. After a fun day in the waves, all the students will then head up to the festival site overlooking the ocean to celebrate what promises to be a day of pure student stoke.
This year's headline music acts include Arrested Development, Cassia, Los Bitchos, BCUC, Krafty Kuts, and Gardna. Away from the stage, the weekend will also feature skate ramp demos, cold water swims, trail runs, nature walks, yoga sessions and kids workshops.
With tickets flying out, you'll need to be quick to grab a place at the party. Book now and take advantage of the group deal which saves you 20% on 4+ tickets. This is only available for a limited time so go, go, go!