As the nights draw in, hunkering down on the sofa with a steaming cup of tea and watching a surf epic is pretty much de rigeur. Need a recommendation? Well, surf cinéphiles need look no further, we've put together a selection of our all-time top recommendations of women's surf cinema.
Experiencing somewhat of a golden era in women's surf cinema, this year alone has seen the continued release and film tours of Big Vs Small, Minna Dufton's incredible journey into big wave surfer Joana Andrade's battles to overcome her personal demons whilst surfing Nazaré, Girls Can't Surf, the riotous documentary chronicling the top pro's of the 80s and 90s battles against sexism and homophobia in the surf industry, and Lauren Hill's deep exploration into The Physics of Noseriding.
But women's surf films have been capturing imaginations worldwide since the seminal 1950's epic Gidget, and we've rounded up our top picks to stoke you out whilst hibernating this winter. Get the popcorn poppin'.
When 'Leave A Message' blasted into public consciousness featuring the now-defunct Nike Surfing's stellar women's surf team, including an about-to-go-stratospheric Carissa Moore, Lakey Peterson, Laura Enever, Monyca Eleogram and Coco Ho, it was clear that we were entering a new epoch of women's surfing. The power, style and explorations into air manoeuvres showcased in 'Leave A Message' planted an unabashed flag that women's surfing was reaching new heights, with a new vanguard of athletes entering their prime. Set to a badass playlist, 'Leave A Message' has often been cited as a source of pump-up, pre-surf inspo (highly recommend switching on Laura Enever's part for this exact reason) and it's not hard to understand why.
Émerger
'Émerger' is a beautiful, deep dive into the inspiring story of pro-surfer, Khadjou Sambe's story, who overcame patriarchal conventions within her society to pave a way for Senagalese women into surfing. Artfully capturing the first female surfer in Senegal's story, the West African nation has featured within surf cinema (Endless Summer) for many years, yet not shown the side of the local women. 'Émerger' is a stunning portrayal of the local culture and the ripple-like effect Khadjou has had upon societal norms.
'Surf Girls Jamaica' is a powerful exploration of Jamaican surfer, Imani Wilmot's story growing up on the outskirts of Kingston. Imani covers the reality of life for many Jamaican women, with sexual violence, rape and assault being commonplace. Through surfing, Wilmot's life is transformed, with the movie detailing the positive effects that surfing has upon other local women in Imani's life, and the beauty of riding waves in this unique Caribbean island. Wilmot is an empowering icon for many women and women of colour, and the power of community is truly evident.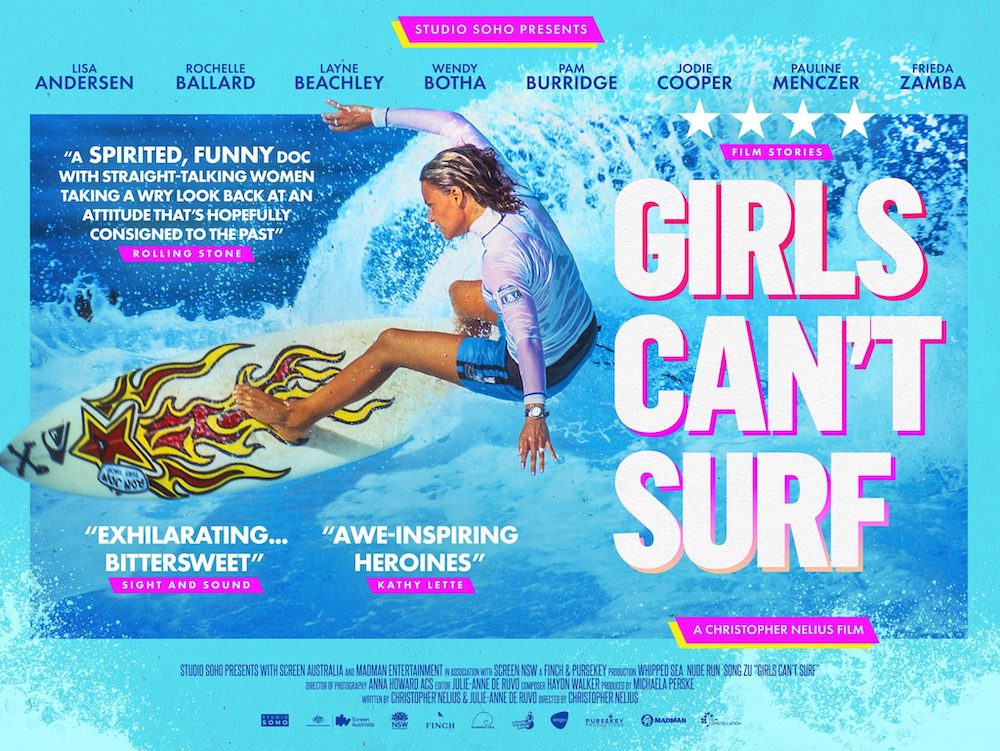 'Girls Can't Surf', the 80's-tastic tale of female pros fighting against the rampant sexism and homophobia that dominated the surfing industry in the 80s and 90s has enjoyed massive success. Featuring a who's who of female pros of the time including Frieda Zamba, Pauline Menzer, Pam Burridge, Jodie Cooper (interviewed in a hilarious, fiery and poignant Drop In Sessions podcast) and Rochelle Ballard (also a podcast guest on the Drop In Sessions), 'Girl's Can't Surf' is a must-watch for a look into the barriers these women booted down to enable today's female surfers to earn equal pay and surf the world's best waves.
Style queen, Leah Dawson's cinematic forays are forever pleasing (I could watch Peanut Butter on repeat), and 'Inner Wild', co-directed by Leah and Jack Coleman, is a mesmerisingly beautiful and visual journey into the palpable joy experienced by a group of women. These include Leah, Karina Rozunko and Sarah Brady in the ocean of Baja California, set to the dulcet wooing tones of Brazilian bossa nova and groovy jams.
Into the Sea
Big wave charger, scientist, explorer, writer and all-round inspiring soul, Easkey Britton's powerful documentary showcases the journey of herself, Iranian diver, Shalha, and pro-snowboarder, Mona, as they introduce surfing into Iran. A stunning story shown through the eyes of the 3 protagonists with a shared belief in the power of sport to break down barriers, this is pertinently conveyed through the movie.
Minna Dufton's epic story charting the first Portuguese woman to surf Nazaré's titanic swells, Joana Andrade's battles to overcome her fear of drowning via free diving training in Finland. An instant classic, it's impossible to not be inspired by this beautifully explored and captured journey of self discovery, and you can still catch 'Big VS Small' on tour right now.
It Ain't Pretty
'It Ain't Pretty' features the big-wave riding prowess of the women who charge San Francisco's Ocean Beach, the 'Outer Bar Babes'. This includes Bianca Valenti, Andrea Moller, Paige Alms, Emi Erickson, Sarah Gerhardt, Jamilah Starr and Keala Kennelly. A multi-layered take on the reality of women's big wave surfing, with its highly charged wave riding, thick hooded wetsuits and shocking wipeouts, 'It Ain't Pretty' counters the cutesy and sexualised portrayal of female surfing in surf media.
Featuring surfing and art by the expressive and unique team of lady rippers that make up the Vans surf team, 'Cadavre Exquis' knits together each protagonist's created section for a collaborative and exciting composition. Featuring Margaux Arramont-Tucoo, Chelsea Woody, Ainara Aymat, Lee-Ann Curren, Lola Mignot and more, the individual flair and artistic vision of each surfer takes centre stage in this sweet edit.
There's a darn good reason Steph Gilmore is so frequently referred to as 'the Queen of style' (catch up with Steph discussing her recent 8th World title in our latest podcast), and this 6 minute short is a stunning display as to why that mantle is indeed correct. Heading to the far reaches of Indonesia in search of the perfect slabby right, set to the incredible score of classic piano by Alberto Bof, Steph's intoxicating and mesmerising wave-play, a near art form, is perfectly captured in 'The Tempest'.
1959's 'Gidget' was the original ignition and introduction to surfing for many people worldwide, a Hollywood epic that without a doubt set off and captured the zeitgeist of the time. 'The story of the beach generation' starring Sandra Dee, introduced surfing to millions of Americans, enrapturing wide-eyed souls worldwide with mystical places by the name of Malibu. We saw this again in the early 2000's with 'Blue Crush', explored later on down our list…
'Surfing' is a seriously inspiring feel-good, all-gal flick, featuring Australia's top talents, including Stephanie Gilmore, Nikki Van Dijk, Tyler Wright, Macy Callaghan and Dimity Stoyle. Shot on Super 8, 'Surfing' arguably captures a key moment in women's surf history, a time when the talent of these women is really catapulting women's surfing to new stratospheric heights. Tearing the Goldie to shreds with their high performance surfing all set to a buzzing soundtrack, it's impossible not to want to grab your board and head out after watching Dan Scott's stoke-inducing shred flick.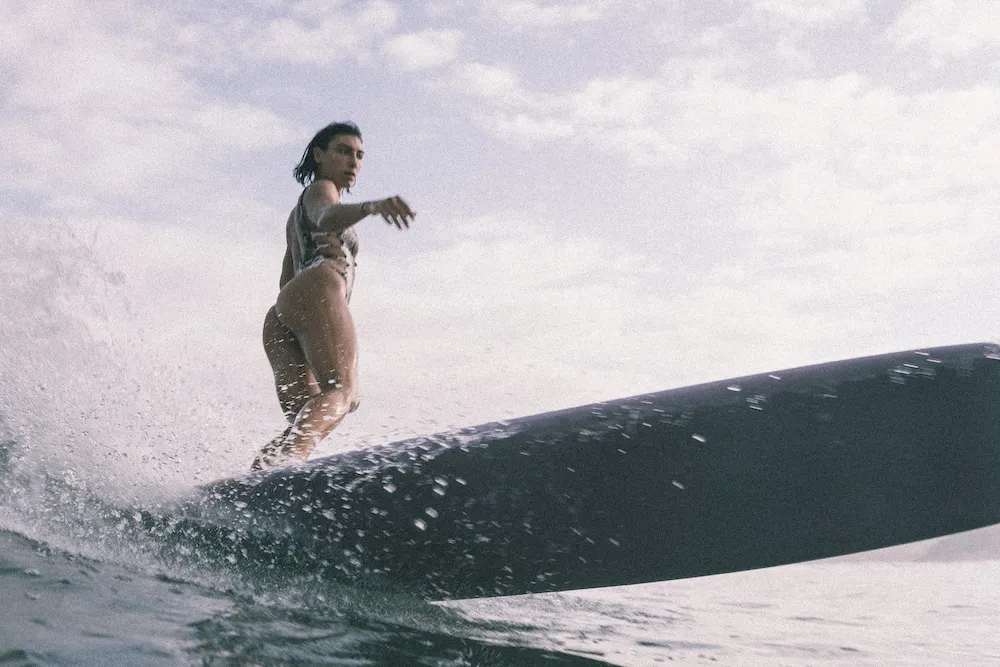 RAW
Quixotic French longboarder, Ambre Victoire's bewitching lady logging, captured by Director Aljaz Babnik, is a stunning portrait of her unique flair whilst wave dancing on uncrowded peaks during the pandemic.
Undone
Former CT surfer, Laura Enever's career progression into big wave surfing after 7 years on the tour is depicted in 'UNDONE'. As Enever transitions from the relative familiarity and comfort of tour life to her passion for charging eye-wateringly pokey slabs and barrels spat from Hades, she encounters new sets of challenges in her quest to surf some of the most dangerous waves on earth.
Patagonia produces some awesome surf cinematic epics, and 'Voices For The Ocean' follows team riders Belinda Baggs, Liz Clark and Moona Whyte on a trip to Sumbawa, sharing how their lives as surfers have led them to a life of committed activism. If you're looking for seriously inspiring women talking about vital subject matter whilst scoring Indonesian perfection, this one's for you!
Unstoppable
Bethany Hamilton's inspirational journey after losing her arm to a shark attack in 2003 is captured in 'Unstoppable'. Hamilton, who you may be familiar with for being one of surfing's most accomplished chargers, frequently tears Teahupo'o, Jaws and Pipeline to shreds, all whilst raising 3 kids . Hamilton's determination and belief is powerfully portrayed in the film, giving an intimate look at her journey.
Trouble: The Lisa Anderson Story
Lisa Anderson burst into competitive surfing in the 90's, running away from home to pursue her dream of becoming a world champion. Shattering stereotypes of women's surfing in the 90s, defining a new era and inspiring the next generation, Anderson's unique life story is one you may not know. Director, Chas Smith's documentary of the 4 time World Champion gives a fascinating look into her atypical life.
Follow French surfer, Léa Brassy, to the unexplored breaks of the Lofoten Islands in Northern Norway in the award winning 'Catch it'. An ode to the stunning setting of the islands, its fairytale beauty and iconic chocolate-box-town pretty, red houses take centre stage in this stunning tale of the beauty and simplicity in life.
Blue Crush
You can't really put together a list of top women's surf flicks without mentioning 'Blue Crush', whose commercial and mainstream success catapulted women's surfing into a new realm of participation, popularity, appreciation and understanding. 'Blue Crush', follows the tale of Anne-Marie, played by Kate Bosworth, as she carves a path to competing at Pipe Masters whilst living on the North Shore, attributing to a massive impact on women's surfing at many different levels. Once a classic, always a classic.
Check out our interview from last year with Keala Kennelly as she dives into some behind-the-scenes anecdotes to celebrate the movie's 25th anniversary.
Thinking of gifting your surf crew this Christmas? Check out our Wavelength Gift Guide for heaps of great gifts that'll have any board rider stoked to see what Santa's delivered!