[To kick off our new Movers & Shakers series on women making waves within surfing, we catch up with Indonesia's longboard queen, Flora Christin]
In any normal epoch, head on over to the bustling beach town of Bali's Canggu, side-stepping the bottomless Bintangs, fluoro-hued antics of the horny, pawing surfers and you might catch 29-year-old North Sumatra born Flora Christin cross-stepping her way across her home break of Batu Balong with her instantly recognizable elegant nose-riding and wide smile.
Flora has become synonymous with the soft breaking, log-haven which has drawn masses of eager surfers in recent years ("I'm the mascot of Batu Balong aren't I, ha-ha" she laughs). Though her career as a free-surfing longboarder has been recent (she's only surfed for 5 years), her rise has been meteoric. She has featured on ESPN women, in an Asia-wide beauty campaign for Dove, podiumed at the Asian Women's Surf Championships, and worked with numerous photographers, producing images that have built her a huge fan base around the world.
I'm talking to Flora from Canggu, where she's finally made it back after a wild ride of a year which saw her "stranded" in spots including Nias and the Mentawai. We can think of worse places to be during 2020's lockdowns, and I ask her what exactly it was like to be holed up at some of the world's most famous spots, usually dense with visiting surfers? "Seeing Mentawai empty was just like, WOW, where am I! It's like a zombieland with barrels. I just paddled out on my soft top. I was like you know what? I'm gonna have a try now, on my soft top trying not to die, ha-ha. I'm very lucky to be able to surf Mentawai alone eh? That's a once in a lifetime experience, everyone was like, you're so lucky!"
Photos: @mattpowerphoto
Luck hasn't always figured highly in Flora's life however. Born in Medan, North Sumatra, her path to surfing stardom was far from typical. "There was no ocean for me growing up," Flora explains, adding that she didn't even learn to swim until she was in high school.
"Life was pretty wild and fun when I was a kid," she tells me. "Me and my family moved to West Sumatra when I was 6. I was surrounded by palm oil plantations, rivers and jungle. I am so grateful to have had nature as my playground. I would go to the jungle hunting, find wild chicken eggs, ride my bicycle far away to go fishing with the boys. Exploring the jungle, climbing trees…I was kinda a tomboy when I grew up because I have two brothers so I just did what they did".
After moving to Jakarta, "a concrete jungle, full of traffic and chaos" at 17 years old, Flora was left supporting her entire family after her mother "went crazy and left". It was a tough adolescence, working 9-5 for DHL, followed by night classes at uni and a weekend job, "to make enough money to support me and my younger brother." Looking back, it's hard to imagine a starker contrast to the present-day image of Flora as a care-free pro-logger. "It was not easy, I'm telling you," she says.
Photos: @mattpowerphoto
When her younger brother finished school, Flora quit her job and took off travelling for two years. It wasn't a typical move for an Indonesian woman and though Flora's brothers were supportive, she says her extended family disagreed with her decision to leave her "proper job in the city and becoming a beach bum."
"They haven't helped me whatsoever," she says, "so I do what I want!"
But, for the chicken-egg hunting kid, a love of adventure and a strong desire to explore instilled from a young age were enough to propel her to make her break from life in Jakarta. "I have always been different from normal Indonesian women," she says, "I love adventures. Travelling has let me meet a lot of people. All the different stories from these strangers opened my mind and made me realise that life shouldn't just be like what we have been told, or how society wants us to be. I have the power to decide what I want to do in life, it's not my parents or anyone."
Two years on the road travelling found Flora repeatedly drawn to Bali. "Living in Bali had always been in my dreams since I was a kid" she begins. "Bali, the island with no judgment from the society. They call in KARMA, that's how they live there. The ceremonies, the everyday offering show me how loyal Bali's people are. And yeah, there is Canggu a place with lots of rice fields and good waves to learn how to surf!" It wasn't, however, Batu Balong's playful breaking waves that initially drew Flora to Bali, but rather the need "to find a job, to start over life". Making ends meet with a "side business, helping people organise trips and getting commission. I didn't make much but I lived cheap." In her free time, she started going to the beach and teaching herself how to surf. "I rented boards for 6 months in all different sizes," she says, "until I finally got a second-hand board. It was a longboard, and that's how it all started."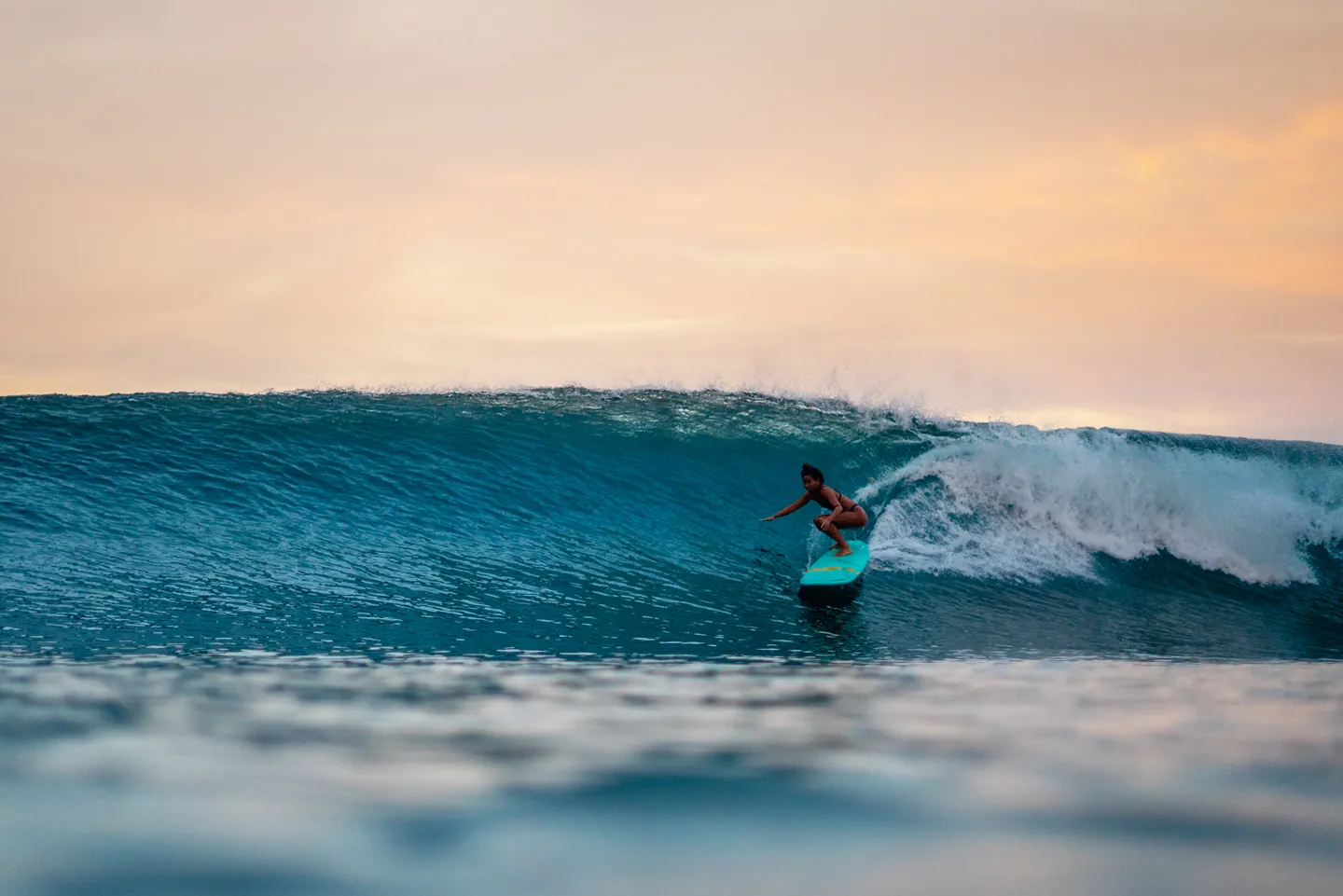 Photo: @mattpowerphoto
I ask if it was culturally acceptable for her to suddenly be in swimwear surfing? "It isn't normal 'til now," she replies. "Indonesia is a Muslim country, bikinis or swimwear is a big NO. But as times have changed, with social media and everything, being an Indonesian (woman) wearing bikinis, it's kinda ok for some people doing a sport like surfing. I would always cover myself when I left the beach." I ask whether it was different for the local Balinese surf community, and if they were welcoming to her in the water? "Noooo…It took me a while to be in the surfing community. I understand that they can't just let everyone in as it is a touristic place, they gotta filter it up!".
Despite Flora's late introduction to surfing, an unsupportive family, an unreceptive local surfing community and little to zero funds, she has defied the odds, and in the short years she has been surfing, has achieved a huge amount. As Indonesia's first female competitive longboard surfer, she has, in turn, squashed a series of stereotypes, including changing the notion that Indonesian women do not surf, that you can be an Indonesian pro-surfing female, AND front industry-leading advertising campaigns.
"Recently I did a project with Dove, and the campaign was actually really amazing. It was sending a message that everyone deserves to be in the advertising industry, they don't need to be white, skinny girls. It was a very different and powerful message we got to send. Now, when I go somewhere, some Indonesian women will be like wow, you're that girl from the Dove advert."
Hand in hand comes her rising profile, where in the microcosm of Canggu, she is easily recognizable and has become somewhat of a minor celebrity in the town, frequently approached thanks to her Insta-fame. "My life was completely changed, from nothing to being a surfer. For one year I was like oh god, is this life now? I don't want all these people coming to me saying I know you, you're my friend because they follow me on Instagram. Now I'm like, you know what? I'm just gonna use this as a power to actually encourage everyone to be able to surf better…Instead of taking my surfing very seriously I am just going to be out here in the water, sharing with everyone."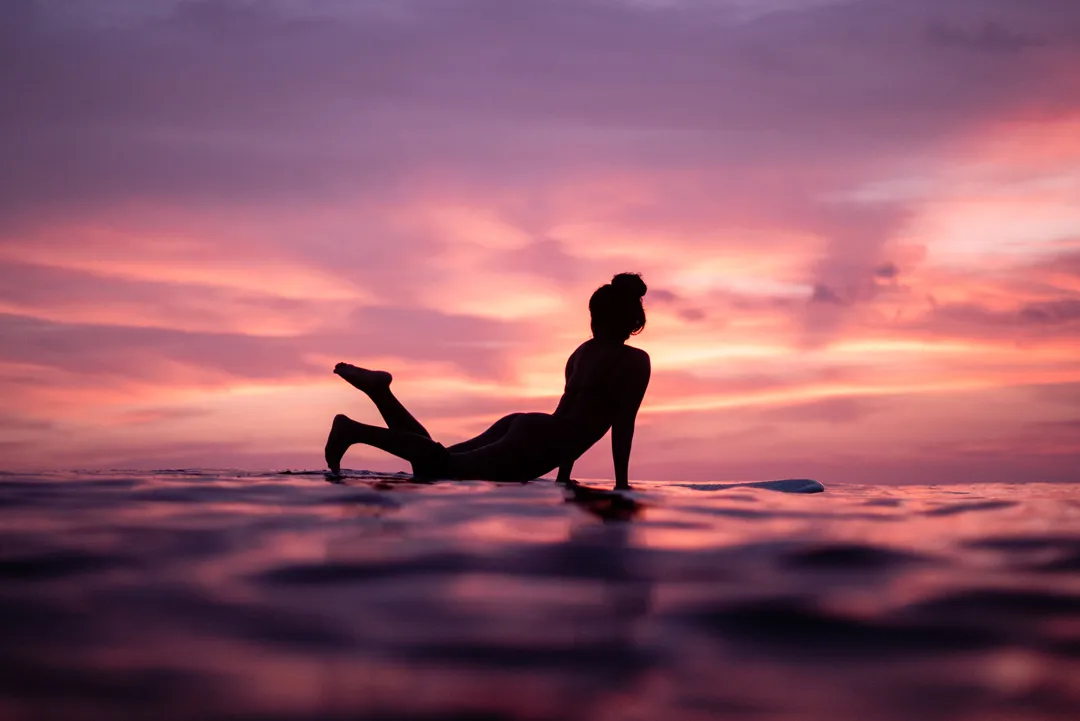 Photos: @mattpowerphoto
Right now, even as the globe rides the third wave of the COVID-19 pandemic, Batu Balong is according to Flora, "packed! With a lot of Russians. I feel Batu Balong isn't even Bali anymore because of all these rich Russians….Yah it's crazy, you have no idea! You think that during the normal season it's a lot of Russians? Come during the pandemic it's just full of them ha-ha!"
Flora is off to a good start to the new year after her somewhat tempestuous experience of 2020. "To be honest with you, last year was a little bit of a roller-coaster ride," she says. "I think everyone is going through the same. At the end of the year I was really depressed, I had to go see a therapist. Having so much free time, no jobs and most of the time stuck in one place had triggered the trauma from the past. I basically have always been the support of everyone close to me, but covid made me stuck, and feeling lonely, like I had no support."
"It was hard, and to be honest I'm still in the process of healing slowly, slowly. Seeing a therapist is the best investment I have done for myself. It helps to put my mind in check and put it back in order. One important thing I get from this is that YOU ARE NOT ALONE, WE ARE ALL IN THIS TOGETHER. Reach out to your friends, ask for help. Go see a therapist if you need one, it helps so much. Trust me!"
Photo: @mattpowerphoto
Taking the time to re-configure has seen Christin create her latest project, longboard specific retreats "Flora Retreats", the first of which will be popping up in Lombok this March, and has already sold out. She is jazzed to get the ball rolling with what has been a long-term project in the works.
"It's crazy how life works sometimes" she reflects. "You're gonna need to have your head straight and be happy to be able to attract all these things to fall into place. Last year I felt so stuck, nothing was coming my way. I was just depressed, hating the world. I've been back in Bali for only one week now. I got my retreat out, it's fully booked,…and I got other gigs coming my way. I'm like sick life is great! Bring it on!". Christin's stoke is palpable. I ask her if she'd ever have fathomed that she, an Indonesian woman, would have made surfing into a career?
"I would never, even 'til now I'm sometimes like, wow, I've made it this far. This is crazy! I started surfing when I was 25! Here I am now, making a living from surfing, that I just picked up 5 years ago, that's insane you know. It's a really big accomplishment, a big achievement in my life." Her positivity, even through a crackling WhatsApp call is infectious, and she signs off telling me that, "everything is possible."
Photos: @mattpowerphoto
"My dream is to help more people to reach their dreams, especially Indonesian women,I want to see more women like me! Strong, independent and free. Being free is not a thing in Indonesia for women. I want to see it change, I want to help to change this stereotype. If I can make it this far and make my best life, living as a free-surfer, of course my message for everyone out there is if you find something you love, just go for it. When you live life with your passion, it's extra special. You're not just living for living, you're living your best life."
Follow @florachristin & see more beautiful imagery @mattpowerphoto
---