Testing Vans Surf's latest eco-conscious shoe with ocean protector Tom Flambeaux
With the need to take care of our green n' blue planet getting ever more pressing, Vans are stepping up to try and build better shoes. The new Circle Vee shoe, aside from offering legendary Vans comfort, is made from a combo of organic cotton, hemp, natural rubber and plant based oils.
What's more, Vans are also partnering with Ocean Conservancy, a global organization focused on protecting the seas we all seek our stoke in and around, donating $1 for every Circle Vee product sold, with a minimum of $25,000 donated to the Tides Foundation.
Sure, it's not the definitive solution to our ocean's various ills, but it's a great way to help show that we can build better gear, and make everyday consumer choices to lessen our impact. Surely, as surfers, that's something we can all easily get behind.
In order to test out the Vans Circle Vee shoe, we couldn't think of anyone better suited to the task than French/Aussie core lord Tom Flambeaux. Biarritz local, surfer, spear fisher and free diver, we featured Tom's quest to rid his local seas of lead pollution in Wavelength vol. 261, and we so impressed with his story that decided to make a short film about his mission. Tom was good enough to let us tag along with him on a winter's weekend in Biarritz, and our film, The Prospector was the result.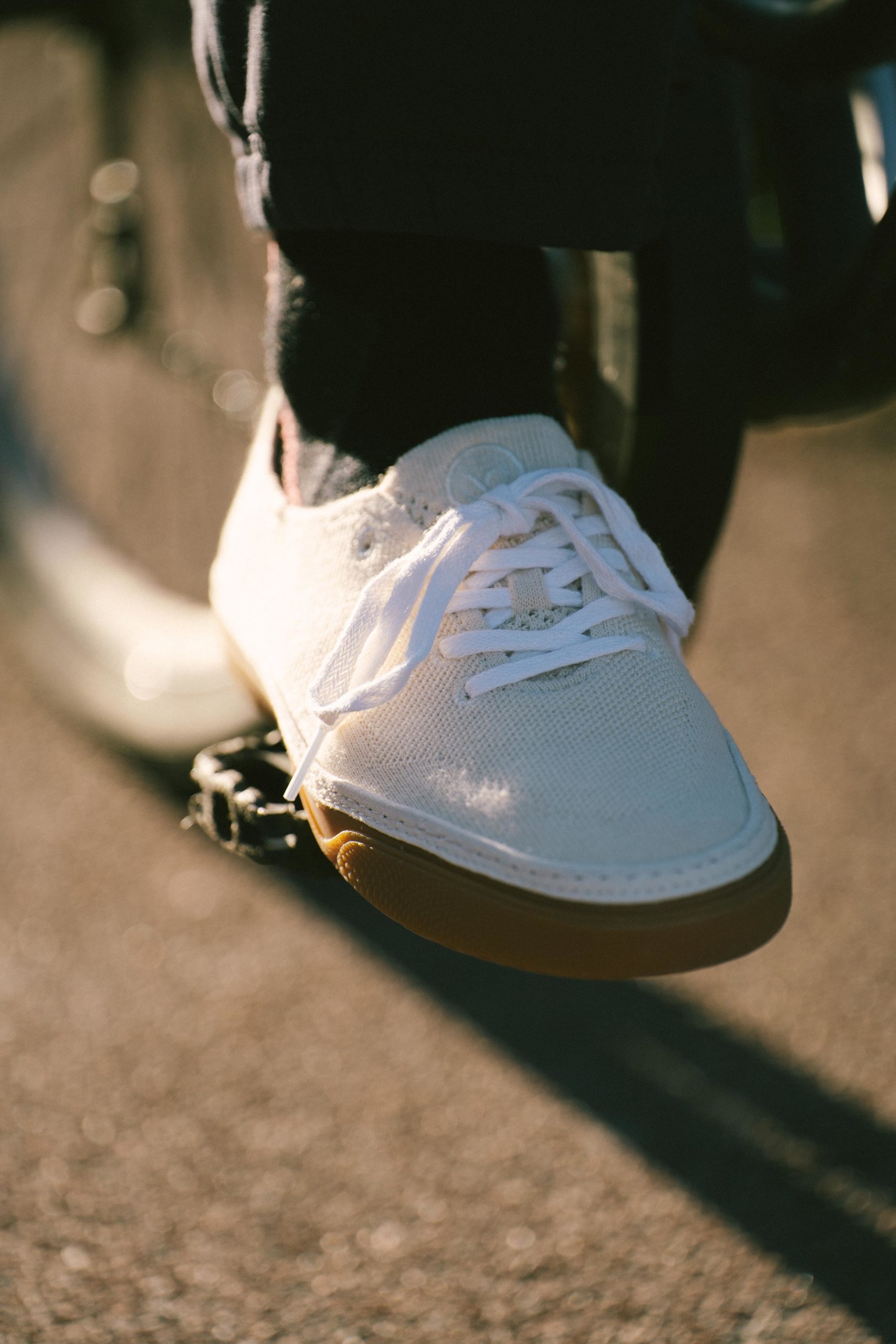 A winter's day in Biarritz, France, we rendez-vous at the Sub Aqua Club for coffee a little before dawn. Filmer Arthur Bourbon has brought a bag of hot pastries; there's something about unexpected croissants, they always taste better when someone else has fetched them. Nestled alongside the ancient fishermen's port, a tiny enclave amongst the cliffs and sea stacks that separate the town's main beaches, the club serves as a the ideal HQ for Tom Flambeaux to stash his dive gear, get changed, and from here launch regular sorties into the local waters on his ongoing quest to rid the seabed of poisonous lead.
Tom's in good cheer, hoping that there's not too much swell for a dive. It's rare for surfers to hope the swell isn't as big as forecast, but this winter it's been pretty much non-stop action along the coast, and big waves and free diving for lead under rocky cliffs don't usually go together. One of the biggest storm systems of the winter has sent big energy towards the French Basque Country the past few days. Up in Great Britain, it's made landfall as the third named storm in under a week, unprecedented in recent memory.
It's a short bike ride around to the Vieux Port, a small sheltered sandy cove where Tom can access the waters beneath the main fishing spots in town. It's here that his journey hunting metal began. A bridge spans out to the Virgin Rock, an ideal spot for recreational anglers. "90% of everything I clean out comes from recreational fishing" Tom explains. "I've been fishing here myself, ever since I can remember. And everyone who fishes knows that anytime you've got rocks, you get snagged. And that's when you lose your lead sinkers."
Having been diving and spearfishing since primary school age any time the swell was too small to surf, one day in 2017 Tom speared a fish within the first few minutes of his dive. He decided to keep diving just to explore the seabed, and that's when he started noticing all the lead. In every rockpool, crevasse, buried under a thin covering of sand, wedged between boulders; anywhere it could collect, there were piles and piles of lost lead weights. Lead is a toxic heavy metal, and from the seabed, it easily gets into the food chain, bioaccumulating from worms to crabs to fish and mammals. That very first day he hauled out 27kg of lead in under an hour with his bare hands. A few years and a couple of tons later, and Tom's keener to clean up the coast than ever. "It's become an obsession," he admits.
Ever the make do and mend tinkerer, Tom's rigged up an e-motor and battery that a friend was throwing away onto his own push bike. It's hardly the shiny, muscular e-fat bike rig that surfers are tooling up with these days, but it helps him tackle Biarritz's lumpy terrain. He's screwed an old wooden wine box as a basket to carry his gear, as old school French a bike tune up as they come. "Chateau La Gaffeliere, Saint Emilion 1ère Grand Cru" reads the expensive-sounding appellation. "Overpriced, and not even that good," reckons our working class hero, loading it up with dive gear and wetsuits.
We dive at the Vieux Port, and there's a lot of water moving from the meaty swell. Tom shows us his favourite spots, where the lead collects. Aside from the fishing weights, he's ever amazed at the other stuff his metal detector picks up; old Nokias, spark plugs, various household detritus, occasional pistols, even grenades from the war. His raft can handle 30kg or so of loot before he has to swim back to shore. With the swell trying to drop off, and the sun warming things up nicely, we head for a surf check at a sheltered spot in town that should handle the juice. "Tommy's got such a sick surfing style" reckons Arthur, setting up his rig near the iconic Villa Belza to film a few waves of Tom. As a former pro surfer who's travelled the world chasing waves, Arthur's a pretty good judge of wave riding talent. Tom bikes home and grabs an old fun shape that he sometimes gives surf lessons on. A couple of backhand tubes and smooth turns later, we're back on land planning a trip deep underground.
When the Germans occupied France, they built defences along the coast to protect against the Allied invasion, known as the Atlantic Wall. In Biarritz, they dug out deep chambers and bunkers right into the cliffs and right under the streets that thousands of tourists walk past unknowingly, every day. The town council, having learned of Tom's mission and wanting to help, offered him a place to store all the lead he collects, seeing as his own garage was full of the toxic metal. We don head torches and tread carefully along a maze of passageways under the town. It's creepy, damp, hot and hard to breathe. Tom shovels barrow loads of lead from one chamber and wheels it down the narrow tunnel back to the surface, an innocuous looking metal door in the side of a cliff in the middle of town. Relieved to be back breathing the salty sea air, I ask him where all this lead – some 500kg – is headed next. "There's a sailing scheme in France that takes kids from troubled backgrounds and teaches them how to sail, about teamwork and self reliance" he explains. "They're building a boat to sail across the Atlantic, and this stuff is going to be the ballast." It seems like the ideal solution for what to do with some of his lead stash. Although, back breaking labour for him bringing it all back out from deep underground, having already carried off the seabed, holding his breath. Given the physical effort required, he'll never need a gym membership.
Back at Tom's place near his home break of Marbella on the south end of town, Tom's lit a small fire on the lawn next to his old wrecked Renault – his mum's car from when he was a kid – and his sailing dingy. He's melting some lead down in a home made furnace to make trinkets with. "I don't do this often, because it's pretty toxic stuff" explains Tom. But every now and again, Tom takes a bit of lead and melts and molds it into Basque crosses, whales, anchors or little trophies for the local surf club comp. Every now and again he'll sell one for 30 euros to buy a new pair of wetsuit gloves. The sun sets on a beautiful winter's day in Biarritz, and we convene for a surf check on the cliff top, a place where Tom can see his homebreak below, and up the beach, the distinctive skyline of the Cote des Basques and the Virgin Rock, ground zero for lead hunting. Undaunted by the prospect of tackling the problem of ocean pollution pretty much single handed, Tom just takes it all one day, one swell at a time. "We're so lucky, living here, growing up around the sea. So if I can play my little part to help try and keep it clean for future generations, then that's a small price to pay for living this lifestyle. I'll keep doing it as long as I can keep holding my breath."
Whether or not you have the time or the wherewithal to get as involved as Tom has, there's always something big or small we can each do to look after our environment. We can all play a part in protecting our coastlines.
Every little bit helps.
(Photography by Sarah Witt)