Cooking a meal from scratch is a great way to switch off from the world. Healthy body, healthy mind is often easier said than done.
Over the past month we have been thinking of ways to help make home life easier and more fulfilling. Staying fit and healthy is high on everyone's agenda right now, so too is the reality that we can't be outside doing all the things we love doing.
With surfing off limits, I put the idea of cooking a healthy and delicious meal from scratch with my family in just 40 minutes to the test.
As part of our latest subscription offer to help you get offline during lockdown, you can get £20 off Mindful chef when you subscribe to Wavelength Surf Magazine.
Thanks to Mindful Chef's printed instruction booklets, the cooking process is a real opportunity to turn your phone off and go completely analogue.
We would all rather be out and about enjoying the buzz of spring time, which as surfers, usually includes enjoying some of the best surf sessions of the year. Being asked to stay at home, has forced us all to adapt the way we in which we live our lives.
I cannot begin to call myself a good cook. My normal department is banana pancakes at the weekend and anything bbq'd. So if you are reading this, feeling like you deserve a little treat and it's your turn to take on the cooking, Mindful Chef vouchers alongside each printed volume of Wavelength could be just the treat you need right now.
As part of our promotion of this offer, I was tasked with showing you just how easy and enjoyable Mindful Chef makes cooking healthy meals at home. To spice things up, Rudy (6) was right on hand to help. This coincided nicely with a school assignment looking at cooking ingredients.
Oscar (8) took on the important task of head photographer, making this event all part of what seems to be a never ending wave of home schooling.
Trying to look perfect is exhausting.
I don't know how these influencers do it. Thanks to Mindful Chef's step by step guide, the cooking was the easiest bit.
We cooked: Honey Harrissa Chicken and Roasted Squash Salad
Running through a step by step guide, cooking something for the first time, safe in the knowledge that you definitely have all the ingredients you need, makes following a recipe a truly joyful experience. Cooking in this way also ensures that there is zero food waste.
Step 1. Preheat the oven to 200C / Gas mark 6.
Step 2: Slice the butternut squash into quarters, and remove the seeds with a spoon. Leaving the skin on, cut the squash into 1cm cubes. Place on a baking tray, drizzle with l tsp oil, and sprinkle with the cumin, sea salt and black pepper. Mix. Place in the oven for 30 mins, turning halfway through, until cooked.
Step 3: Make the apricot harissa marinade; into a small bowl add the apricot harissa, 6 tbsp cold water, 1 tsp oil, the honey, and a pinch of sea salt and black pepper. Cut the lemon in half and squeeze in the juice from just one half. Mix all together.
Step 4: Thinly slice the red onion and add just 3/4 to a small oven proof dish. Place the chicken thighs on top. Pour just half the harissa marinade over the chicken. Place into the oven and roast for 25 mins, until cooked through.
Step 5: Heat a large, dry frying pan on a medium heat. Add the pumpkin seeds and cook for 2 mins until toasted and starting to make popping sounds. Once toasted, transfer to a plate to cool.
Step 6: Cut the cucumber in half lengthways and thinly slice. Add to a medium-sized bowl followed by the mixed salad leaves, remaining sliced red onion and toasted pumpkin seeds. Mix. Peel and slice the avocado.
Step 7: Slice the cooked chicken then coat in the juices from the dish. Divide the salad between two plates. Top with roasted butternut squash, chicken and cooked onion. Place the sliced avocado over the top then drizzle with the remaining harissa dressing.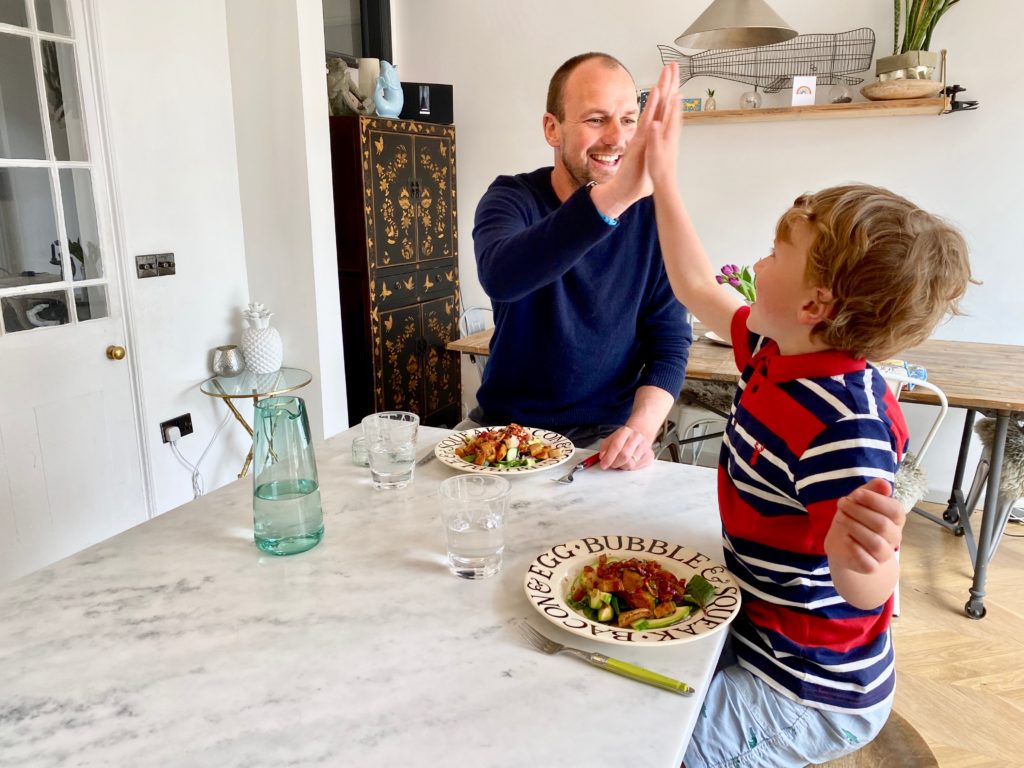 Done. Honey Harrissa Chicken and Roasted Squash Salad. In just 40 mins.
Ingredients – Belazu apricot harissa paste, avocado, butternut squash, chicken thighs, cucumber, cumin, honey, lemon, mixed salad leaves, oil, onion, pumpkin seeds. All delivered direct to your door.
Macros – 31g fat, 47g carbs, 37g protein, 614 calories
For me being able to take on the cooking and deliver something beyond the realms of a student meal is highly satisfying.
With restaurants strictly off-limits for a while longer, sitting down for a new and exciting meal, that you have carefully prepared yourself is great way to turn mealtimes at home back into the events that they should be. A time for proper conversation.
We are all having to change our routines right now. I am enjoying replacing travelling here, there and everywhere, with a chance to get more involved in the kitchen. Thanks to Mindful Chef, cooking a healthy, delicious meal from scratch is now well within my many limits.
The meal above comes in at £7 per person, so while Mindful Chef certainly isn't bargain basement, you are paying for quality ingredients, plus you know, that as a B-Corp company everything has been sustainably sourced.
To cap it all off, you know that thanks to Mindful Chef's involvement in the One Feeds Two Program, you are also delivering an essential meal to a child living in poverty.
Also on the menu this week, I will be smashing out Peanut Satay Pork With Black Rice. Later in the week, it will be a vegan number in the form of a Jackfruit burger, crushed avocado and beet slaw.
Times have changed.
Get £20 Off Mindful Chef
When you subscribe to Wavelength Surf Magazine
Delivered direct to your doorstep, to bring new excitement into your home during lockdown.
Stay Home – Stay Stoked – Eat Healthy.