[Want to get your hands on a copy? Wavelength gets delivered straight to your door either as a single edition or annual subscription. Join up today and claim a new subscriber gift along with plenty of other benefits, including your copy of Wavelength before anyone else.]
Wavelength Issue 265 is all about connections, an experience through print, providing authentic long-form stories and beautiful art direction to connect you to the joy of wave sliding.
"Surfing's greatest gift is that of connection to the sea, in particular to our vibrant coastlines. Those dynamic, majestic boundaries between land and sea from which we learn so much and in which we find so much joy. We are both deeply connected to the sea and absolutely liberated by it. Whilst this sense of connection is embedded within every surfer, some have stories to tell, and it is within these pages that some of those stories will be told." – Mike Lay
There's freedom in a magazine; it's a capsule of thoughts and images that can never be hacked, copied, or tracked in real-time. In a world where we actively participate in selling our information and browsing habits by default, what you read in a mag will never be recorded. Does this matter in a surf mag? Well, it means the finest work from photographers can be reproduced without fear of a browser scrape only to appear on a generic Insta profile.
But more than intellectual rights is the idea of holding a collection of curated and considered thoughts in your hand. It's a story with a beginning and an end in the attention-harvesting world of the endless scroll.
On the Cover: Chris Burkard + interview
Who is the cover? You'll have to wait for the shot, but the photographer needs no introduction; he is a man who redefined the genre of adventure surf photography and graces more desktop backgrounds than any pinup. Ben Mondy sat down with Chris Burkard to talk about his early life in California's eternal summer and his recent move to, and connection with, Iceland. A country whose wild spaces and shifting seasons have been pivotal in Chris's photographic journey.
Dancing to infinity
An investigation by Jacob Down into the form and function of the Bonzer, one of surfing's most enigmatic designs. Whether it be a world-class reef pass or a secluded British beachbreak, if you look hard enough beneath the surface, you will find an avid Bonzer enthusiast.
Mordardh
A new anthology of poetry written by women about surfing. It crackles with the fun of surfing and speaks of the powerful energy the mother ocean bestows upon those who choose to connect with her.
What can we do? The evolution of Sally Mcgee
Two of the most dedicated and fascinating characters of the tight-knit scene are Tynemouth's Sally McGee and husband Tom Bing, founders of Yonder, a women's only surf collective working to empower female surfers and celebrate diversity in surfing. I recently caught up with them to unravel a tale rooted in connection, culture and passion from nascent beginnings in Leeds' DIY punk scene.
Surf break Namesake
Humans have been naming features of the natural world after themselves for millennia. It's been a practice most heartily embraced by royalty, imperialists and conquerors. But also, revolutionaries, indigenous tribespeople, scientists and mountaineers.
Nick Pumphrey Portfolio
Nick's photographic work is welcoming; his landscapes seem familiar, and they beckon to you. His water photography, all blue hues and movement, calls for you to dive in, to seize the day and to seize life. We are stoked to celebrate Nick's work in this volume's portfolio and caught up with him to gain insight into his process.
Portals to Infinity
Could it be that the otherworldly qualities of the tube, its warping of time, its manipulation of light and sound be portals to Tír na nÓg the land of eternal youth? Subscribe to find the answer.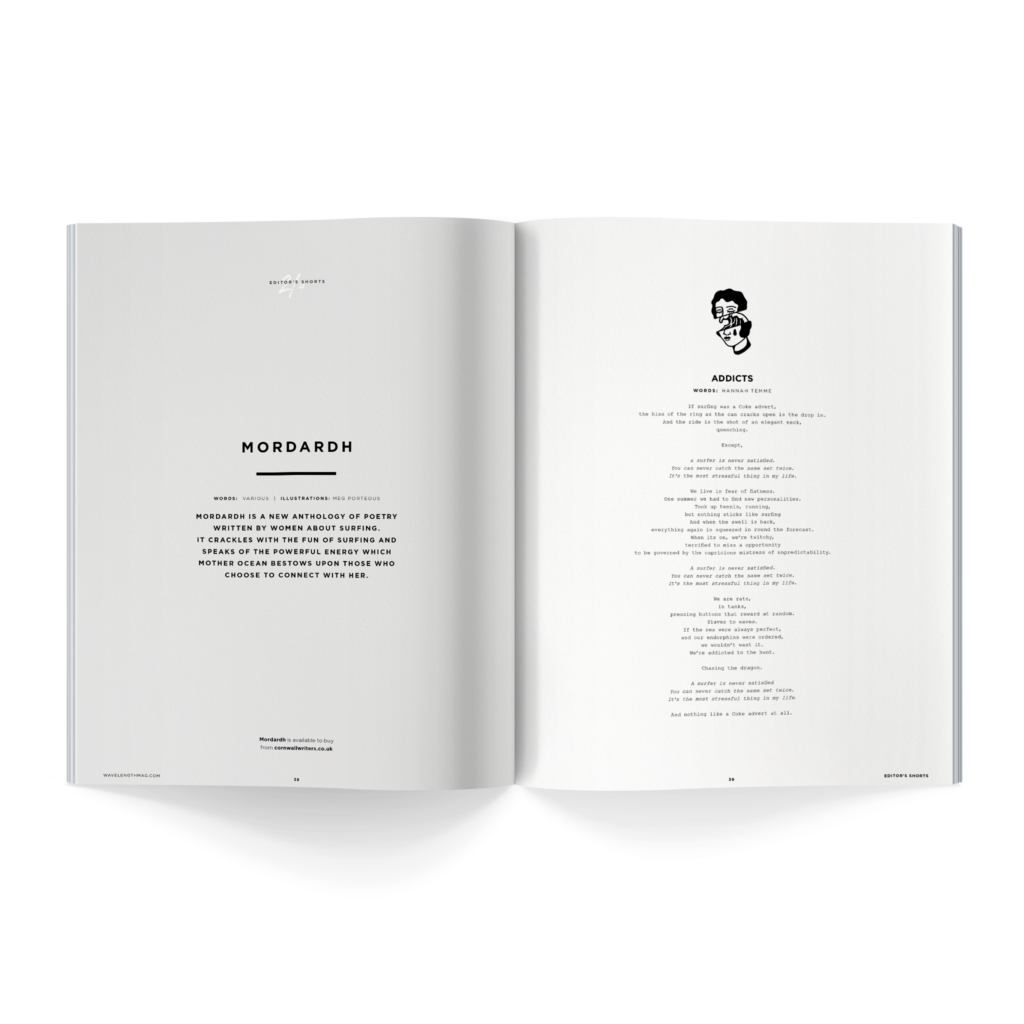 Want to get your hands on a copy? Wavelength gets delivered straight to your door either as a single edition or annual subscription.