[The Wavelength Drive-In Cinema is back for 2021, bringing you a range of surf cinema, cult classics and family favourites from the clifftops of Cornwall, including two screenings of Blue Juice. Browse the full lineup and get your tickets here. Or, subscribe to Wavelength now to get free entry to a screening of your choice.]
Quarter of a century of time passed since JC launched off the cliff to heroically charge The Boneyard.
That's approximately 18250 low tides, or the time it would take to bake 120000 pasties one after another.
While the world has changed at a seemingly ever-increasing pace, the lifestyle of the humble wave rider remains largely unperturbed, when his or her movements are bound to the hypnotic rhythms of surf beat.
Season after season, wave trains chew at the granite headlands and swirl up sands banks, while the North Atlantic Drift continues to bathe SW Britain in balminess, just as it has since time immemorial.
That said, certain notable events, be they political, social or meteorological have come to pass to which the Cornish-based wave rider bon vivant may have noticed enough to raise an eyebrow at (or shout 'one life, always no fear!')
1995: Blue Juice premieres in Newquay.

1996: While Euro 96 fever was mainly up the line, the other cultural phenom of that summer, Britpop, did make inroads into the generally more alternative rock sensibilities of the peninsula. Dan 'Mole' Joel stuck an Oasis Union Jack sticker on the nose of his board (undeterred by a possible Cornish National Liberation Army (CNLA) backlash, see below). With Definitely Maybe having been recorded at Sawmills Studio near Fowey, you could almost say Cornwall birthed Britpop.
1997: Russ Winter's WCT Top 44 qualification party put on by Animal went down at The Bowgie in Dec 97. One reveller peaked too early, fell asleep standing up against the speaker and perforated his eardrum. In true spirit of the times, he woke up and carried on dancing (in a check shirt with baggy sleeves). Russ's own slogan 'Ave It' very much echoed the new lad culture of the era.
1998: It was rumoured one of the Aussie WQS contingent was travelling with a couple of thousand pills that he was planning on selling on tour through Europe that summer, but ran out after selling them all in a week in Newquay during the Headworx Pro. In unrelated incidents, Rob Machado allegedly smashed the window of the judges' caravan (yep) with his board after losing to an unfancied Brazilian in the final in waist high surf, while Bruce and Andy had 4am fisticuffs outside their B&B on Headland Road in Newquay.
Earlier that year, South Crofty, Cornwall's last tin mine closed. In protest Cornwall Solidarity Action Group recommended paying the Tamar Bridge toll, which at the time was £1, in 1p and 2p's. Cornwall, when accessed via the Tamar Bridge, is still under the free to get in/pay as you leave system favoured by Portuguese nightclubs.

1999: Peak BUSA: The annual University Student Nationals surf contest was, by the eve of the millennium, unofficially both the biggest and worst surf competition in world. With over a thousand participants, it was mainly lads from Leicester getting rolled shoreward by 200 1ft-ers in 20 mins at Towan, in 8 degree water/5 degree air under a NW gale in February. After a long day of which, the preferred method of warming back up was apparently having pints of human wee poured on their heads from the balcony in Sailor's Arms, probably to Reef's chart-topping anthem Place Your Hands.
Today, uni surf competitions are all over the world. The Czech Republic for example – which has no coast – sees its scholar shredders compete in Hossegor in boardshorts every summer with an impressive Red Bull/Quiksilver sponsored set up, presumably with no idea what horrors countless Garys from Bolton and Nikkis from Melton Mobray went through to blaze the trail for student national surf comps back in the day.
1999: Cornwall was the only place in the UK to experience totality for the solar eclipse of 11th August (F-you and your pathetic 96% totality, South Devon!) Folk were allegedly renting out their houses for more per week than they bought the property for. Alas, 100% cloud cover had other ideas; the nearest anyone actually saw any eclipse was Wiltshire.
2000: An alternative glow in the sky was witnessed the following year when the Fraddon McDonald's opened between Newquay and St Austell. The unofficial strap line 'always offshore' being one of the main appeals to BSE/Foot & Mouth undeterred surfing carnivores. For the paddling/radon gas fatigued shredder on the A30 of a grey afternoon, however underwhelming that Penhale Corner sesh had been, deciding whether to go just Big Mac meal or BMM plus extra Cheeseburger felt something like taking back control.
2001: A surf report delivered by text message from something called 6ftoffshore.com started up, as did A1Surf, representing the first significant tech advancement in surf checkery since ringing up a surf shop and asking what the surf was like. The Eden Project opened later that year, with Eden Sessions gigs following shortly after. In conservation news, Cornish based surf birders delighted in the red-billed chough recolonising the county after a 50 year absence.
2002 While it's hard to put an exact date of the gentrification of the pasty, or the first time the verb 'sourced' was used to describe the provenance of the potatoes in chip shop chips in a coastal town reverberating with the shriek of gulls by the bins outside a video arcade, the two main agents of that paradigm shift were undoubtedly Stein & Oliver (which could be a Truro solicitors). Let's call it 2002 when telly celeb chefs rebranded the Cornish dining experience.
Britain was getting over its 90's fetish for Mediterranean food, including such exotic fare as 'tapas' and 'panini', and started turning confidently towards championing its own indigenous grub; root vegetables and the body parts of hoofed livestock. Hello Cornish 'sourced' pasty ingredients!
In fact, if any career/lifestyle path seemed to be directly based on the Blue Juice ideal, it's surely Jamie Oliver's. It's impossible to imagine a young-ish Jamie, then known as The Naked Chef, mouth full of 'lovely sunblushed toma'oes' not being entirely transfixed at Zeta-Jones in her pants, demanding Jules immediately pass him the AutoTrader to facilitate a search for a split screen.
While it might seem a touch harsh to blame TV chefs for Gordon Brown's deregulation of The City, Mandelson being 'intensely relaxed' about millionaires and the associated extensive property portfolios of second, third and fourth homes and Londoners pricing young local families out of the market, let's, anyway.
The aforementioned CNLA/An Gof Cornish separatists certainly did, declaring both chefs' establishments as targets, no matter how many summers Rick Stein claims to have spent at Boobies.
2003 With wetsuit tech on an ever-upward curve, these days it's pretty hard to find unstretchy suits. Around 2003/4 its was flexibility for all, and the quintessentially British surf uniform of high necked stiff suit with a roll of rash vest flapping down over it suddenly became more or less extinct.
Around about the same time, JS surfboards became at first widely available, then almost compulsory. While local shapers have continued to hold their ground to varying degrees, the days of beach to beach, region to region equipment nuance of the 90's were to succumb the unstoppable march of globalisation.
2005 Boardmasters music festival at Watergate is added to the long-running summer surf comp at Fistral, attracting big music names and thousands of revellers. While the 1994 Criminal Justice Act was passed just before Blue Juice came out, designed to curb the rave culture seen in the film ("63(1)(b)"Music" includes sounds wholly or predominantly characterised by the emission of a succession of repetitive beats") Boardmasters represented a newer generation of more corporate, commercialised festivals that would appear across the UK. Again, while not solely Jamie Oliver's fault…
2006 The SAS Ball is shelved. Although reappearing in various guises, 2006 saw the last of the V1. SAS Ball at St Agnes, where some of the Blue Juice party scenes were shot.
Later that year the Bodmin-Indian Queens stretch of dual carriageway on the A30, including Cornwall Services was opened, bypassing the Goss Moor Iron Bridge, altogether. Things were really looking up for motorists, who'd been left miserable by HGV's hitting the bridge for decades.
2007 'Home of Europe's Finest Surfing Beaches' signs appear around Newquay. Whether due to someone at the council showing nascent, anti-EU propaganda sympathies that would go on to see Cornwall vote Leave in 2016, to this day the signs remain unmolested by either the CNLA, or disgruntled French/Spanish/Portuguese local authorities.
2010 A combination of the global financial crisis, austerity and a weak pound help make UK hols more attractive, and the out of season short break staycation becomes established. Shredders from up country use vastly improved forecast apps like Magic Seaweed (as well as others like the newly launched AirBnB) and specific swell crowds become a thing.
2011 Bude's Reubyn Ash features in Taylor Steele's Innersection alongside global A-list surf talents, probably the biggest Brit appearance in a surf production since Newquay-born 1989 World Champ Martin Potter in Surfers The Movie or Rod Sumpter in Endless Summer.
2014 Storm Hercules delivers the 'biggest North Atlantic swell ever' with 27ft waves recorded near Land's End. WL would later say of the swell: Like the moon landing, the fall of the Berlin wall and the death of Princess Di, Hercules has very much become a flashbulb moment for the surfers of Europe. Everyone remembers where they were when it made landfall…
2015 Redruth's Aphex Twin, aka Richard D James releases the first album under the Aphex Twin name for over a decade. James started out in the late 80's/early 90's Cornish free party scene (the real life inspo for the BJ raves) where entrance donations were made in weed, and James used his intense 150bpm pulse, 'Digeridoo' to get people to leave afterparties by "shaking people out of their ecstasy trance." He'd later be called "the most inventive and influential figure in contemporary electronic music" by The Guardian, while Radiohead's Thom Yorke described him as "My biggest influence." "Aphex opened up another world," continued Yorke, "I hated the Britpop thing and what was happening in America, but Aphex was totally beautiful." When asked if he'd ever tour with Radiohead, James said "I wouldn't, since I don't like them."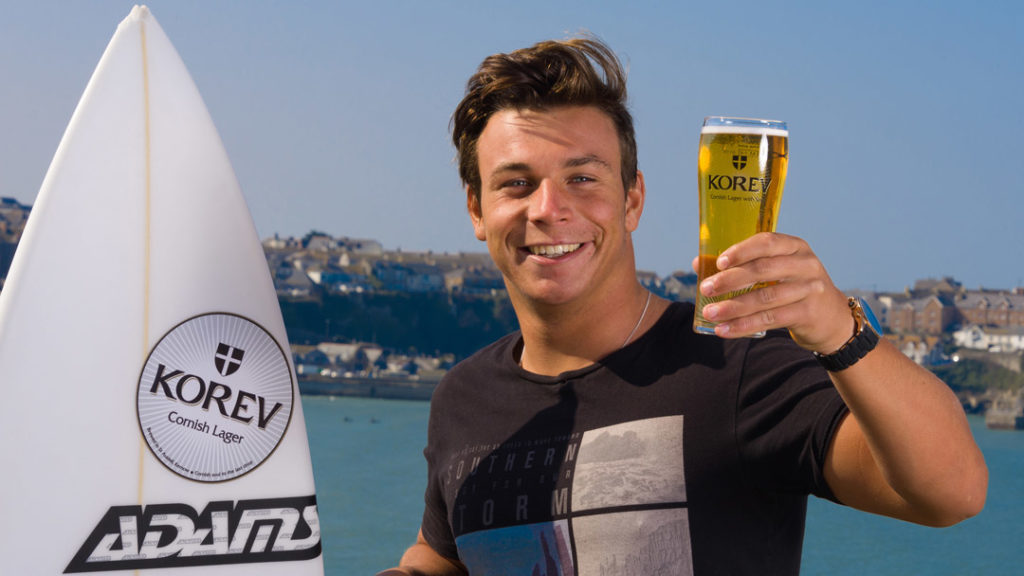 2017 Luke Dillon inks fresh main sponsor deals with beer & pasty companies Korev & Ginsters, part of a proper delicious rearguard action against the kombucha/chia/açai-ification of the surf world.
Join us in a beautiful clifftop location overlooking Watergate Bay in West Cornwall on July 16th for a drive-in screening of the film. Click here to buy a ticket, or subscribe now for free entry.