All shapers are surfers, pretty much. But the surfer shaper is a rare exotic, and very possibly headed for extinction. A surfer shaper is someone whom, at the peak of their water riding powers, does so on foam they themselves have hewn into a shape of their own brilliant design.
In an ideal world, where the wind is always offshore and the Amazon is still a carbon sink rather than source, the surfer-shaper — the surfer who shapes his or her own surfboards as they were meant to be ridden — would be heralded as the very apex of the sport.
To be very, very good at one is laudable, but to be a high achiever in both disciplines is one of the most difficult gigs in surfing. These seven below have done that, and much more.
Through their surfing and their designs, they have all changed surfing for the better. It's high time we salute them.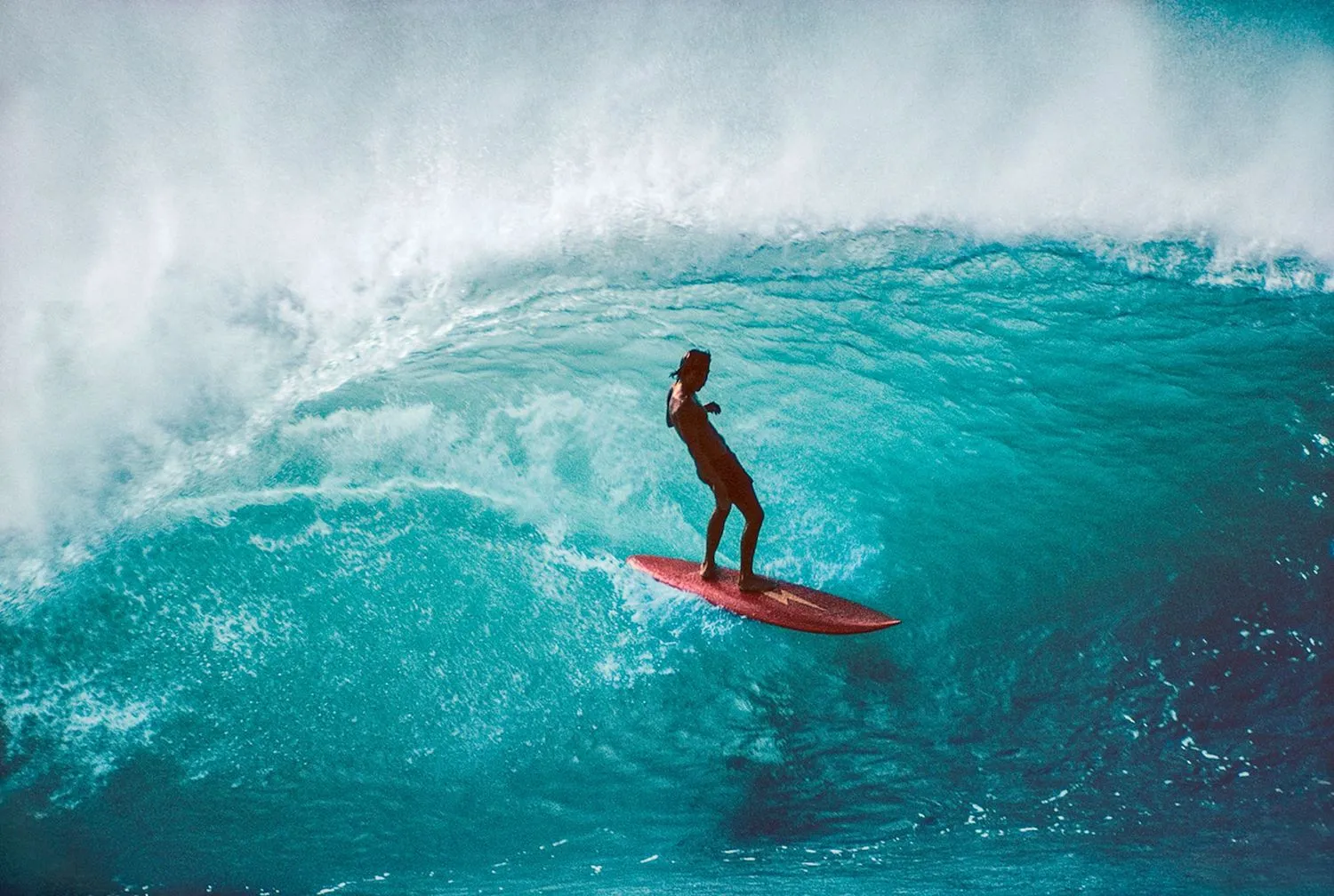 Gerry Lopez
"Before Gerry the boards were too straight and too wide and basically the boys were pearling on every wave at Pipeline," reckons two-time Pipe Master Rory Russell, the word pearling meaning nose diving, rather than any more sinister Urban Dictionary version.
"So he worked on a rocker and outline that would fit in the wave. And they worked. We all stole the templates of course. Anyone who has ever had a tube at Pipe has Gerry to thank."
Gerry Lopez' efforts at Pipeline, both as a competitor and as Zen-stylist in the '70s and early '80s rightfully overshadowed his role in the board design that made the whole cakewalk possible in the first place. However since dropping out of the Pipe spotlight and relocating to the forests of Oregon, Gerry has continued his surfboard shaping, wracking up five decades of high-spec foam wrangling for every type of person and for every type of wave.
Mark Richards
No other surfer-shaper has won a world title on their own hand-shaped creations, let alone the four MR racked up from 1979 to 1983. MR's greatest contribution to surfboard design was, of course, the twin fin.
"Two fins changed my life," reckons MR, who had adapted a Reno Abellira two-fin design, itself modeled on a Steve Lis Fish, allowing the metamorphosis from the stiff confines of a single fin to the loose-hipped twin-fin transformed surfing.
Around this time he also had both a silver Porsche and a silver wetsuit with a giant MR as a Superman logo, and still managed not to look like a tool. MR retired in 1984, with back injuries and the advent of the tri-fin meaning he quit at his competitive peak.
For the next 20 years he went back to shaping out of his Dad's surf shop in Newcastle. It is only in the last decade that surfers have again realized the potential of the twin fin and fish, and now a Mark Richards board is rightly seen as a prized possession. There are surfer-shapers, and shaper-surfers, and Mark Richards has a decent claim to be the best of them all.
Simon Anderson
Like Gerry, Simon can simply be referred to by his first name, such is his contribution to both shred and shape (and lack of other famous Simons). Simon Anderson's "invention" of the thruster, or tri-fin, is what he will always be remembered for. However, to a degree it has overshadowed both his surfing achievements and his subsequent 30 years shaping boards for the world's best surfers, including Kelly Slater and Andy Irons, among others.
In competition Simon won Bells twice, the Coke Surfabout and Pipeline Masters, and was a mainstay in the top 10, despite being 6'3" and weighing in over 100 kilograms. When he retired in the mid 80s he was the last real surfer-shaper on tour.
Yet it is the tri-fin that he will always be associated with, a design that he never received any real financial compensation for. "If I didn't come up with it right then, there were a lot of other people at the time that were working toward that same end goal," he has said. "I'm just fortunate, and happy to contribute."
Richie Collins
The Skeletor, the mohawk, the endless floaters, the fluro wetsuits, Oakley Blades and webbed gloves… The Wave Tools surfboard.
Yep, for a brief time in the late '80s and early '90s Collins was the Californian that you either loathed with a passion… or loathed moderately. And while his brash, trash-talking personality, uber-claims, arm-and-elbows centric style and constant God chat made the headlines, it should probably be remembered he scaled to no. 8 in the world riding his own boards, in an era when formidable opponents like Curren were on Merricks, Occy on Maurices or Rusty's.
There hasn't be a surfer-shaper that has reached anywhere near the top since Collins, and even if he's best known for his radical hyper-colour, anti-style approach, he should also be applauded as the last of a dying breed.
Photo: Brent Bielmann
Ryan Burch
The San Diego native is one of surfing's best current out-of-the-box thinkers, and is literally carving himself a name as one of the hottest, weirdest and most in-demand shapers on the planet.
While he makes beautiful fish-type boards and longboards for a growing waiting list, he is perhaps best known for his asymmetrical boards. "Surfing and shaping are pretty much all I do so I'm going to have to continue to reinvent myself to keep it fun and interesting," he said recently.
If you've seen footage of Burch surfing grinding G-Land or perfect Peru, I defy you to name anyone that makes wave riding look more interesting than Burch right now. With shaping inspiration from Carl Ekstrom, Rich Pavel, Skip Frye and Joel Tudor, and a rare, silky-smooth progressive style, Burch is the modern template for the Millennial surfer-shaper.
Photo: Ellis
Daniel Thomson
Daniel "Tomo" Thomson is one of the more talented surfers from Australia's Lennox Head, a historical breeding ground for shit-hot surfers and surfboard-design influencers.
At a young age Thomson turned his back on a potential professional career to dedicate himself to making surfboards under his Tomo label.
He relocated to California and his unique, not afraid of being ugly, wakeboard-like designs, significantly shorter, wider, and weirder than most on the market, were initially treated with general disdain, despite his own clips, which were consistently revelatory.
When Kelly Slater became an acolyte, Tomo designs became suddenly part of the mainstream. His philosophy reads "preserve the past, define the future" and in terms of coming up with a genuinely new design path, than than farting about with cosmetic tweaks at the edges of accepted convention, Tomo's contribution shouldn't be overlooked.
That he didn't name his enterprise Tomo Row People remains his most glaring oversight.
Rob Machado
Does Rob Machado even shape Rob Machado Surfboards? Hmmm. Is he, at 50 years old-ish at the peak of his surfing powers, rather than just another former pro moving into post pro career shaper* mode? Again, probs not. But Rob makes for the list for other unique qualities, even if he is firmly outside our true surfer/shaper criteria.
Firstly, while perhaps not at his peak, there's still a strong argument that he surfs his boards better than anyone else; and he almost certainly thinks so. His own website says "all Rob Machado Surfboards are hand touched by me personally."
Hand touched, no less.
What is genuinely impressive, is how he's somehow taken fringe-ish, dad designs like a 7ft fish, and made them normcore. And if you're a custom only elitist scoffing at the idea of a Firewire sullying your quiver, there's still his cultural contribution to the shaper canon to consider.
Rob's freewheelin van life cosplay persona, the battered old Dodge Ram car park new shape reveals, as if he just mowed a blank that he busked for change to pay for with an old breadknife – rather than had it flown first class from the far reaches of Orient to his cliffside mansion – has done wonders for the surfer shaper suspended disbelief niche.
We may not love you per se, Rob. But goddam it, we admire you.