It was a balmy summer's day in 1975's when Welsh surfer and photographer Paul Gill crossed a boggy field on Scotland's north coast and watched waves breaking across the shallow flagstone shelf that would come to be known as the Bagpipe.
He'd first visited the coastline four years earlier on a geography field trip and after spotting rideable looking waves had vowed to return in the future for a closer look. Back in Wales, after discovering big gaps in the few existing surf guides, he'd spent hours in the library pouring over photocopied ordnance survey maps of the area and marking on any bays and rocky outcrops that looked like they had potential.
Then in '75, a visit from an Aussie mate served as the perfect excuse to finally pack up his split-screen and head back to examine some of his 2D discoveries.
After enjoying a fruitful spell of waves in the country's north-west corner, the boys rolled east along the coast into the small town of Thurso. Gill remembers pulling up at the harbour and gazing out across the bay, where plumes of spray were ripping off the back of perfect 8 footers as they reeled off down a patch of reef at the foot of a castle.
"To be honest it was all a bit much for me with only basic skills under my belt," he recounts, "But I could see another lesser looking peak over on the other side of the river so I left the barrels for another day."
"There was a young fella standing on the seawall checking it," Gill continues. "Turned out he was a novice surfer named Jim who'd been to Newquay, tried surfing and continued up in his home town, but sadly had nobody to surf with."
"I coaxed him in as he was afraid of surfing over rocks. We had a great surf, just 2 lost souls out the front of a busy town in the middle of 500 miles of empty surf breaks." Gill asked about other surfers, to which Jim replied there were none. Then, he inquired about the reef on the other side of the river. Never surfed as far as he knew, said Jim, far too dangerous.
The following day the swell eased a little, and Gill decided to have a crack, paddling out from the base of the castle for what has become widely acknowledged as the first session at the now legendary Thurso East. "It was head high and clean but turned out to be too fast for my backhand," he recounts modestly. "I still can't pig dog."
After that, the boys continued east, buzzing from their new discovery, aimed at a bay Gill had circled on his map. "If you see it on an ordinance survey it looks like a perfect point. But when I turned up there, I was horrified," he remembers.
Instead of friendly waves rolling down the shelf as he'd hoped, Gill found a thick-lipped mutant folding over onto almost dry reef. "It looked like Pipeline, but on rock, with no beach and no lifeguards to save you, I thought there's no way it'll never get surfed." And for 30 years it didn't.

****
By the mid-naughts, Thurso East had become a prominent fixture of European surfing, playing host to several national and European championships, which saw scores of surfers from across the continent funnelling up to the small port town. During these events, Gill had occasionally invited surfers down the coast for a look at his discovery, but was always met with the same response. "I remember taking Guts [Griffiths] there and his answer was, 'That'd be lovely if there was a bit of water in front of it, but I won't be going in there.'"
While the golden age of heavy wave discovery was well underway on Ireland's west coast and boogs had been tackling any hollow waves they could find in the south-west for years, the number of British stand up surfers willing and able to paddle into big, hollow, thick-lipped slabs was still relatively small. Chief among them was Russell Mullins from Newquay, renowned for his ability in heavy surfed honed over winters in Hawaii and his balls out attitude both in and out of the water.
"I've never seen a wave like that and thought, that's a wave. It just looked like a dry closeout. I said, 'Nah, I'm not going in there."
On the morning of 24th April 2006, Gill looked out from the reef at Thurso and knew the slab would be pumping. It was finals day of the British Pro Tour event at Thurso and dozens of surfers were milling around on the point. Gill had heard that Russ had put on an impressive show at Pipe the season prior off his mate Hawaiian Sam, so he decided to approach him first. "I said, 'There's a barrelling slab around the corner.'" Russell didn't waste any time, he grabbed Oli Adams, whom he'd taken on as a young protege, bundled him into the van and set off following Gill along the coast.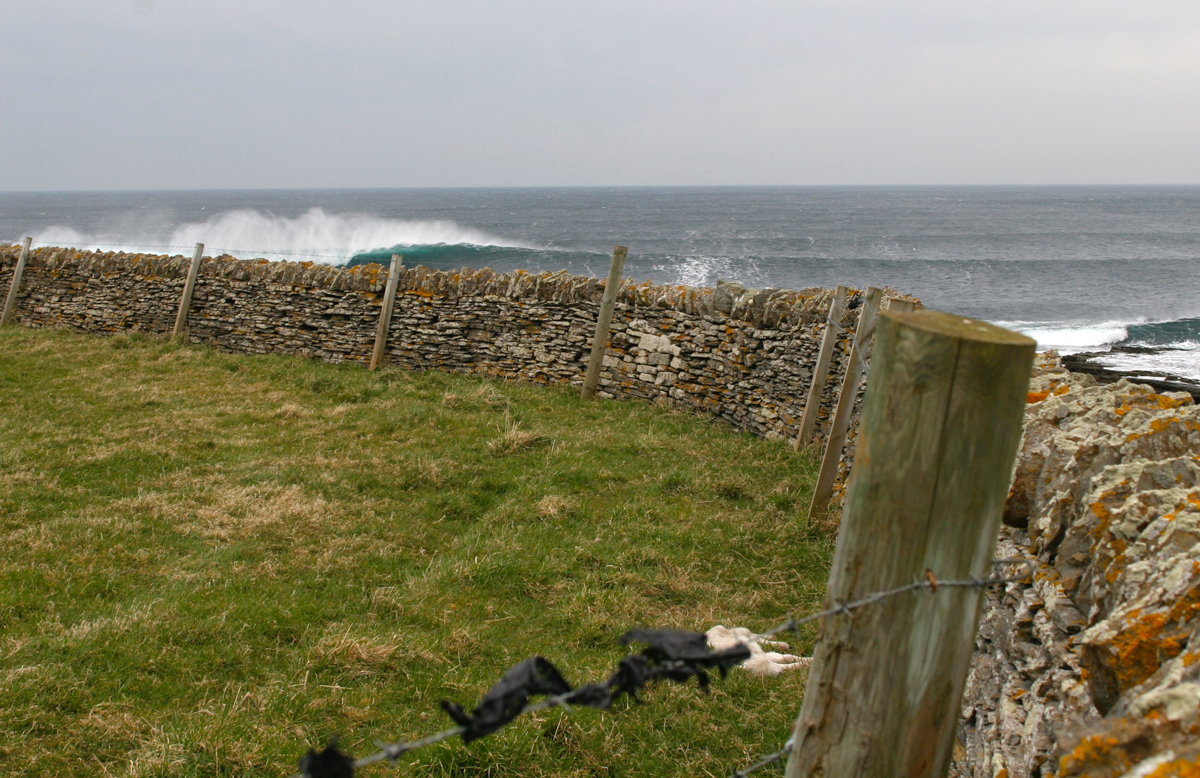 "We got to the field and Gill pointed over the wave and it and it just looked horrendous," remembers Oli. "Like I've never seen a wave like that and thought, that's a wave. It just looked like a dry closeout. I said, 'Nah, I'm not going in there.'" Russ, on the other hand, was keen as mustard. "Mullins was hopping around like a two-year-old that's just seen his mother's tit," says Gill, "he just went straight in." Still dubious, Oli decided to clamber down onto the reef for a closer look.
"By the time I got round there in front of it, Russ was already paddling out. It looked way more of a wave from there, but still not a makeable wave. I was just shitting my pants, but I knew if I didn't go in he wouldn't let me forget it." As 4-6 footers detonated on the shelf just a few meters away, Oli slowly pulled his suit on.
"As I was paddling out, Russ just took off on one and it was just perfect; just so square, dry and heavy. He got completely slotted, a proper sick one."
Everyone who was present seems to remember that wave with crystal clarity. "He didn't even grab his rail," says Gill, "just stood there in the barrel, up right, and came out shouting and screaming."
"I pulled back on my first two or three, because it still doesn't feel makeable until you actually commit to one," remembers Oli. Eventually, he put himself over the ledge and plumbed through a short but intense section before popping out into the channel. From there, the session was on.
On the headland, a scattering of people had gathered, including photographer Al Mackinnon and a pair of bodyboarders; a Scot named Tim Christopherson and a Californian called Nathan Harkleroad. Tim and his brother Josh had surfed some of the other setups in the bay before, including an already well-known novelty slab called The Dump, but they'd never really considered this left to be a wave. "I guess people didn't think it was a makeable, as it wasn't always open at the end of the barrel and it's so dry," remembers Josh. But after the boys saw Russ and Oli's waves, they jumped in for a crack.
After a few hours trading waves, Oli got out and called up Russ' brother Ritchie to tell him about what they'd just found. Ritchie was back at the hostel, readying himself for a ten pin bowling showdown with a load of other pros in town for the comp. After the call, he hastily made his excuses, grabbed mates Nate Philips and Mark 'Egor' Harris on the sly, and made a beeline for the bay, where they joined Russ for a quick session as the tide pushed.
While there's dispute over who exactly came up with the name, most in attendance loosely agree the credit goes to a young Scot named Ross Kemp (not that one) who was standing with Gill and Scottish surfer Mark Boyd on the point watching the session go down and noted the wave's resemblance to Pipe, adding the bag as a nod to its unique Scottishness.
In the months that followed, the Christopherson brothers, along with a small crew of local and visiting bodyboarders had the wave pretty much to themselves, testing the limits of what was doable out there, and paying their dues with scraped flesh, snapped leashes and lost swim fins. On more manageable days, they were joined by local standups Mark Boyd and Chris Clark, who went on to become regional standouts at the spot.
By the time the newly minted O'Neill Cold Water Classic Prime event rocked into town in the winter of '07, the stories of that first session had permeated and many of the visiting surfers were hungry for a go at the Bagpipe. In the years after, photos and clips became commonplace, and solo sessions much rarer, but the local bodyboarders weren't too fused. "In some waves, it's good to have company," says Josh.
Since then, Bagpipes has played an important role in British surfing, serving as a rite of passage for any aspiring young charger looking for their first go at a wave of consequence.
It's graced dozens of covers and starred in countless movie parts, drawing surfers from all over the world into its maw.
And while many waves that have been on the radar for well over a decade have their best days behind them, thanks to its fickle nature and remote location, surfers unafraid of freezing temps and the odd dry bottom closeout can still be met by perfect tubes with just seals and dolphins for company when everything comes together just right at the Bagpipe.
Cover photo: @lugarts