Earlier this year we gathered together three of Britain's (and the world's) best longboarders for an open and frank discussion about the state of the sport.
The discussion, featuring Ben Skinner, Mike Lay and Adam 'Bearman' Griffiths was published in Issue 253.
However In gathering the imagery for the piece we ended up with a folder overflowing with shots, and so instead of condemning them to a virtual life on a small spinning disk , we though we'd let them breath here, for you to peruse and enjoy.
The images feature three surfers from what is an extremely deep longboard talent pool, with contemporary names like Joe Davies, Sam Bleakley and James Parry as well as the lineage they learnt from, well deserving of honourable mentions in their absence.
Here's an extract from the story and a selection of b-roll imagery. To read the full feature, grab an issue of 253 here.
"The last ten years have seen a great division in the world of longboarding, with Joel Tudor, who was once a world champ and stalwart of the high performance scene, turning his back on it and instead becoming the architect of a grand resurgence of traditional logging.
The reasons for this schism are wide ranging and nuanced. However at its heart it stemmed from a rejection of new school manoeuvres and the board design features required to facilitate them. The World Tour judging too, its adversaries claimed, was ignoring the importance of elements such as cross-stepping and trim, banishing the things that made longboarding its own unique art form and rendering it short boarding on an over-sized thruster.
Alongside this came a renewed appreciation for traditionally shaped, heavier single fins, free from leashes, side fins, rocker and hard rails- features introduced previously to allow for progressive manoeuvres. Beginning with Tudor's Duct-Tape Invitational the ever growing scene of of traditionalists also began organising their own invitation-only events, which strictly regulated the boards that could be ridden. Over the years, the scene gathered momentum, rendering the previously ubiquitous progressive approach increasingly niche.
Fast-forward to 2016 and the WSL, which presided over the exact competitions that the traditionalists denounced, decided it wanted in on what was an increasingly popular and profitable scene. It circulated a memo, after entry fees for the year had already been paid, stating that competitors would only be able to ride single fins in its events. However, the news was met with anger by competitors, who had not been consulted on the change, and the decision was quickly reversed.
This year a new grassroots longboarding tour, called the Surf Relik was conceived, with the first event taking place in Malibu in October. The competition included both high-performance, traditional and women's categories, each with equal prize purses, in an attempt to promote inclusivity and equality, while simultaneously healing the divides and bringing the global community back together for two days of impressive action at the world's most iconic longboarding wave. Next year the organisers plan to host three more events, as a well as series of qualifiers, with locations such as Snapper and J-Bay already ear-marked.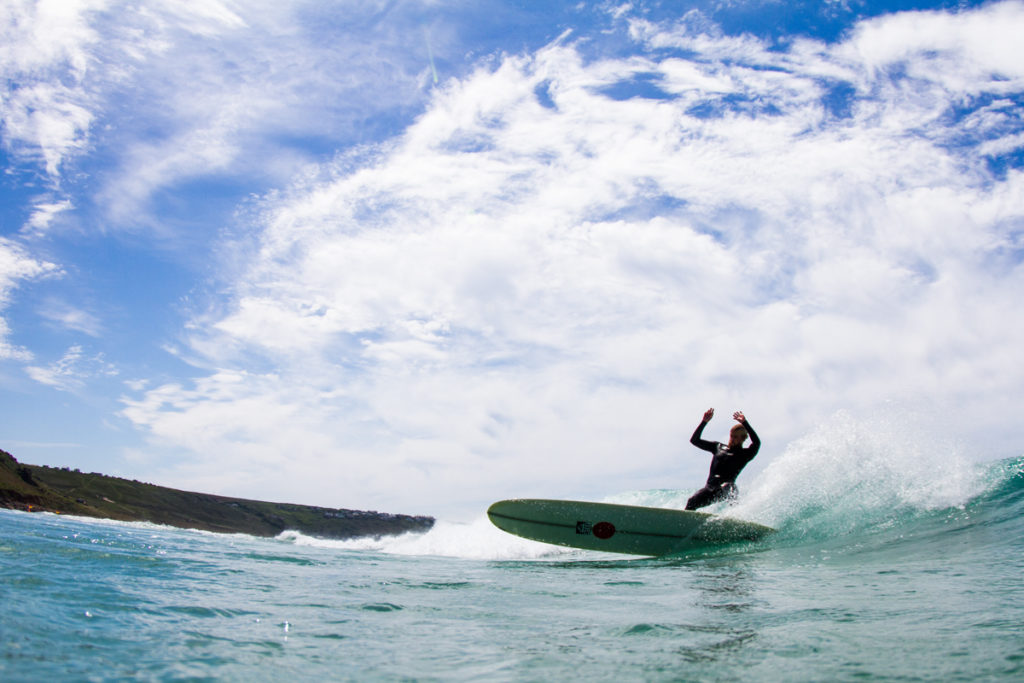 The British Isles have been blessed with an incredibly impressive lineage of longboarding talent, which, unlike the men's short-boarding division, where past dominance is quickly fading into the rear view mirror, looks just as healthy as it ever has.
Among an extensive roster of notable names, accolades are diverse and plentiful. Most recently, progressive Newquay boys Adam Griffiths and Ben Skinner have racked up podium finishes on the longboard world tour, with Ben also securing a third place result at the Surf Relik, while Sennen's Mike Lay has received invitations to the Duct-tape and Mexi Log fest, and enjoys adulation from his peers in the traditional world.
As well as providing a perfect cross section on the different schools that exist in modern longboarding, this crew is as eloquent, knowledgable and opinionated as they are talented, making them the perfect candidates for the discussion you find laid out before you. Are you sitting comfortably? Then let's begin…."
Never miss a mag in 2018 by subscribing here.
All photos Luke Gartside
Going off?
Want to share your photos? If you've got a great gallery of your local spot email us [email protected]