Volcom invites you to an immersion into the colourful world of pro surfer and artist, Ozzie Wright on Thursday the 14th of March London.
Ozzie unrestrained creative output has been a driving force in surf culture for almost 25 years. From his surfing to his songwriting to his art, Ozzie brings a DIY approach, Aussie attitude, and infused energy to everything he touches. "I started painting to try and bring happiness and keep the bad vibes away," he explains. "It's nice to do positive artwork."
The London shindig is being thrown to celebrate the release of the new 'Shoot Rainbows' collection, which features Ozzie's artwork on a variety of garms. The evening will see an art exhibition as well as live performances from Moon, movies, drinks and various other surprises.
Basically, it's going to be a good night in the big smoke. We look forward to seeing you down there.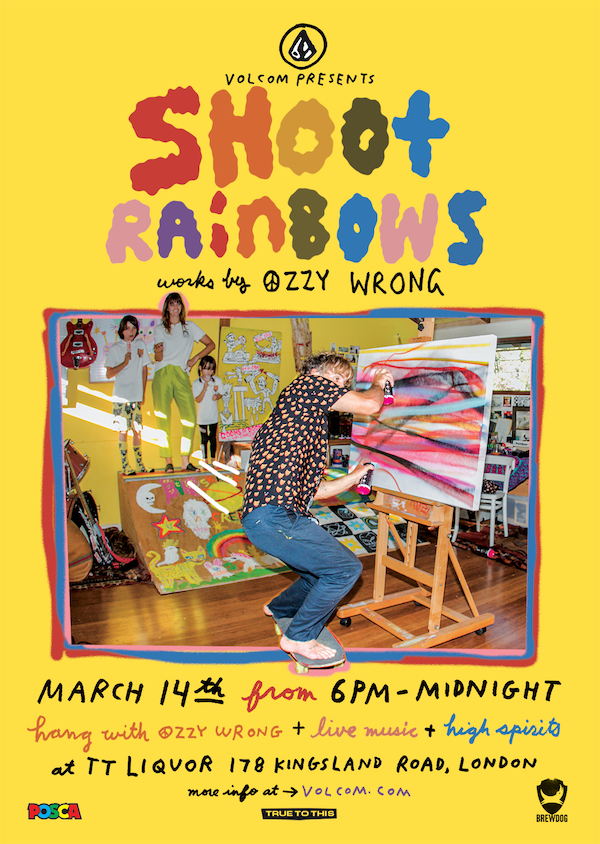 Here's the info:
When? Thursday the 14th March
Where? TT Liquor, Shoreditch
Register your attendance, here.