Since the beginning, Deus Ex Machina has been about much more than spinning quality threads, with art shows, custom bikes, boards, and films forming equally critical parts of its offering.
Much of their approach reaches back to 2010 when Dustin Humphrey established a base for the Sydney born brand in the Island of the Gods. It was dubbed The Temple of Enthusiasm, a network of workshops and event spaces situated between the rice paddies, just back from the beach at Canggu. A place for surfers, artists, shapers and moto-enthusiasts to gather and indulge their creativity. Naturally, with an acclaimed lensman like Humphrey at the helm, a series of artfully created clips featuring the brand's events and team expeditions soon followed.
To help with these projects, Dustin started looking for a local filmer to join the team, with a preference for someone with minimal experience behind the lens. He wanted a completely blank slate, with no bad habits but a keenness to learn the craft from scratch. Through a family connection, he found Andre 'Cricket' Fauzi, back then still living in the small village in Eastern Java where he grew up. One day, the brand's local director Yanto called him up and told him to head over to Bali, where there was a job waiting for him. Being unemployed and with no reason not to, Andre agreed.
In the decade since, he's filmed non-stop for Deus, alongside some of the best directors in the buis, shooting and editing numerous online shorts, as well as serving as lead camera on many of the brand's critically acclaimed feature-length films.
Recently, after Andre touched down back in Bali following work on a project for Tourism Indonesia in Sumba, we grabbed the opportunity to sit down with him and ask about some his most memorable experiences travelling and filming with the brand.
Temple Movie
This has to be on the list. It is the first video that I shot for Deus. I'd had a camera in my hands less than a dozen times before being thrown all in, it was a steep learning curve.
Independent surf movie maker Jimmy James Kinnaird was working at Deus back then and was given the job of teaching me. The movie was actually made up of several different trips, Bali, Sumatra, Java and finally Lombok. Not only was I learning how to use the camera and shoot but it was my first experience filming surfing and motorcycle riding and here I am rubbing shoulders with all these professional filmmakers, like Dustin, Jimmy and then Jack Coleman came in at the end. And then there were the surfers; Jasson Salisbury, Ellis Ericson, Tyler Warren, Alex Knost, Harrison Roach, Husni Ridhiwan, Mencos, Deni Pirdaus, Ryan Burch, Matt Chojnacki, the list went on.
When we were in Java, Thomas Bexon taught me how to surf by pushing me into the waves on boards from the boys. What makes that so memorable was that it was before I even learnt how to swim! That was the first time that I ever stood up on a board.
It almost goes without saying that during those early trips I learned so much about the basic techniques of using cameras, how to film, how to edit and of course, how to surf. This time was really mind-blowing for me.
I Had Too Much To Dream Last Night
This is also one of the best trips I have ever done, even though there are actually a couple of trips wrapped in the making of this movie too. We had some really special surfers on board for this one; Harrison Roach was there, Bryce Young was an awesome guest addition, he's such a great surfer and super good at skateboarding. Jared Mell is in there doing what he does best. He's just so flexible, isn't he? and Matt Cuddihy is in there too. Cuddles would have to be one of my favourite longboarders. Not only is he so stylish, but he can also step so damn fast to the nose when he wants to hang.
Harrison Roach & Zye Norris quiver loading by @woodygphoto and Matt Cuddihy hanging heels by @anthonydodds
Zye Norris, Husni Ridhwan, Thomas Bexon & Deni Pirdaus were all on board for that one, while David John Schaap was working alongside me on the cameras as well. We had such a good time and good waves for longboards and shortboards.
One of the best moments on this trip was when we all had "omelets" before filming and everyone went out and surfed BK. We were drinking Bintangs, standing on the shore shooting and the craziest thing is that everyone was surfing really well. I think we got some of the most amazing clips that day.
The Scramble Gamble
This trip felt so special because we had Lewis Dunn on it. He is a super funny human and a great surfer. Forrest Minchinton was on too, one of the best motorbike riders I have ever met. I was partnered up with the photographer Tom Hawkins. Tremendously fun trip, watch the movie, you will see straight away what I mean.
The Deus 9Ft & Single Event
The Deus 9ft & Single event from 2016 has to go down as one of the best events that we have held at Deus Bali. Andy Gough was shooting on this one and he did the edit. Amazing job. I learnt a heap from him.
What I really love about these events is that I get to meet and film so many incredible surfers, both men and women, from all around the world. Even talking about this one makes me super excited.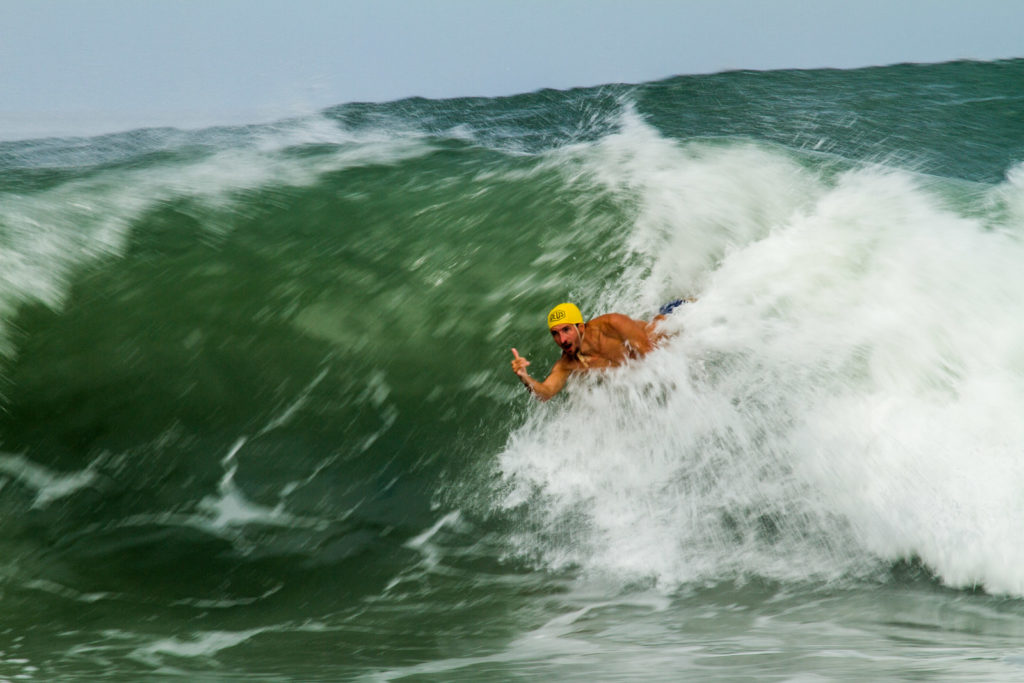 That year we had huge swells and everybody was out surfing without leashes at Pererenan River Mouth. We also had a bodysurf competition, and man that was just super fun to watch and film.
Once the events are all run and done, Sunday night is filled with great live music after the awards ceremony! Everyone has a few drinks and we all dance together, and it's so much fun, even though the media team and I are all so damn tired after four days of shooting and editing!
South To Sian
From my point of view, South To Sian is hands down the best surf and moto movie we have made. For one thing, it was the longest travelling I have ever done in my life. We were driving an old Landrover, that we had called Jane, from one end of Indonesia to the other.
We started at the Deus Temple in Canggu, headed south to Sumbawa and ended up finishing in the North of Sumatra. Thousands of kilometres. When you watch the video, everything looks so perfect and beautiful but what you don't see is all those times we were held up on the side of the road trying to fix that damn old car.
Packed and gone. Photos: @anthonydodds
Between the car braking and a list of other issues we basically had a new problem every day. There was the one time when we got kicked off of the ferry from Bali to Lombok. Not at the start or anything, we were halfway across in the middle of the sea and they turned the ferry back to the port because they found out our car was leaking! There was fuel all over the floor of the ferry! Of course, at the time, we were more than a little bit angry but looking back now, the whole story was kind of funny!
The big thing that sticks out over that year and a bit long shoot was the part of the movie where didn't have the car with us. We were on a sailing boat out in the Mentawai Islands. This was the first time in my life that I lived on a boat. It was so beautiful out there right up until a storm came in the middle of the night, man, I got tremendously scared!
For me, things went from that bad to worse when Nick John, the filmmaker who was with us for that segment, said that the best angle for shooting this surf was from the land and we had to jump from the boat and swim to the island with all our gear. Bad news was that in all the years between I still hadn't learnt to swim. Nick gave me some pointers the day before, but in the morning, faced with having to swim I couldn't. The swell was huge and the waves massive, luckily Harrison and Zye offered to carry my tripod and my Pelican case and I took Harrison's surfboard and paddled to the beach! It was incredibly scary for me just to be out in that big swell.
Then things got really crazy when the surfers went back to the boat, the sun was setting very quickly and everything was getting dark. Nick and I couldn't see the boat from shore. We just had to guess and swim, with me keeping afloat with my Pelican case! We were both kind of freaking out, and I was thinking so many negative thoughts but finally, they found us!! That would have to be the craziest experience of my entire life.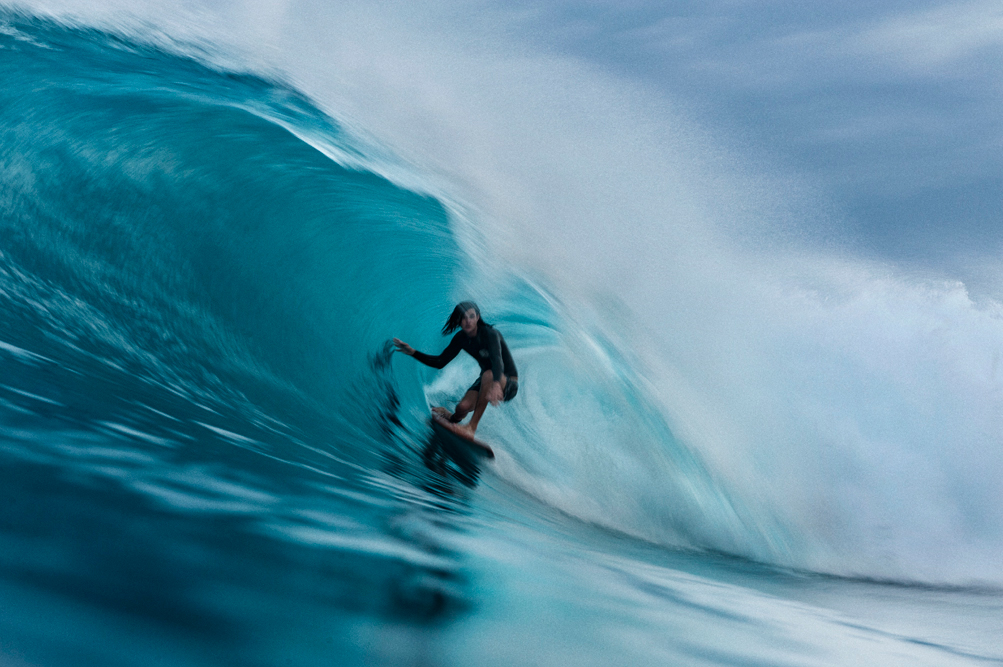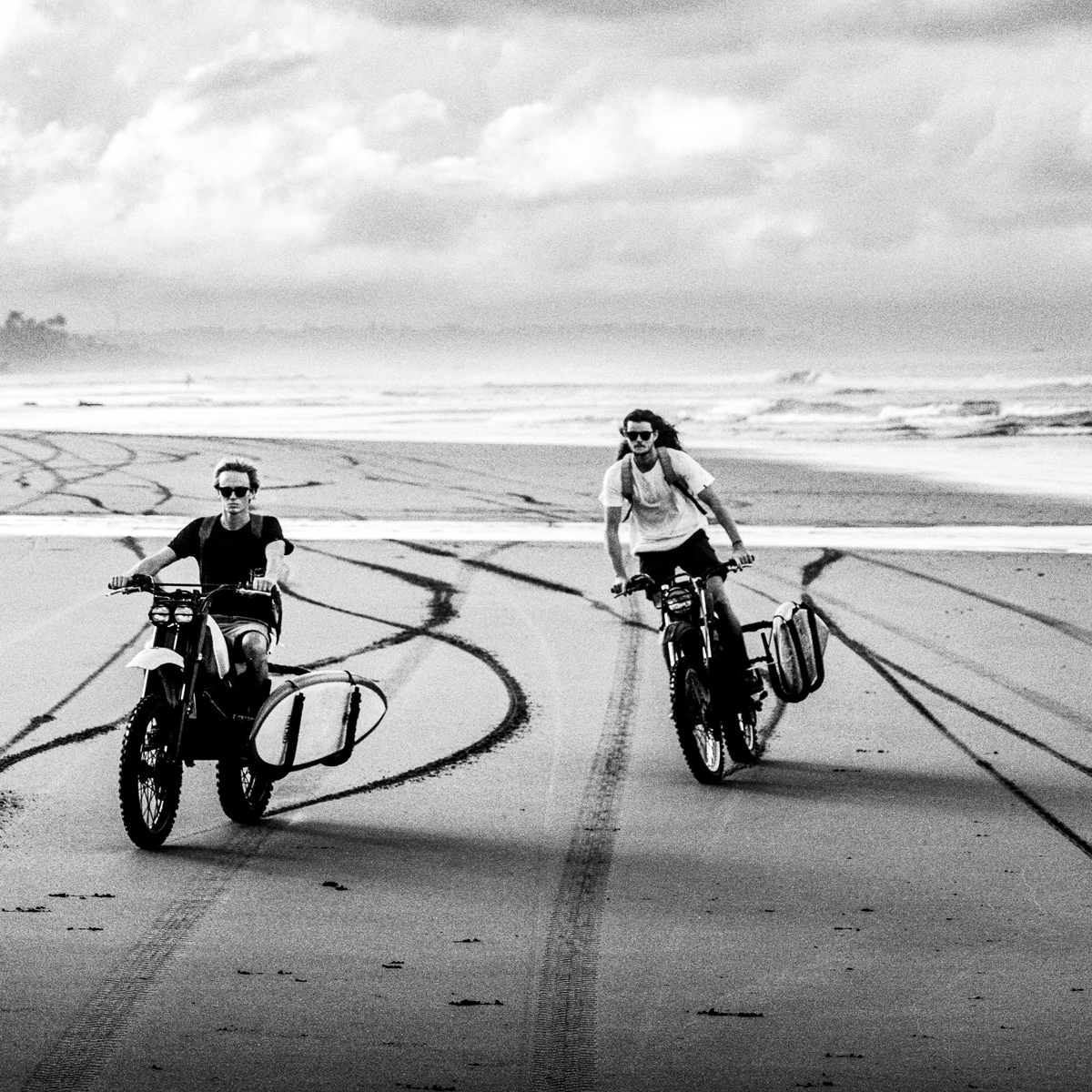 Zye Norris & Harrison Roach drawing lines in sea and sand. Photos: @woodygphoto & @tbhphoto
But then again, afterwards, back on the boat and reviewing the footage, we were all so stoked with the surfing clips and from a filmmakers point of view, I learnt so much during this trip. It really improved my skills and definitely added a lot to the experiences in my life.
To say that I set out to be a filmmaker wouldn't be telling the truth but there isn't a day that goes by where I don't thank the god for the opportunities and chances I have been given and for the life it has provided so far. Be interesting to see where we are all at in another ten.
Cover photo: @anthonydodds
---