Yesterday an arctic walrus was spotted near Padstow, marking the first sighting of the species off the Cornish coast since records began.
The walrus, affectionately named Wally, is thought to have been hanging out around the British Isles for some time, with various sightings in Ireland and Wales of an identically sized and marked animal reported earlier this year. According to ITV, he is presumed to have drifted south after falling asleep on an iceberg.
In a statement, Wally spotters Padstow Sealife Safaris said it had been hoped that after his recent stint in Tenby, South Wales, rising sea temperatures would see him begin his journey back north, however, yesterday's sighting confirmed the opposite.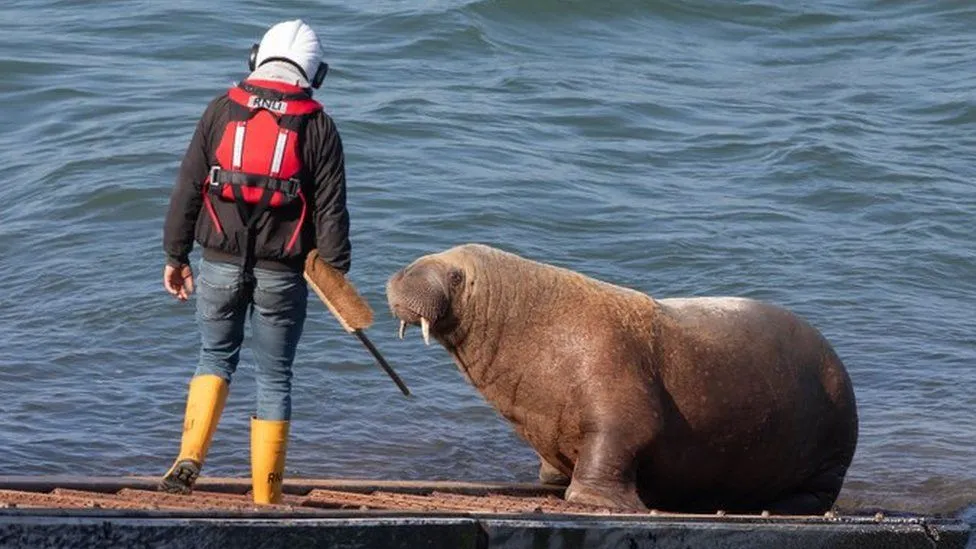 Although not thought to be a danger, there are reports of walruses becoming aggressive if approached. During his stay in Wales, Wally seemed generally unperturbed by human contact, hitting the headlines in April after a standoff with local lifeguards who were attempting to launch from the slipway on which he was sunbathing. After various failed attempts to shoo the animal with a brush, they were forced to resort to frightening him off with an air horn.
However, marine organisations are imploring anyone who does spot Wally not to disturb him.
"Leave him alone and when the mating instinct kicks in he will find his way home in no time," reads a statement reshared by Padstow Sealife Safaris on the original post.
"Wally is a juvenile male and as such is finding his flippers ….as a lone male he will soon move on when he wants to and will head off in search of a female in his own time the same as he came south in his own time… he is currently healthy and looking after himself perfectly well, I have spoken at great length to a marine biologist and ecologist about Wally so can put your mind at rest … the only risk to his well being are humans!"
Cover photo: Nathaniel Barry