[This winter we teamed up with JJF's long time sock sponsor Stance to offer every new subscriber to Wavelength a free pair of John's new signature Swell socks. Get yours here.] 
With the opening leg of the women's tour cancelled following a fatal shark attack at Honolua Bay and the Pipe Masters postponed due to a Covid outbreak among staff, it's fair to say the last fortnight hasn't quite been the triumphant return the WSL was hoping for.
Instead of fixating on the continuing roll call of doom and gloom that is 2020, we decided to take a look back at some of the more heartening moments in pro surfing's recent history, with a deep dive into the life of 2X World Champ John John Florence.
From his humble beginnings growing up on the beach surrounded by surfing legends, to his iconic Hawaiian homecoming after his first world title, here are six defining moments from the life of the 28 year-old Hawaiian.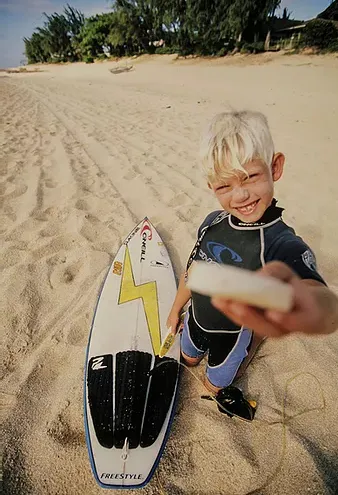 Photos via JohnJohnFlorence.com
1999: The Beginning
When setting out to raise a future world champ, there are certain guidelines it helps to follow, like: start 'em young and live somewhere they can surf in warm water every single day. After that, if it's meant to be, the rest will pretty much fall into place.
In the case of John John, nothing was more central to his surfing development than his childhood proximity to some of the best waves in the world.
So how exactly did John's mum, Alexandra Florence, who hails originally from New Jersey, but by then was a single mum of three living on the North Shore, working a few bar jobs while studying for a degree, snag a slice of the most sought after beachfront real estate on earth? Here's how she tells it, in an interview with Freesurf Magazine:
"John was about 6 or 7 and we had a years notice to be out of [our existing] house, they were going to do some heavy renovating. I was like, oh no. I'm with my three little kids and I was going to school full time. But this [the Pipe house] was a vacation rental and the owners happened to be in town. John and I were walking up to check the waves and I said to him, 'Let's just ask them'. He was like a little adult at this time and so he said, 'Okay mom, let's go ask.' And we walked up and we knocked on the door and I just said, 'Hey would you consider long term renting this?' And they were like, 'Yeah we would.' And we moved in a month later."
So there you have it.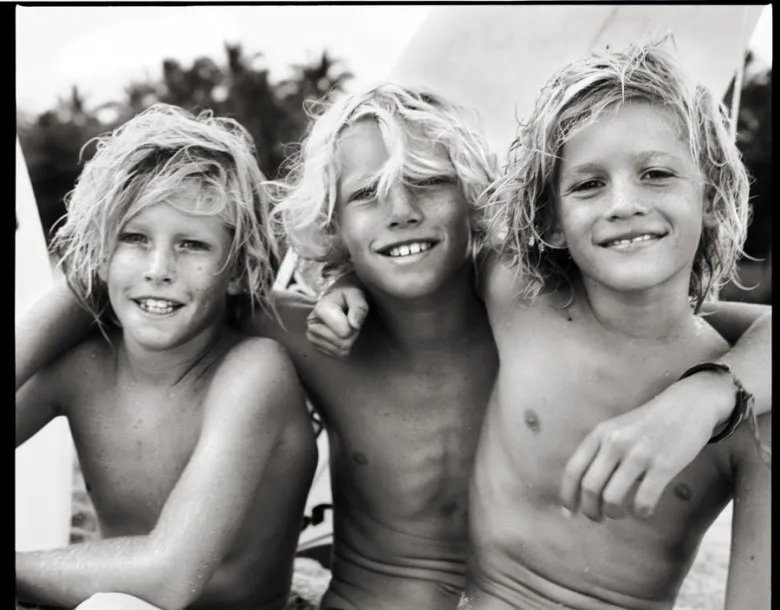 Photos via JohnJohnFlorence.com
2005: The Inauguration
When it comes to John's early life, there are many defining moments to choose from. From signing with O'Neill aged 6, getting tubed at Pipe aged 8 to scoring his first Surfer cover aged 12 or the slew of junior titles that followed, he packed a lot in for a lad in short trousers.
However, beyond these accolades, the biggest influence on John's future success was undoubtedly the people he surrounded himself with. With his father absent, he found his male role models at the beach. And, on the sands of the Seven Mile Miracle, there were plenty to chose from.
Kala Alexander and Kai Garcia (of violent enforcer Wolfpak fame) reportedly took him under their wing from an early age, showing him the ropes and even delivering open-palmed discipline when necessary. Herbie Fletcher would take him towing on outer reefs. Eddie Rothman taught him how to box. Jamie O Brien showed him where to sit at Pipe and Jack Johnson's brother Petey, who happened to be manager of the O'Neill Hawaiian team at the time, babysat him and his brothers while their mum was out.
And then of course, there was the time he spent surfing with Slater, who, with his remarkable foresight, one has to guess, must have known he was helping nurture a talent that would one day knock him off his perch.
This extended North Shore family could be found lining the beach one morning in December 2005, as a 13 year old John John paddled out for his first ever heat in the Pipe Trials, held in whomping 10-12 foot surf, just one week after surfer Malik Joyeux drowned in similar conditions at the break.
Although John didn't make a heat that day, his calm head in the face of the intimidating conditions certainly got him noticed, with many fellow competitors reporting shock at how quickly he'd become comfortable in heavy surf.
"I remember seeing him out there," recalls friend and fellow Pipe specialist Jamie O'Brien, "and I'm thinking 'God, he's fucking young, he's going to get drilled. And he did. But he never gave up."
Photo: Kelly Cestari // WSL
2014: The Teahupoo Super Heat
Fast forward 9 years, to the middle point of 2014 and John John has taken his place in the minds of the fans as the greatest surfer on earth. Although somehow, in the three years since he qualified, he's only managed to win one event.
He'd come close the previous year at Pipe, falling in a hotly contested final with Kelly Slater. And now, the stage looked set for a semi-final rematch at Teahupoo. On paper, it was the perfect matchup. The Prince of Pipe, a true master in backhand tubes of consequence VS the 11 time World Champ, a man with more years experience at Chopes than John had candles on his birthday cake.
Thankfully, conditions delivered and the heat went down as one of the greatest in CT history, with Slater still counting it as his all time career favourite. In the end, both surfers finished with two excellent rides and the judges were left splitting hairs, narrowly handing Slater the win.
"It was just a perfect moment in time," reflected Sean Doherty afterwards. "Kelly, probably on the way out, at his favourite break and John John just starting to catch fire and become the surfer everyone wants him to be. Here they were in 12-foot Teahupo'o, in front of the world."
For a full play by play of all the dramatic twists and turns, hit play on the highlights here:
Photo: VFABM Production Still
2015: Celluloid Supremacy
In late 2015, after nearly three years of filming, John John dropped his brand new movie, View From A Blue Moon. It was the biggest budget, highest-grossing surf film ever made, shot by a battalion of filmers with Red Cameras hanging out of helicopters at far-flung locales all over the surfing world.
According to Blake Kueny, the film's 23-year-old co-director, the goal was to create something unique in the surf movie space; an all-action flick that would satisfy the core surf fan and the mainstream cinema-going audience alike, without any of the cheesy pandering to the latter that so thoroughly winds up the former. While the cinematography is illustrious and the storytelling engaging enough, the film's true success undoubtedly lies in John's surfing performance.
"Never before has a single surfer dominated every possible ocean condition with the style and aplomb that Florence does," wrote Rory Parker in his review on BeachGrit. "View from a Blue Moon contains what may be the highest volume of mind blowing surfing ever stuffed into a single video. Every single aspect of JJ's game is so high it may as well be a totally different sport than whatever the hell it is the rest of us do in the water."
Photo: Twelve
2016- A Vintage Year
In 2016, John finally came good, riding atop almost two decades of unfulfilled pundit's predictions into a spectacular and unprecedented winning streak. First, he took out the Eddie Akau, the iconic big wave comp held at Waimea Bay, for its first iteration in nine years. Then, he claimed his first World Title at the end of the Euro leg, raising the trophy on the beach at Peniche, while Slater gazed down from above the podium, beaming widely at his prodigal son, but surely secretly aware that this was the moment the torch would finally be passed. Indeed, in the three years since, John has gone on to win another World Title, while Slater, languishing with injuries, has failed to finish a season inside the top 5.
Photos: Luke Gartside
For John though, it was the moment he arrived back home that he says really stood out. "We got to Pipe and it was crazy, the whole North Shore community was there," he recounts in his web series Twelve. "I could never have imagined anything better to come home to. My sixth-grade teacher came up and gave me a hug… [there were just] people I've looked up to since I was young, people who have helped me get to where I am today."
"That was probably one of the most special moments of my life, more than winning the World Title, just having all those people in one place at one time."
Photo: Damien Poullenot // WSL
2019: The Comeback
Before we dive in the dramatic events of last December, first, a quick recap. After busting his knee in Bali in 2018, John was forced to sit out the rest of the season. He returned at the start of 2019 in blistering form, claiming three podium finishes, including two wins, in the first four events. Then, his knee went again in Rio.
He headed home to rehab, spending a few months doing squats and tinkering with his beehive (not a euphemism), before taking off across the Pacific on his boat. The plan had been to sail to Tahiti for the comp, but with that out the window, he set off instead to the pristine island of Teraina to immerse himself in matters of restorative ecology.
Meanwhile back on the WSL competitors were battling it out for spots in surfing's debut at the Tokyo Olympics, with the top ten finishers, with a limit of two per country- set to make the cut.
Departing Rio in poll position, John's rank had been slowly sliding with each missed event. However, as the Europe leg wrapped, he'd only dropped as far as eighth holding on to the second USA Olympic qualifying spot.
Heading into Pipe, the man closest to catching him was none other than Robert Kelly Slater and of course, he wanted it bad. "Surfing in the Olympics, that would mark 40 years of competing for me," he told The New York Times, setting up for a classic Slater understatement, "It would be a nice sort of bookend."
When John got the news, he declared his plans to surf if conditions allowed and sure enough, when the event rolled around, he strapped up his knee in a bionic looking brace and paddled out. After faltering in his first heat with an interference, he made it comfortably through the next, while Kelly sailed straight through to round three. Then, fireworks for the old GOAT; a perfect ten in a cascading Backdoor runner, followed by another win and a miraculous buzzer-beater in the quarters. It was vintage Kelly, and the ball was firmly back in John's court.
Photo: Kelly Cestari // WSL
Even with one limb severely encumbered, John had the ability to make light work of most of his fellow competitors at Pipe. But not everyone. And in his quarter-final heat, Medina's ferocity pulled John's temporary weakness into sharp focus. In the end, the World Title front runner made quick work of the hometown hero. But then, Kelly too fell foul of an in-form Brazilian, handing John the ticket to Tokyo.
"He is very competitive and I'm sure he was bitter," he told The Olympic channel afterwards, "But I didn't see any bitterness and he didn't show any bitterness to me. But I'm sure he definitely wanted that spot."
"I've known Kelly since I was a little kid, and if It had gone the other way, I would have been stoked for him," he continued in classic humble style, always more keen to discuss his competitor than sail anywhere close to blowing his own horn.
"I think it's amazing what he's doing at his age and the way he's competing with the rest of the field. He's been winning world titles since the year I was born and to see him out of the Pipe Masters getting ten point rides and battling me for this Olympics. It was amazing to see. I hope I'm able to do something like that when I'm his age."
---