For one reason or another, length of ride has always captured surfers' imaginations.
Part launched into collected surf psyche by Bruce Brown's Endless Summer Cape St Francis stitch up ("waves so long, we couldn't capture then on a single reel of film…"), length of ride was once held in such high regard that it was even in the (then ASP) judging criteria.
Maybe because one of the unique things about surfing is just how very little time you actually spend riding your board (as opposed to paddling it, sitting on it, talking about it, waxing it, fingering it, etc).
Therefore the opportunity to ride a wave so long that you actually get to kind of look around and go, 'Shit me, this is a long one' is a big, generally unobtainable buzz.
Perhaps furthered by the fact that so many of the famous mega long waves are in Indo or just… somewhere else.
Anyone growing up surfing section-y beachbreaks – which is basically everyone – comes to fetishise length of ride at some point.
So what are the best thigh burners in Britain and The Continent? Which spots will help you get quads like Manu Tuilagi?
Let's have a look.
(N.B. There are obviously longer waves than these. But fortunately, for now, they're not in the public domain… And we aren't about to change that here)
Lynmouth, Devon
In the 90's a friend and I used to drive up overnight and sleep in our car so we could be out in the pre-dawn dark, so intoxicated were we by Lynmouth's luscious length.
There were legends of a day when someone connected a car park wave from the top of point past the river mouth, and then down through Blacklands, all the way.
Whether this was actually true or not was irrelevant, the challenge was on.
Admittedly the wave itself is kinda soft, but on the right swell and tide, Blacklands can get stupid long. It's a particular thigh burner because you'll race a section, the wait for the next, repeat, etc, for ages, kinda like interval training on a surfboard. After a good day out there, your quads will know about it.
With forecasts being what they are, it's pretty mad house out there these days, but hey, chin up. The good part is the pros tend to like going right at high tide, freeing up the softer, yet much much longer Blacklands lefts.
If the tide is filling in and the sweep savage, you'll be much better off walking back. And if you've had a really long one at a pretty high tide, you might even need to walk, paddle around a bit, then walk again.
That's when you know you've had a long un.
Figueira da Foz, Portugal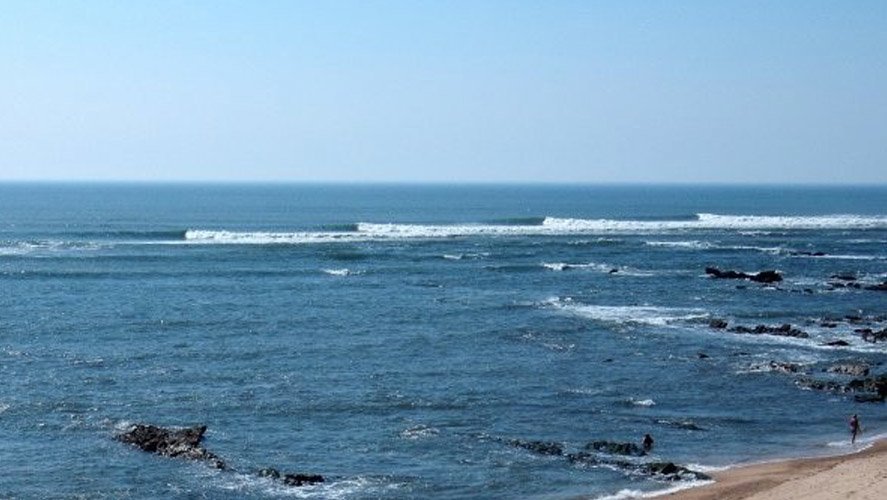 Figueira da Foz has experienced a similar trajectory to the Nose Guard in popular surfing culture, as in last seen circa the late nineties.
Hailed as 'one of the longest rights in Europe' by some, it even staged a WCT event (in 1997, won by Shane Powell). Weirdly, as the Portuguese surf boom has gone exponentially on the up and up, with the focus on Ericeira, Peniche, the Algarve and Nazaré… FdF has sort of faded in the background. Hence you might score it reeling and relatively uncrowded.
Actually a series of different breaks, the long right that is generally hailed as the thigh burner is known as Buarcos. Line up a good day here and while you mightn't get as tunnelled as you would in Ericeira or Peniche, you might well snag the longest wave of your Euro roadie.
To give you an idea of how un-etched into the millennial surf mind it is, when I asked WL Editor Luke Gartside if he had shots he replied, "Figueira da Foz? I got stuck going the wrong way in the one way system there once, nightmare… Is there a super long wave there?"
---
From The Wavelength Shop:
---
Mundaka, Basque Country
You might have heard of this joint already. The difference between Mundaka and the other spots on this list is that the rest are basically burgers. Long burgers, fun burgers, sure, but burgers nevertheless. The length of ride is the hook, the quality of the wave during that ride a worthy sacrifice because the wave is so long.
But not only is Mundaka hella long, but on the right day you can actually be in the baz pretty much the entire time, which is why it's often hailed as the best rivermouth left on the planet.
With 100+ crew on it, your actual chances of nabbing a wave from the peak all the way to the end are, in truth slim. But slim is good enough to give it a go.
La F
ortelaza, Spain
The Fort, so named after a Napoleonic era fortification overlooking the lefthand sand point, is a beautiful spot located in Cantabria, the next region west from the Basque Country. Everyone kinda knows about this joint and when it works (huge swells / big low tides), and thus it can get mad crowded when the coast is closing out.
Good thing is, a raging sweep makes it pretty tough to ever near the top of the point, and that generally helps spread out the pack. If you brought a mid length or log, you might well be to out paddle the crew and the sweep and snag a ridiculously long wave.
Essentially it's a bit of a trundle, but still has a few zippy sections to keep you interested, even a few cheeky head dips. You can try and walk up parts of the point, better yet kinda run on the drying sand between waves to save your arms, coz the paddle back is fucking brutal.
Lagos, Algarve
Not so much a break with a long wave, as actually several distinct breaks joining up on the rarest of swell events (Storm Hercules), Alex Botelho's long, long right in his hometown of Lagos in the Algarve is not only long, but also kinda solid.
Generally speaking, and Mundaka from this list aside, points that run long enough to bend swell endlessly down a concave refraction get progressively more swell protected, and thus the longest of waves are generally 3ft and soft. Alex's though, was kinda solid, and his closeout bash on the beachie comes and impressive 1min32s after takeoff.
The freakish nature of the storm that made this happen is more the thing of interest here. Next time the forecast goes all structural damage-y, get out there looking for those places facing the wrong way, and get optimistic.