A nature-inspired surf capsule that uplifts Mikey and Zelti February's nonprofit's mission to give back to and broaden the African surf community.
We all need some good Juju, right? Husband and wife duo Mikey and Zelti February and their baby, the JUJU Surf Club, have teamed up with Vans for a collection designed to bring awareness to the African surf community.
Now you are probably aware of who Mikey February is. The son of Cape Town graphic designers, and former CT surfer, has been labeled one of the most stylish surfers of his generation. Our own Luke Gartside, after interviewing February said, "There is strong historical precedent for those with a similarly distinctive style and approach sliding seamlessly across the divide. Think, Curren, Machado, Reynolds, to name but a few; all of whom have gone on to leave a profound and lasting indent on the sport." Luke, as ever, was right on the money.
Mikey's wife Zelti is less well-known, though that is the way she prefers it. The University graduate and early childhood development and special needs facilitator has had a long history of helping the vulnerable.
As an intern, she worked with the Cape Town-based Waves for Change, a non-profit organisation that helps universities, children, and young people to develop a community-based, child-friendly mental health service.
Mikey had also been a long-time ambassador for Waves of Change. Both had been regular fixtures in the group's groundbreaking and successful surf therapy programs. It was perhaps inevitable that they would want to use their own experience, talent, and reach to create a non-profit that could support the charities and individuals that are driving positive change in Africa.
And so the JUJU Surf Club was formed in 2020. Their first three projects, involving partnerships with Vans, Slowtide, and the Positive Vibe Warriors, have already raised over $55,000 that has been donated in its entirety to organisations across Africa.
Their latest, and most bold partnership is the Vans x JUJU collection. The bright hues and clean lines of the capsule's boardshorts, short sleeve tee, graphic crew fleece, and bucket hat have been inspired by February's surfing, roots, and work supporting African surf programs. To support their efforts, Vans is donating $30k directly towards their mission of youth empowerment, job creation and a thriving African surf culture.
"Mikey always says that every wave in Africa offers you a different perspective on surfing, not because of the actual wave, but because of the diverse people you meet and come across in the water," said Zelti. "The coastline is also very untouched, and surfing is only just emerging in Africa as a sport, so the pure joy that young people and children seem to experience when they are in the water is something very special to witness. Our vision at JUJU is to share the stoke of surfing with these communities and give more people who haven't been able to experience the ocean the opportunity to learn how to surf themselves."
Now, helping the Februarys in their quest to drive positive change in Africa is admirable. Yet this capsule's design makes it easy to point your moral compass northward. Vans' Checkerboard silhouette of the African continent pays homage to JUJU Surf's origins, and the African-inspired jacquard print makes another appearance on the bucket hat. Pops of gold and burnt orange on the cuffs of the graphic crew nod to JUJU Surf's signature palette.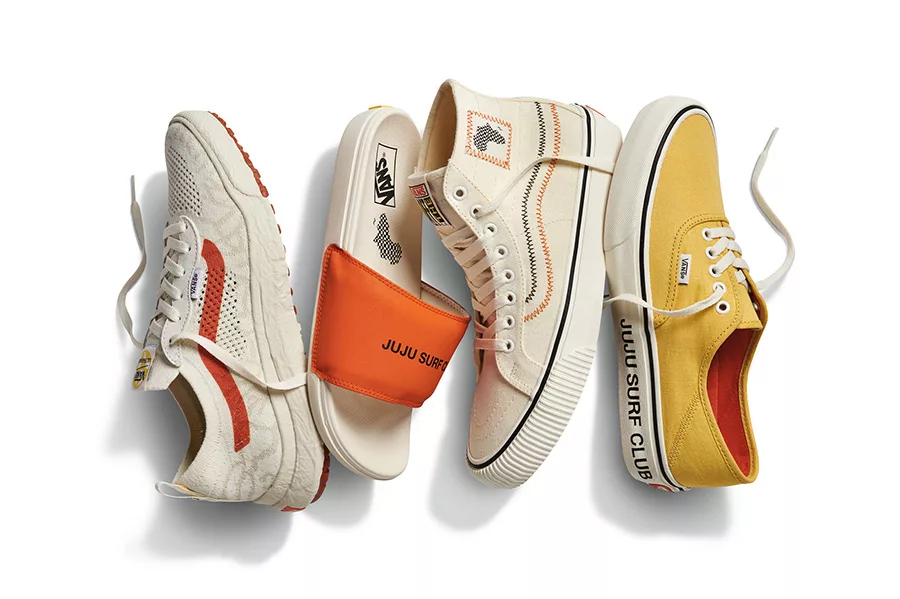 The footwear range includes various designs across women's, men's, and kids' categories, with a focus on Vans all-new UltraRange VR3, which uses a combination of regenerative, responsibly sourced renewable, and recycled material. The La Costa Slide-On, perhaps the ideal post-surf sandal, comes with similar pops of colour and both brand's logos on the sole.
"Our vision at JUJU is to share the stoke of surfing with the African communities and give more people who haven't been able to experience the ocean the opportunity to learn how to surf themselves," concludes February.